By JOSEPH & JUDIE PALMER
Special to the Gazette
We would like to thank all of you for taking this multipart journey of exploring the life of Aaron Rice and his family during the mid to late 1800's period of California. This column's offering is about our latest research trip to Napa, where we made some amazing discoveries that we are excited to share with you.
From our last article, we talked about the importance of the African Methodist Episcopal Church of Napa (AME) from 1867 – 1892, and wanting to definitively find the place where it last stood. To our great surprise and excitement, not only did we find the AME Church's location but amazingly that the building is still standing. This makes it potentially the oldest known wooden structure built circa 1857 in all of Napa and third oldest after the two adobes.
Here's what we have uncovered so far. From the History of Napa and Lake Counties California, Slocum, Bowen, & Co. Publishers, 1881 it states, "In 1857… During that year Mr. Corwin built a saw-mill on what was then known as the Kellogg ranch, hauled his lumber to town and built the first Methodist church-house in Napa City, which was dedicated in June 1858. …In 1864 …the parsonage caught fire from an adjoining building, and was consumed with its entire contents, including the church records. … The old church house was sold to the colored people and removed to its present position."
From the October 2, 1867 Napa property deed states, "Trustees of the Colored Methodist Episcopal Church" for $250 purchased the, "Northern half of Lot number four (4) in Block number nineteen (19) in the Town of Napa." In our last column we had mistakenly listed it as "the middle of Oak between Randolph and Franklin streets."
Again from the article published in the Daily Evening Reporter on May 4, 1867, "Passing by that structure to-day, we found that "our colored brethren" had succeeded in moving it, about twice or thrice its breadth, from its former position."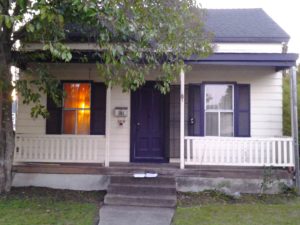 From "Notes From The Time Line," published May 13, 1988, "The first church was moved one block onto Washington Street…" With the aid of Presley Hubschmitt, Research Librarian for the Napa County Historical Society, we agreed it resided near the corner of Oak and Washington Streets facing Washington (Randolph St. today).
We know the AME Church existed from 1867 – 1892 but the Sanborn map of Napa 1891, which gives a detailed account of all structures, shows it as an empty lot with a small building at the actual corner of Oak and Randolph Streets. Why would the church trustees purchase an empty lot several months after the building was erected and moved? Perhaps it was for the congregation to park their vehicles and horses.
When we visited the site, we spoke with Kenneth Fish the current home owner. He stated that he and his husband have been living in the house since 2000. From their own research, they were told the building had been moved from the present location of the Methodist Church in 1866, but not told it was the former church. He went on to say how rough the house was due to its thin walls, lack of insulation, simplicity of its build, and other oddities that speak to its age.
From the Historical Sketch of the Centenary Methodist Episcopal Church 1852-1927 published 1927, parishioner Mrs. Penelope Howell stated, "It was just one room, straight up and down boards with hard benches to sit on. But, we went to be fed with the word of the Lord, so it did not matter how we had to sit, and the one room was big enough for the 12 members of that church."
Additionally Fish stated it obviously contained only one room, as at some point it was split in two using very thin material. Somewhere along the way lower windows were added using aluminum inner frames within an outer wooden frame that do not match the obvious original top windows near the structures peak. Those frames grain can still be seen from the ground, despite the many layers of paint that has been applied over the years, which is indication that they are made of old growth wood. Finally, an addition was added during the 1920's.
Fish also mentioned that it was built out of old growth clear heart redwood, which would help explain how the structure survived. The age of wood is determined by how dense the rings are within its grain. The older the growth, the denser and harder it becomes. Clear heart refers to the deep rich red color caused by the tannins redwood contains. This is important because the tannins are a natural pest repellant. Fish also mentioned the floor is very hard old growth white oak, which has to be kept regularly painted in order to prevent it from splintering.
We then interviewed Mary Herzog, the Napa Methodist Church's Historian and Archivist. She was just as shocked as we were to discover that the structure had survived all this time while in plain sight. From her records, she sent us copies of the informational timeline and history of the church from its 50th and 75th anniversary's quoted earlier. From old county tax records she obtained regarding the AME Church it seemed to indicate that when the AME abandoned the building in 1893, that it had been turned into an out building or storage shed. No one expected it too still be standing, let alone converted into a home due its roughness of build.
We have contacted various authorities and experts to confirm our findings and believe we have made a pretty strong circumstantial case despite the missing deed for the S half of Lot 4 of Block 19. Stay tuned…
The authors of this column would very much like to thank John Tuteur, Lawrence Rodriguez, Alexandria Brown, Presley Hubschmitt, Nancy Levenberg, Mary Herzog, Kenneth Fish, and Stacy Smith for their help with our research. We would not have been able to have made this discovery without their generous support and collaboration. To all of them we offer a huge debt of gratitude and thanks.
For more information, or to get volunteer with the Martinez Historical Society's – Potter's Field Restoration Project, please visit our website MartinezCemetery.org. Do you have a Potter's Field resident story to tell? We welcome any pictures or information on anyone or anything regarding Potter's Field. Please email us at martinezcemetery@gmail.com or call us at (925) 335-9396.

The Martinez Historical Society is recognizing Women's History Month 2018 during the month of March at the Martinez Museum with a wonderful exhibit titled "Celebrating the Women of Martinez", created and curated by Mary Goodman from March 4, 2018 through March 29, 2018 during regular museum hours and for specially scheduled tours.

Learn about 27 Martinez women who have made interesting and major contributions to the City of Martinez over the years. Photographs and personal items of these amazing women will be on display, along with their fascinating and awe-inspiring stories.

Martinez Museum – 1005 Escobar Street, and corner of Court Street. Open Tues and Thurs 11:30 a.m. to 3p.m. First 4 Sundays 1-4 p.m. 925-228-8160; www.martinezhistory.org.

Contra Costa County History Center – 610 Main Street, Martinez. Open Tues through Thurs, 9 a.m. to 4 p.m.; 3rd Saturdays, 10 a.m. to 2 p.m. 925-229-1042; www.cocohistory.com