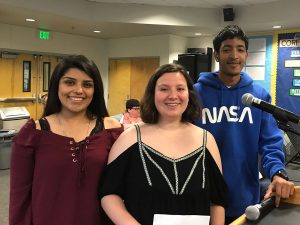 MARTINEZ, Calif. – In most schools, only 4 percent of teenaged students seek out help with mental health concerns, Terell Ferris said during a presentation to the Martinez Unified School District Board of Education.
That's one in 25 who need that help, he said. But 20 percent of adolescents need some form of mental health counseling.
"No one wants to be that kid with mental health (issues,)" he said.
There are other factors that get in the way of teenagers getting the help they need, he said – not only stigma, but also they don't want their parents to know they are having problems.
Some don't know how to get the help, or don't have the way to get to the services. Sometimes scheduling is a problem if the students are busy with school or work, and sometimes help is priced out of the students' range.
But Martinez's alternative high school and independent study school, Vicente-Briones, has made it easier for students to get the help they need, he said.
And that means at this school 55 percent of the students are getting school-based counseling, he said. "This is better, because the barriers are eliminated," he said.
First, students get to talk to adults they trust, and there's no stigma attached to those discussions, he said. Services are free, and the talks are confidential. Students aren't being pulled out of classes that are critical to their advancement, and the counseling is done on-campus, so transportation is not a problem.
Sandra Cruz Gonzalez said those who need the counseling have faced a variety of adversities during childhood, including physical or mental abuse, physical and emotional neglect or living in troubled households.
For instance, some come from families that have relatives in jail or prison. A parent may be involved in substance abuse. Divorce may have broken up the family, leading to other daily-life challenges, or a parent may be victimized by domestic violence. In some cases, a family member may be dealing with mental illness.
Help is available not only in appointed sessions but also anytime a student needs to talk, Norma Quintara said. And the assistance doesn't stop at the school. Sometimes students are referred to outside help, or to therapists who work with families.
The students are part of a psychology club at the school, where Amy Specter is the mental health counselor.
Students complete brief "mood surveys" before and after counseling sessions, and these have been used to measure how symptoms decrease as a result of counseling, Specter said. Depression drops by 61 percent, she said. Anxiety decreases by 65 percent, and anger drops by 70 percent.
But the statistic that really makes her happy is related to those contemplating suicide. Those thoughts are virtually eliminated by the on-campus counseling.
Students also get a chance to comment on the sessions, which they describe as providing them with positive ways to deal with "real world problems," and help them see things from a different perspective. "It was good to talk about how I was feeling," one student wrote.