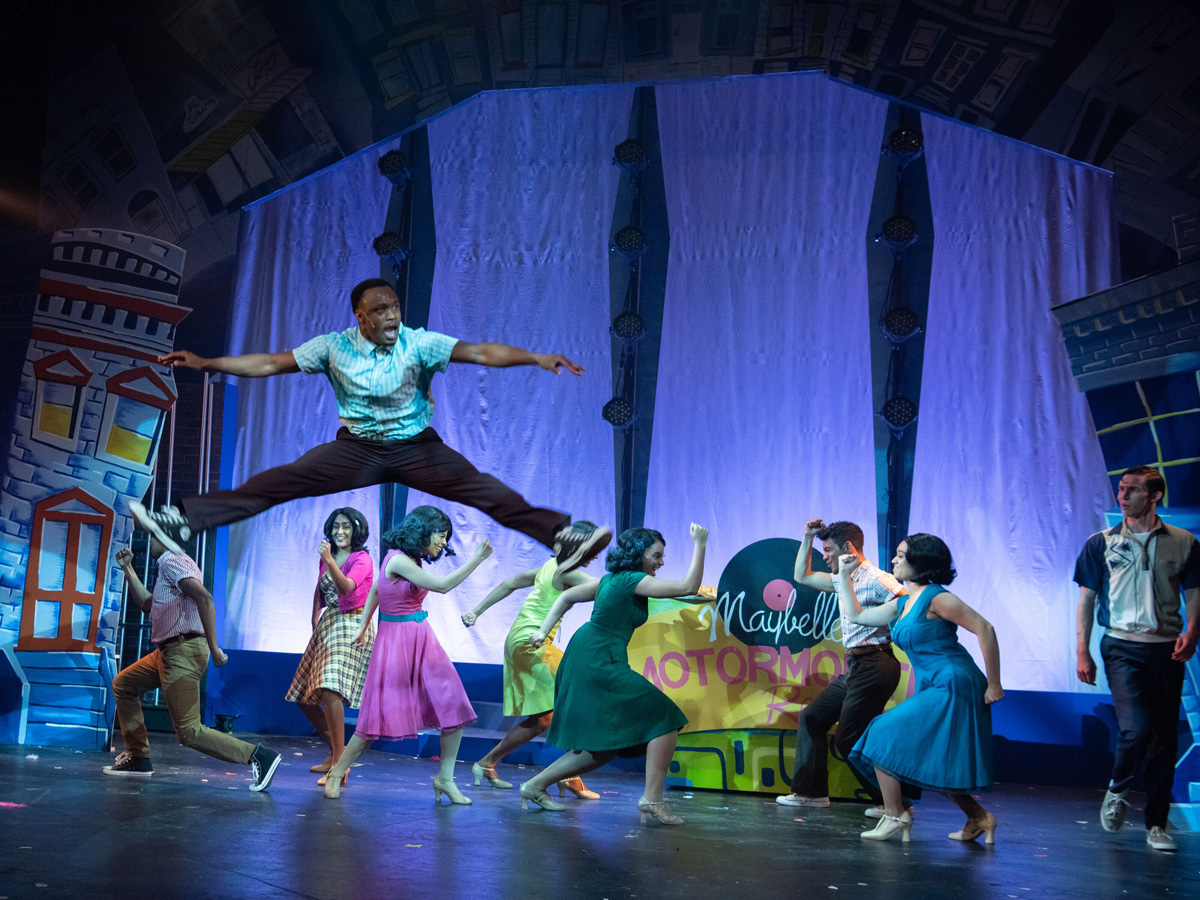 By CHARLIE JARRETT
Special to the Gazette
How many of us still remember Dick Clark and the American Bandstand show in the mid-50's? It formulated in Philadelphia until it was moved to the ABC television Center Los Angeles in 1964. At much the same time, there was another similar show hosted by Winston "Buddy" Deane in Baltimore Maryland, and was, for a time, the most popular local show in the United States. In the early 1960s, pressure was onto integrate the show (already happening on the Dick Clark show), but the Baltimore television station WJZ and the parents of many of the performers in the show, would not allow integration. The Buddy Dean show was canceled in 1964. This is a little-known factoid of history that probably would have been forgotten had it not been immortalized in a very popular musical that came to being approximately 24 years later.
In 1988, director John Waters created a satirical dance melodrama style movie, Hairspray, that revolved around a stout young lady, teenager Tracy Turnbland, and the twists and turns in her life as she pursued stardom as a dancer on a local TV show, wherein she rallied against racial segregation. In 2002 the Broadway version of this movie became an American musical with terrific music by Mark Shaiman and with clever lyrics by Scott Whitman. It subsequently garnered 8 Tony awards a year later, including one for Best Musical.
Today, a superb local production of that Broadway musical is currently playing in the Victoria Theater in San Francisco that is an absolute stunner! Now don't close your eyes and grimace, saying in your mind that to finding a way to go to San Francisco to see a musical is just too much of a hassle. Actually, in this case, it is not! Certainly nothing could be simpler than taking a local BART train to the 16th and Mission station; exit BART, cross Mission Street going east on 16th, and walk about one quarter of a block to the historic Victoria Theater.
The Bay Area Musical theatrical company's production of Hairspray is receiving rave reviews from critics all around the Bay Area. While there are many professional level performers in this production, every single actor or performer in this show deserves special kudos for their outstanding performances and contributions. The story in the musical follows the plot line of the original Waters' movie, even taking place in Baltimore, with plus-sized teenager Tracy Turnblad (Cassie Grilley) aspiring to become one of the "committee dancers" (appearing regularly). Tracy's mother, Edna (always played by a heavyset male actor – Scott DiLorenzo) and father, Wilbur (Paul Plain), ultimately support their daughter's passion for performing. Her best friend, Penny Pengleton (Melissa Momboisse), follows in Tracy's shadow, supporting and living vicariously off the vitality and exuberance of her chubby friend. At the auditions held by Corny Collins (Scott Taylor-Cole) to replace a committee dancer taking a leave of absence from the show, Tracy experiences extreme rejection and humiliation. She is criticized severely by racist show producer, Velma Von Tussle (Sarah Sloan), and Von Tussle's acrimonious, self-serving but very attractive daughter, Amber Von Tussle. However different the two young women are in physical appearance, both girls argue with their mothers in song; "Mama, I'm a Big Girl Now"!
Shortly following Tracy's rejection from the show, she participates in a game of dodgeball, during which the jealous Amber Von Tussle deliberately delivers a dodgeball blow to classmate Tracy's head, knocking her unconscious. Classmate Link Larkin (Kamren Mahaney), Amber's boyfriend and lead performer in the Corny Collins Show, comes to Tracy's aid, which infuriates Amber. At the same time, Tracy's best friend, Penny, and a talented dancer, a young black man, by the name of Seaweed Stubs (Dave Abrams), rush off in search of medical aid for their friend. Tracy does recover, but the incident sets off an ongoing battle between the two young ladies and their friends and families, which is further heightened by Tracy's battle to confront the racist mind set and actions plaguing the Corny Collins Show and the Baltimore community.
The Corny Collins Show racially separated the black-and-white teens by allowing them only one night a week to themselves on the show, under the show guidance of a black teen's mother, Maybelline Motormouth (Elizabeth Jones – think "Tina Turner"). The storyline of this musical absolutely parallels the history of the Winston "Buddy" Deane show from which it was modeled.
The show progresses with the determined Tracy Turnbull suggesting to her new black friends and acquaintances that they could and should invade the Corny Collins show as teen dancers while it is being broadcast nationally to bring to the attention of the world how racism is affecting the young people in Baltimore. Accomplishing this could be very difficult, as well as the ongoing relationships of these teenagers, but without question, this is a show full of big hope, big hair, big dreams, beautiful talent, and unending excitement.
I do have to admit that while I have always loved this musical, my real impetus to see this production was due to the fact that two actors I respect, admire, and have followed for many years, Paul Plain and Dave Abrams were in this outstanding cast. Dave Abrams is a locally grow prodigy, a Baypoint acting sensation and the only Actor's Equity professional in the show! In addition, I was especially blown away by Cassie Grilley, Melissa Momboisse, Scott Taylor-Cole, and Elizabeth Jones. Set designer Lynn Grant deserves special mention as well. Equally important is the contribution made by the superb costume design (Brooke Jennings) and wig design (Jackie Dennis).
I have to declare that this is absolutely a do not miss production. The pricing is very reasonable for San Francisco production with tickets running between $35 and $65 each and can be purchased online at www.bamsf.org/hairspray. The show continues Thursday evenings at 7:30 PM, Fridays and Saturdays at 8 PM, with Saturday and Sunday matinees at 2 PM, now through Sunday, August 11. The Victoria theater is located at 2960 116th St., San Francisco, 94103.