Team debuts acts set to perform at new Chase Center starting in September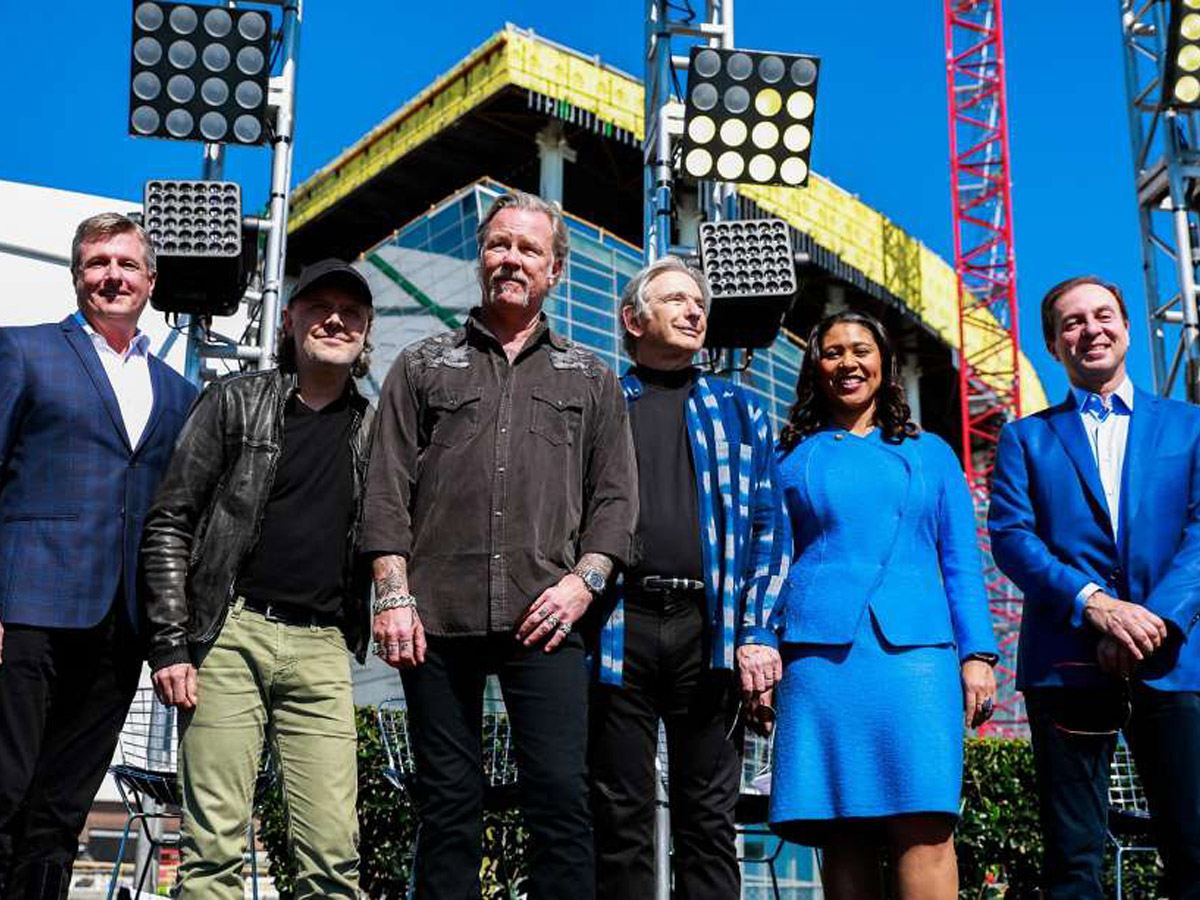 Metallica joins San Francisco Mayor London Breed, Warriors owner Joe Lacob and President Rick Welts. (COURTESY / CHASECENTER.COM)
By FELICIA D. PURCELL
Martinez News-Gazette Reporter
With the billion dollar Chase Center as the backdrop, Warriors co-owner Joe Lacob and President and Chief Operating Officer Rick Welts debuted 'Reveal Week' on Monday, introducing entertainment acts set to perform at the future home of the back-to-back NBA Champion Golden State Warriors. Chase Center is slated to open in fall 2019.
San Francisco Mayor London Breed was on hand for the festivities and jokingly shared that she lobbied for the first act to be Beyonce. While 'Queen Bee' isn't one of the performers slated to perform the powers that be settled on a Bay Area act.
Metal band Metallica will be the first performers to kick-off the inaugural season of entertainment at Chase Center. They will reunite with the San Francisco Symphony on September 6th for S&M, an album that earned a Grammy in 1999.
"The San Francisco Symphony is delighted to be a part of the Chase Center's opening week, and to perform once again with Metallica to recreate the magic of the historic S&M concerts" said SF Symphony Music Director Michael Tilson Thomas.
Each day a new act will be announced President and Chief Operating Officer Rick Welts.
"Chase Center and the surrounding area will serve as a destination for the entire community and we will continue to work to make sure it is the best experience possible for everyone to enjoy NBA basketball, concerts, family shows, conventions and more."
The privately funded 18,064 seat sports and entertainment center will be slightly smaller than the 19,596 Oracle Arena. Chase Center will host not only basketball and concerts but cultural events, family shows and convention activities totaling nearly 200 a year.
The sports and entertainment district will also include two office buildings and 29 unique retail locations along with 3.2 acres of publicly accessible plazas and open space.
For more information about the new Chase Center visit. Chasecenter.com