By FELICIA D. PURCELL
Special to the News-Gazette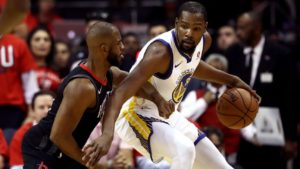 For the first time in four years the Golden State Warriors weren't the top seed with the homecourt advantage in the Western Conference Finals, and some cast them as underdogs.
However, predictions are made to be broken and Golden State made everyone forget that Houston was the top seed, winning the Western Conference Finals Game 1 119-106.
It was an offensive clinic just as expected, with lots of open jumpers and 3-pointers as both teams fought neck to neck going into halftime tied at 56. Golden State could have led by as much as six points at the half but costly turnovers and fouls prevented them from doing so.
Houston struggled containing Kevin Durant, one of the Warriors four All-Stars and he lit up his opponent finishing as the top scorer for the with 37 points.
James Harden led Houston with 41 points, 5/9 from three-point line and seven assists. Chris Paul chipped in 23 points, 11 rebounds and three assists and Clint Capela had 12 points, 6 rebounds and 2 blocks for the Rockets.
"We knew they were going to come out with a lot of energy especially after that long layoff, so we tried to take that first punch and keep fighting," said Kevin Durant afterwards.
The Rockets finished the first quarter with a 30-29 lead, but the Warriors outscored the Rockets 63-50 in the second half.
Klay Thompson discussed Golden State's winning formula postgame.
"Just play hard, we know James is an all-world scorer, he's going to make shots over us we just try to stay solid and keep up with each other."
Rockets head coach Mike D'Antoni talked about the mix that makes Golden State so successful and how it caused his team to unravel in the second half.
"They're obviously champions for a reason if want to beat them we have to be mentally sharper. KD is tough and he was on tonight; hey you can live with that, but you can't live with that and then make mental mistakes and that's what we do, the combination of the two is devastating."
Thompson knows and appreciates this.
"We're lucky we have so many playmakers on this team, I mean every position, we got a guy who can shoot, pass and dribble and when you're just moving on and the open man take the shot, make the cut, it's that simple. It's beautiful to be a part of but it's even better to watch."
Thompson was the second leading scorer for the Warriors with 28 points, including five three-pointers and four rebounds. It was a relatively quiet night for Steph Curry who rounded it off with 18 points, 6 rebounds, 8 assists and 2 steals.
Stealing one in Houston is big but Kevin Durant knows the Rockets are chomping at the bit and will be locked and loaded for Game 2 on Wednesday.
"This team never stops, Houston ain't never stop they're always in the game with the three-point shots, so we just try to play a calm steady game, get good shots every time down and defend on the other end."
Game 2 will tip-off this Wednesday on TNT 6 p.m.