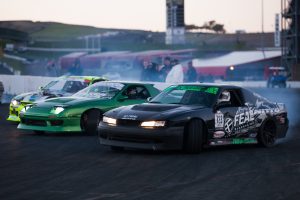 Winter Jam, Northern California's largest drifting festival, is returning to Sonoma Raceway for two days of action this weekend.
The event and its host, Sonoma Drift, will take over six different locations around the raceway, including two courses in the main paddock and courses at Turns 2 through 4, Turn 7, through the Esses of Turn 8 and around the hairpin at Turn 11 of the 12-turn road course.
More than 300 drivers will compete on the track Saturday and Sunday in the event that concludes the 2018 Sonoma Drift season.
Drivers will battle for points during several challenging competitions, such as Saturday's Team Tandem competition at 2 p.m. at Turn 11. In that contest, three drivers drift side-by-side within inches of the wall and each other.
Among Sunday's contests is a Winter Jam fan favorite. At 2:30 p.m. that day in Turn 7, the top 16 drivers compete for the 2018 Winter Jam crown.
A number of internationally acclaimed drifting professionals will be chasing points during the event – including Ireland's Deane Kearney, Lithuania's Aurimas Bakchis, Washington's Dan Burkett, Michigan's Justin Pawlak and Hawaii's Forrest Wang.
Local amateur drifters will be driving alongside these professionals in hopes of taking their driving to the next level.
Spectators are welcome at an autograph session with the professionals and other local stars in front of the John Cardinale Media Center at 4 p.m. Saturday.
Also happening Saturday will be musical performances by DJ Shortkut and DJ Apollo from 4 p.m. to 7 p.m. in Sunoco Victory Lane.
Several food vendors will be on site throughout the event in addition to Levy Café.
Drifting action takes place from 9 a.m. to 4 p.m. Saturday and 10 a.m. to 5 p.m. Sunday. Spectator admission is $30, and children 12 and younger are admitted free. Parking and camping also are free. Those interested may visit SonomaRaceway.com or call 800-870-RACE (7223).