These animals are available for adoption from Contra Costa County Animal Services.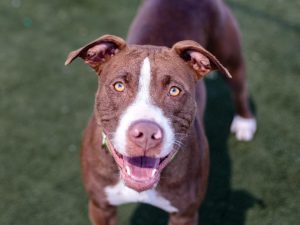 Patty Cakes, No. A0921543 is a friendly and fun-filled dog that has proven so compatible with other dogs that Contra Costa County Animal Services has been using her to test the personalities of other dogs at the shelter.
She is a brown and white pit bull terrier, and may be a about 2. She has been in the Martinez shelter since June 20.
Readers can watch videos of her playing with other dogs at http://petharbor.com/pet.asp?uaid=CCST.A0921543 and https://youtu.be/-6hhRVbhu-8.
Through July 31, all dogs weighing more than 25 pounds have adoption fees of $25.
Gizmo, No. A0916696, is a handsome black and white "tuxedo" cat who craves companionship, both with people and with other animals.
He recently underwent ear surgery, but has recovered. Gizmo is a favorite with the shelter staff, who said he would do well with a family who would be patient whle he learns how to be a happy-go-lucky cat again. He is litterbox trained, and has tested negative for FIV/FeLV.
He is a neutered male with medium-length hair, and may be about 3 years old. He has been at the shelter since July 19. His adoption fee has been sponsored, and will go to his new home with a "care package" of accessories.
Contra Costa County Animal Services is having two specials for those adopting animals through July 31. At both the Martinez Shelter, 4800 Imhoff Place and the Pinole Shelter, 910 San Pablo Ave., Animal Services is offering a "buy one get one" special for kittens – adopt one kitten and get a second free. In addition, the shelters are offering dogs weighing more than 25 for an adoption fee of $25.
The shelters also are asking for volunteers to provide foster care for abandoned kittens. No experienced is necessary, because Animal Services will provide training, food, medical care and other support. Those interested may call Animal Services Medical Department either by emailing Elyse.monteleone@asd.cccounty.us or by calling 925-608-8425.