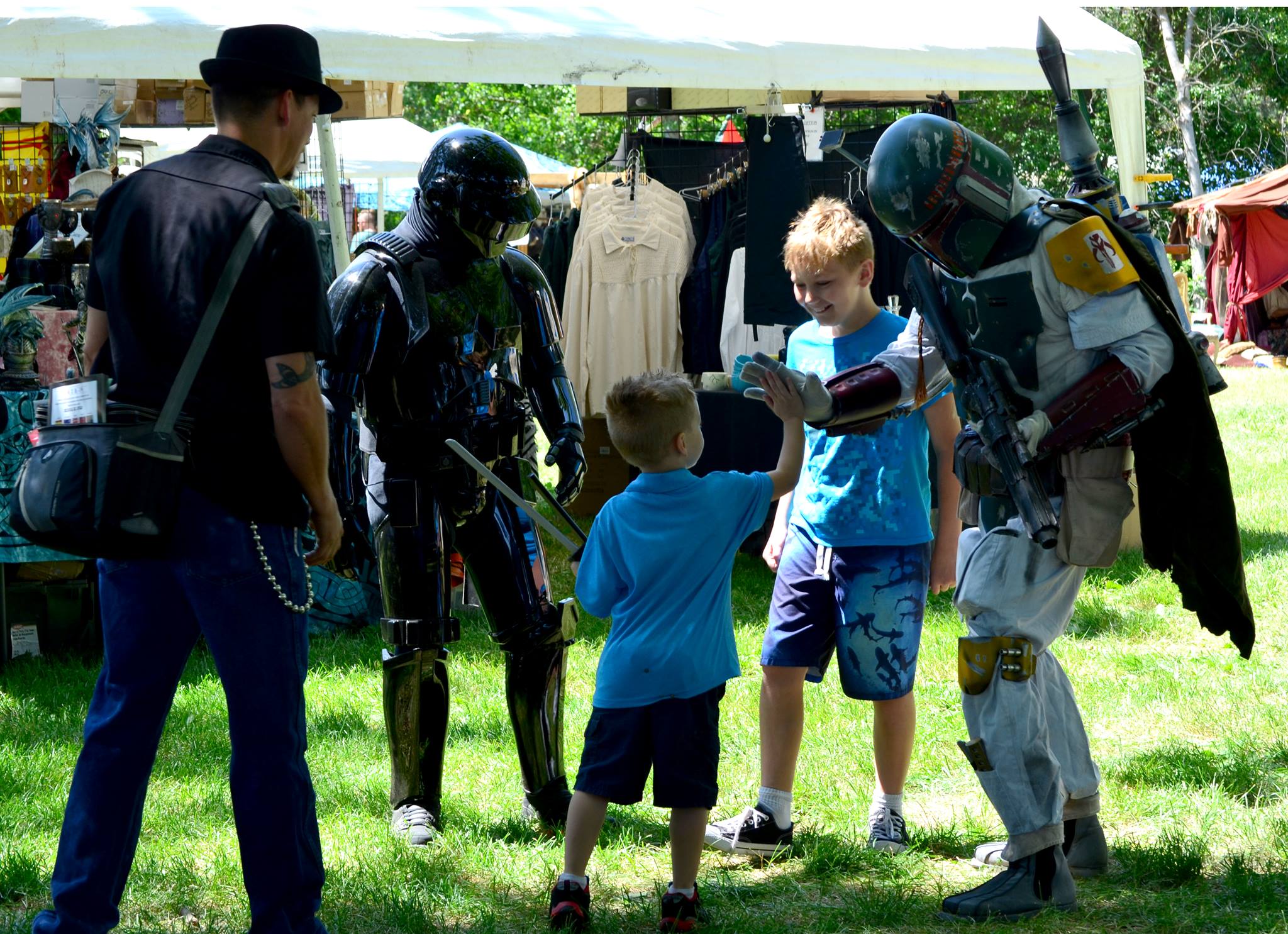 The Golden Coast Adventure Faire will give families a new way to celebrate Mothers Day, and let children and adults alike experience a place "where history and imagination collide."
This year, the Adventure Faire has joined with the annual BerryFest for a two-day event Mothers Day weekend at the newly-named @ The Grounds in Roseville.
The Rogues of the Golden Coast (http://roguesgoldencoast.webs.com/), a pirate black powder organization, is host of the event that lets visitors see Spiderman, old world monarchs, swashbuckling pirates, mermaids, jesters and Victorian-era adventurers in the style of Jules Verne and H.G. Wells.
Medieval knights will be jousting when they aren't marching alongside Star Wars Stormtroopers and bounty hunters. Several characters from Disney's "Pirates of the Caribbean" movies also will make appearances
The Golden Coast Adventure Faire is produced to help children. All profits from the fair itself will be uses by the International Order of Rainbow Girls Sacramento Camilla Assembly No. 108, a Masonic organization for girls that uses money it raises for community needs.
That organization helped inspire the Adventure Faire after the Rogues of the Golden Coast learned the girls were losing their primary method of raising money for community projects – selling fireworks – and decided to plan a multi-genre event that could entertain visitors as well as help the Rainbow Girls raise money.
Other youth groups and several charity efforts now use the Golden Coast Adventure Faire to help them aid their communities, too.
When visitors enter the Adventure Faire, encampments with interactive displays will give them a chance to step back – or forward – in time.
Entertainers, from fire breathers to musicians, will take the stage, and visitors will get a chance to meet some of the cast of Disney's "Pirates of the Caribbean" movies, including Isaac C. Singleton Jr., Henry T. Yamada, Stuart Arnold Wong, David Kono, Morgan and Norma Griffin, Stella the parrot and Johnny Depp's movie and camera double, Ronnie Rodriguez.
The Dive Bar Mermaids will be returning to the Gold Coast Adventure Faire, and will be giving visitors aquatic beauty "Mermaid Makeovers" when they aren't splashing in their special tank.
For those who want to make movies, not just watch them, the Golden Coast Adventure Faire and BerryFest has a video contest open to directors, actors, producers, camera operators and others interested in winning one of two $1,000 prizes for the best video creation of the combined festival.
Rules are available online at goldencoastadventurefaire.com/gcaf-video-contest/.
Star Wars fans may want to see the visiting members of the Central California Garrison 501st Legion. They are part of an international organization that promotes interest in Star Wars and dresses in Star Wars-related costumes for special events and community charity work, such as the Adventure Faire.
The 501st Legion, also called "Vader's Fist," was formed in 1997, and has become a leader in fan-based charity events. Originally part of the Golden Gate Garrison, the Central California Garrison (centralcaliforniagarrison.com) was given permission in 2001 by Legion Command and the Golden Gate Garrison to become its own entity and cover the area east of the Coastal Mountains and north of Fresno.
The Bay Area Bounty Hunters, a band of aliens, rogue Jedis, droids and other Star Wars universe inhabitants, will be there, too.
Those who prefer the "good guys" will find them in League of Heroes Inspired.
These are members of a nonprofit volunteer group that portrays famous superheroes at hospitals, advocacy programs and other agencies, where they visit traumatized children and adolescents, helping them recognize their own "heroes within."
The League of Heroes Inspired (leagueofheroesinspired.org) will be hosts of the Adventure Faire's costume contest, which will award prizes sent by Marvel Comics.
The costume contest registration takes place at SuperHero Hall at 12:40 p.m., and the contest takes place from 1 p.m. to 2 p.m. each day of the Faire. Prizes will be awarded in three age groups, 1 to 5, 6 to 10 and 11 to 17, and for best homemade costume and best store-bought costume. Judges will be a panel of costume experts.
Champions of another sort will don armor and ride horses in full-contact jousting – The Imperial Knights (http://imperialknightslive.com). These expert equestrians also will demonstrate Knight games, hand-to-hand combat and high school and classical dressage on horseback.
Jeremiah Johnson, a world championship medalist in juggling, will show how he blends that skill with fire and comedy during his entertaining performances.
Quality Pyrate Games, another group of entertainers, will have nautical-themed games of chance and skill that visitors can play for free. This organization also collects donations for the American Cancer Society. More games will be available through Fortune's Folly.
Fans of swashbuckling will watch for Under the Black Flag (www.undertheblackflag.net), a combat entertainment company that specializes in creating scenes that inevitably lead to crossed swords.
While the Golden Coast Adventure Faire has no shortage of pirates, there is only one Captain Jack Spareribs (www.jackspareribs.com/home.html).
He repeatedly is named the best family entertainment in the San Francisco Bay Area, and he's not to be confused with "that other Jack," the fellow who keeps losing his notorious ship in the movies.
Captain Jack Spareribs knows his way around a sword, and will juggle it along with fiery torches and other items. He's also an illusionist as well as a ventriloquist with his own talking monkey, Maynard, who has his own YouTube channel.
The Pirates of Reno (www.piratesofreno.org) will have their encampment set up, where the seafarers with kind hearts will collect new socks from generous donors. The Pirates later will deliver those socks to the homeless residents of their city, a place where they also donate time feeding the poor. The Pirates of Reno encampment will have pirate tribal fusion bellydancing led by the crew mate Tammy the Island Warrior.
Where there are pirates, there must be parrots, and Fowl Tales is a "parrot comedie" presented by Bob Bartley and Gypsy, a scarlet macaw, as well as supporting castmembers Scooter, Patton and Curtis the Hound.
Scenes of the Celtic and Scottish Renaissance and the American Revolution will be presented by the Portcullis Players, an educational improvisational group. And visitors will see more than history. The Players also will be involved in steampunk-occult monster hunting.
The mystical side of the Renaissance, shown with fun and frivolity, will be demonstrated by Sol Land Blacksmith and Lair of Ysisi.
Kaotic Mythicals (www.kaoticmyticals.com) will bring to life creatures that usually reside in stories of mythology, such as satyrs, Ents, fairies, elves, trolls, merfolk, dragons and the enchanted.
Other mystical-realm creatures, the fauns Faeona and Maena of Equinox Fae, also will greet visitors to the Faire.
The high-stepping Kondor Brothers, who are brothers in real life and perform throughout the state, will bring their juggling act to the Adventure Faire this year.
The Black Flag Gang, a group of Old West gunfighters, will remind visitors of California's own early days, when banks and stagecoaches might be robbed by masked highwaymen.
Fans of cosplay and steampunk will want to meet Tayliss Forge, a cosplay model and artisan crafter who is part of the Adventure Faire lineup.
Forge (www.taylissforge.com) was a contestant on the show "Steampunk'd," and she is known for creating costumes and accessories for her online business, Nonconformity Accessories. She works in leather and creates corsets, bracers, purses and other items, including props and jewelry inspired by movies, television shows, anime, video games and board games.
Arriving by the Silk Road from Lotus are members of Sarpika Global Tribal Dance. Primarily an American Tribal Dance troupe that also has been influenced by other world dance forms.
Another dance troupe, Moon Goddess Caravan, also will be performing.
Originally formed in Folsom at Planet Earth Rising, the group led by Mary Chapman (Gypsy) has grown from a small number of dancers to a fun, creative group of friends and guest dancers who welcome those who want to learn about creative and eclectic bellydance.
Chelsea the Piper and her Sticks and Sacks Drummer Band are popular Celtic musicians that have performed at festivals not only in California but also in Las Vegas and the Midwest.
Chelsea often performs solo, but at the Adventure Faire, she is bringing her band, the Sticks and Sacks Drummer Band.
Also appearing is Tempest a band that has been releasing critically-acclaimed CDs on Magna Carta and has given more than 2,000 shows.
Although Tempest has a heavy Celtic influence, the band has been inspired by a Dakota (Sioux) proverb about "the tracks we leave," noting the environmental, spiritual and musical symbolism in the word "tracks."
Since 1988, Tempest has been delivering high-energy Celtic rock blended with world music as members become drawn to traditional and ethnic melodies from such places as Scandinavia, India, Africa and Arabic countries.
Tempest founder Lief Sorbye has introduced some uncommon instruments to enhance the band's sounds.
The host organization, The Rogues of the Golden Coast, has more than 15 years of black powder experience, and their cannons will be roaring throughout the two days. The group may claim to be "honest traders from the HMS Marauder," but other folks might call them "pirates."
The Rogues will demonstrate historically-accurate cannon firing and describe safety procedures in dealing with black powder weaponry.
But it isn't all about the big bangs for this crew.
Members also like to throw dice and play various games that resemble those played by sailors during the Golden Age of Piracy. Fair-goers, both adults and youngsters, will get a chance to try their luck at those games.
Fairgoers also will have a chance to receive prizes through the Adventure Faire's silent auction and drawing, which will benefit the Rainbow Girls Sacramento Camilla Assembly No. 108. Rainbow Girls teaches girls values and leadership through multiple opportunities, and in California, Rainbow has donated $61,341 to Families Forward to help the homeless.
Among the items available through the silent auction is a signed original sketch of Iron Man by Tom Morgan, a longtime Marvel Comics artist who now works at Disney Animation.
This year, the Golden Coast Adventure Faire is paired with the BerryFest, making it an even larger family-friendly two-day event. Vendors of arts and crafts, clothing, jewelry, leather items, hats and other accessories will have their wares on display and for sale. Food and beverages, for those above and below 21, also will be sold.
The BerryFest will have a Kid Zone of games and rides, challenges and obstacles in the Scout-O-Rama, a model railroad exhibit, face painters, a classic car show, a petting zoo and pony rides, a food court, a "mom's retreat" where mothers can relax, two stages of live entertainment, a Strawberry Kitchen featuring Mason Partak and other top chefs, the Berry Bakers and their pies and other berry treats and an interactive exhibit of exotic animals.
The Golden Coast Adventure faire and BerryFest will take place from 10 a.m. to 6 p.m. Saturday and Sunday, May 12 and 13, at the Fairgrounds of Placer County, now called @ The Grounds, 800 All America City Blvd., Roseville.
Admission is $10 for those 13 to 59, $5 for those 60 and older as well as 6 to 12. Admission to those 5 and younger is free, as is admission to military veterans with identification, active military in uniform, Rainbow Girls in uniform, American Legion in uniform, and Boy and Girl Scouts in uniform. One free admission per each decorated rolling floats in the Raspberry Parade.
The BerryFest general admission with strawberry pancake breakfast from 8 a.m. to 11 a.m. is $10. Parking at Gate C is $5.
Tickets are available online at https://www.feedmeberries.com/tickets/ and at https://goldencoastadventurefaire.com/.