The Italian American Studies Association could not have picked a better day to go for a walk. I appreciated the beautiful spring day as we strolled through the old part of town and down to Grangers Wharf last Sunday. The sun was shining and the birds were singing. My husband Jeff and I had a wonderful time even though we no Italian ancestors. As we walked we learned about the early Italian families from the descendants themselves. We heard how the families came to live here and what it was like growing up Italian-American in Martinez. We also heard that Joe DiMaggio, the famous baseball player, stayed in that house. No, in that house. No, no, he lived in that house. No, his house used to be there, in that vacant lot. "Joe used to live here" is our "George Washington slept here." Jeff and I enjoyed the good natured debate that is still unresolved .
As we walked down Buckley Street, Sunday dinners at everyone's Nonna's house were remembered with reverence. "You knew the menu on everyone's table when you walked down the street" a man in the crowd commented. The larger than anticipated crowd, mostly from Martinez, shared memories as the group walked along. "I learned to ride a bike here," said one woman. "My cousins and I would play hide and seek on this street until it got dark." They played bocce ball, "right over there where the bathrooms are now," commented several people when we were at the end of Granger's Wharf. When it got dark, they used to angle their cars and aim the headlights onto the court so they could finish the game. Someone remembered sleeping six kids in a bed when company came. It was enjoyable to walk back in time for an afternoon. Thank you to all who worked to make the event possible.
After the tour Jeff and I walked home through the Martinez Regional Shoreline Park, which the locals call "down by the marina". The sun warmed the soul and a gentle breeze off of the river scented the air with a mild fragrance. Wildflowers were everywhere – poppies and lupine, scarlet pimpernel and miner's lettuce, to name just a few. My mother would have enjoyed walking with us.
One of my favorite memories of my mother is of us walking together on a narrow path near Rock City picnic grounds on Mt. Diablo. I must have been in my early teens at the time. "Oh my," she whispered, "look at the shooting stars!" Nestled near a rock half buried in the ground was a small patch of plants. She kneeled down and showed me how the pale purple flower looked like it could be a comet shooting across the sky. She made me laugh when she showed me the monkey flower, a fiddle neck, and then a paint brush. I wasn't sure if she was making up those names or not, but I didn't care. It was a lovely walk with just my mother and me.
I asked my older sister Brenda (12 years older) if she was lucky enough to go on a nature walk with my mother too. She had to think about it for a minute and then replied that the earliest 'walks' she remembered started out as fishing trips, before I was born. My family lived in West Pittsburg and they drove down to McAvoy Yacht Harbor. Dad parked the car and then led the family through the fields and along the river banks towards Pittsburg for quite a distance. To my sister, it seemed like miles before they reached Dad's favorite fishing spot. Our oldest sister Karen kept up with Daddy. Brenda stayed with Mama, who at only 5'1", was a slower walker. Brenda didn't remember what she and Mama talked about on those trips, but remembered hearing the names of trees, grasses and flowers. She also remembered hearing Mama say, "Brenda, get out of the water!" a lot!
People didn't go hiking back in those days. They went for walks. Our grandparents moved to Colfax from Port Chicago in the 1950s. Brenda said she remembered one walking adventure in particular. Grandma, Mama, Brenda and Karen walked up the mountain behind the cabin through the woods to explore. They followed little paths that may have been deer trails. Grandma and Mama knew their flowers and stopped frequently to appreciate the floral splendor. The group came across a junk pile near the remnants of an old house near an overgrown dirt road. Brenda found an old fashioned leather shoe with buttons up the side. The grownups thought maybe the road was once a wagon trail or pony express route. "What did you do with the shoe?" I asked. She laughed. She didn't remember.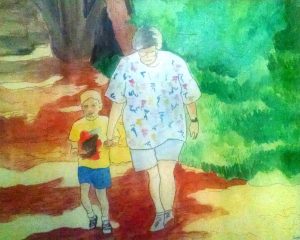 "Mama could find flowers where you didn't expect to find them." Brenda recalled. She remembered walking through the woods at 4-H Camp near St. Helena. Mama would stop in the middle of the path, reach down and pull back a leaf. Sure enough, there would be a tiny wild flower hidden beneath. On another walk in another place, Mama found a nest of baby rattle snakes. Even Mama was surprised at that.
When Jeff was stationed in Germany in the early 1980s our little family was introduced to Volksmarching, which is an organized walking sport popular all over Europe but specifically in Germany. Every weekend we took our little family on 10 kilometer hikes through the country side. We even trekked through the snow and rain. As my German neighbor Ilka told me, "There is no bad weather – only bad dressing." Jeff and I had our children to ourselves, uninterrupted for hours. We played games and told stories as we walked along. Jeff taught the kids that they could blow their noses on soft green leaves if they didn't have a tissue. He taught them how to find wild berries and chew on sour grass. We all sang songs. I told them the names of the wild flowers that I recognized. Complaining was not allowed. Our kids loved going on those Volksmarches so much that they take us on hikes now.
I know what my sister Brenda will be doing this Sunday. She will be taking a long walk with her son John and several of her grandchildren. The annual trek started years ago when the kids asked her what she wanted for Mother's Day. "Time with you" was her answer. A long walk together through a beautiful park was their gift. "The walks get a little shorter each year as I grow a little older," Brenda chuckled, but she looks forward to her annual gift.
Mother's Day is this Sunday. Give your mother the gift of time. Take her for a walk. The marina is level and well paved. It's a little bumpy, but wheel chairs can make it. My daughter Marion is taking me to Angel Island for a hike. I'll get a boat ride too.
If your mother can't physically walk far at all, then drive through the old neighborhood. If you are Italian and live in Martinez, well, you know where to go. Or get out the old photos and take time together for a walk down Memory Lane.