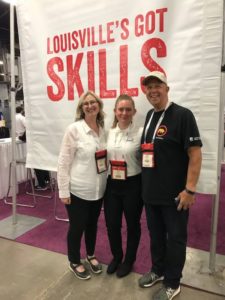 MARTINEZ, Calif. – When Julia Coyne was in Alhambra High School teacher Brian Wheeler's auto shop class, he saw her potential and suggested she enter the SkillsUSA competition that highlights how education trains students to become workforce employees.
Alhambra High School has been participating in the competition for the past six years, with students in both Wheeler's class as well as the school's woodworking class placing at regional and state levels.
But Julia had decided she didn't want an automotive career. Instead, she told Wheeler she wanted to be a third grade teacher.
There is a category for early childhood education in SkillsUSA, but the course isn't taught at Alhambra High School.
That was the first of many challenges Julia faced on her way to winning the national championship this year in her school level and career category.
First, she had to get training. And Wheeler had just the person to introduce her to real-life teaching of younger pupils.
His wife, Stephanie, is a principal in charge of preschools in Fairfield, with six sites and 400 children under her leadership. She welcomed Julia to observe classes taught by her teachers.
While attending Alhambra High School, Julia also began taking courses in child development, psychology and sociology at Los Medanos College.
As a junior, she entered her first SkillsUSA competition, earning gold at the regional level and placing fourth at the state level.
Normally, she would have an adult guide to mentor her at the state level. But Stephanie Wheeler was ill, and could not accompany Julia to the state contest. Alone, Julia underwent the orientation, tests lesson plan composition and selection of a read-aloud text.
That she placed fourth without any help told the Wheelers something. "She's a natural," Brian Wheeler said.
As a senior, Julia continued her studies at both Alhambra and Los Medanos. She also spent more time working with Stephanie Wheeler.
Through the Regional Occupation Program (ROP) Careers in Teaching, which is available at Alhambra High School, she spent months as an intern at a fourth grade class at Morello Park Elementary School.
Her class in the ROP program is one of seven available at AHS through the Contra Costa County Office of Education (CCCOE), which seeks to provide career technical education not only through rigorous academic standards but also through work-based learning internships at elementary schools and leadership development through the SkillsUSA competition, Dan Hanel, CCCOE Principal of Student Programs.
Entering again as a senior, Julia succeeded at the regional level, then was on to the state contest in Southern California in March, where she earned her gold medal in different but still difficult circumstances. She realized her fellow Californians were rivals. "A lot of girls were not pushing for me to win," she said.
But this time, she had her mentor. She also had an unusual attitude – her focus wasn't on winning but on learning from the experience. And she nailed the gold medal in her category.
Also returning with medals from the Southern California event last weekend are senior Aidan Lahonta, who was second in cabinet making; junior Jacob Bower, who was second in automotive service technology; senior Alejandro Hisquierdo, who was third in extemporaneous speaking; and senior Chris Leidich, who was third in cabinet making, Brian Wheeler said.
"It was amazing," he said of Julia's achievement. "I've been trying to get gold at state for six years."
"I was really nervous to compete my junior year," Julia said, comparing the two experiences. "It's intimidating, but I have a really good teacher." Still, she realized she needed to work on developing lesson plans and other areas before she entered the contest this year as a senior.
Her self-confidence grew as she took more college-level classes. Her first, early childhood development showed her she was right in her career selection. "I aced it," she said. More meetings with Stephanie Wheeler and observing the classes with younger pupils also helped.
Julia also has spent the past two years studying national guidelines for early childhood education. The National Association Education of Young Children text would be the one on which the national competition's tests would be based.
She learned more as well by watching Stephanie Wheeler's teachers, and their 3 to 5 year old pupils that included those with special needs and those learning English.
"It's really amazing to see," she said "I absolutely love that special needs students are in the same classes with typical students. And honestly, the way they work and learn together blew my mind." And she noticed that all the students were friends.
She found her experiences at Morello Park Elementary School even more delightful.
Despite the additional experience, classes and internship, Julia said she wasn't as confident as she was the previous year. "I had a lot more going on – more classes at Los Medanos on top of SkillsUSA," she said. Despite the extra preparation, she said she felt she wasn't as well prepared for the state level contest this year.
"I worked every single night doing book reading and lesson plans." She also practiced interviews with Stephanie Wheeler, something that also boosted her confidence.
They continued that work in preparation for the national contest June 25-29 in Louisville, Ky. She used crowd funding to raise the money for the trip, although the ROP program picked up the tab for all contest registrations.
The Wheelers made sure the trip gave Julia experiences she had not had as a California native. They dined on a restaurant's outside porch, and suddenly Julia saw the twinkle of tiny, moving lights – her first sighting of fireflies – lightning bugs as they are called in the Midwest.
She saw the Ohio River and its levees. She visited the Louisville Museum and the Muhammad Ali Museum – chosen above other Louisville attractions because Julia also is involved in mixed martial arts.
She stayed at a hotel that had California contestants in 300 of its 500 rooms. This time, because they weren't competing against each other, the Californians had greater camaraderie.
The national level of the competition reminded Julia of the state level, bit it was more intense. In addition she was meeting people from throughout the country, hearing accents she had not heard before. The size of the Freedom Hall coliseum also was overwhelming – rock concerts and major sporting events take place there, she said. Muhammad Ali had fought there.
"The hardest part was staying determined and not letting anything discourage me," she said. "The first day we took the written test. No one expected that level of difficulty. It beats up your morale. I was able to stay positive and excited."
She had a formal interview. While she had prepared answers for 25 sample questions, no one knew in advance what would be asked. Each candidate had to answer the same three questions. She was assigned mathematics as a subject for which to develop a lesson plan in a strict 5 to 7 minute format. She had three hours to complete that assignment.
She had to answer another challenging question in front of a panel of judges. Then she had to choose from a selection of books and practice a read-aloud for a day of presentations.
Stephanie Wheeler told her, "You got everything down. Go do your best."
Julia and the Wheelers had an afternoon off once the tests were done. The next day, Julia and other competitors were debriefed, told where they were strong and advised weaknesses they would need to address. Once her debriefing was done, Julia told the Wheelers she had no idea how well she had done.
It took two and a half hours for winners to be announced during the final ceremony. Not only are there multiple career categories, those in high school do not compete against those in college. Bronze, silver and gold medals are announced for each.
Julia sat and waited alongside the Wheelers. She heard third place in her category announced, then second.
While Stephanie Wheeler was thinking, "It's all or nothing now," Julia kept her eyes forward on the stage, not daring to look at her mentors.
When second place was announced, she thought, "Maybe I could have won!" Then she heard her name called as the gold medalist.
"We were jumping up and down, and they were hugging me. I was trying not to cry. The Wheelers wear tearing up. I ran to the stage – I was one of the first there. It was a happy moment."
It also was a shared happy moment, because she had befriended California's college-level competitor, who won the early childhood education gold in her category. They hugged and cheered each other.
Martinez Unified School District Superintendent C.J. Cammack emailed her as soon as he had heard she had won. Other classmates also sent their congratulations. "My parents (John and Stacy Coyne) are excited and happy," Julia said.
The Wheelers had one more stop before heading to the airport – a visit to the Indianapolis 500 museum and to the famous speedway where some race drivers were testing their cars that day.
"I started off in automotive, and I am ending with automotive," Julia told the Wheelers before boarding the plane to go home.
The Wheelers have described Julia as exactly the type of person one would hope becomes a teacher. And that's her plan.
As an AHS graduate, she plans to complete her classes at Los Medanos and earn an associate in arts degree. Then she plans to transfer to Sacramento State to complete her education, after which she hopes to secure a position in the Bay Area.