Martinez resident Frank Baughman, 91-years-old, recently made a visit to Washington D.C. accompanied by his daughter Anne Bernecker. Frank was born in Oakland and graduated from Oakland Tech High School. He then studied at the University of Nevada at Reno and the University of Utah. Frank served in the Army and was stationed in post-combat Germany just as World War II ended. He taught mathematics at Acalanes High School in Lafayette. Frank loves to listen to and share stories about WW II and the United States flag.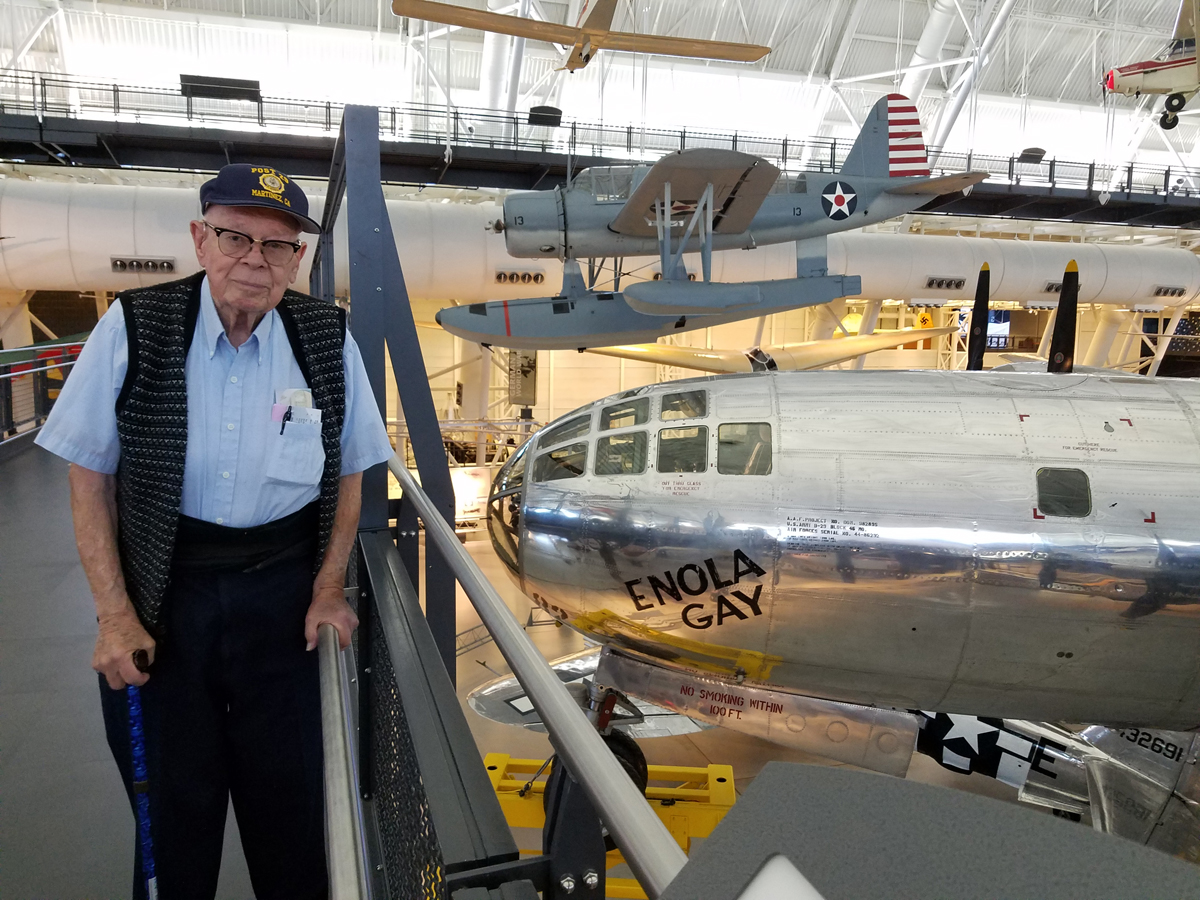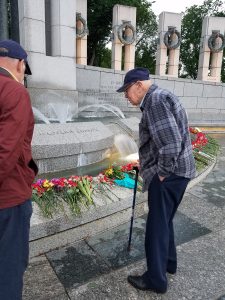 I thought coming to Ft. McHenry was the trip of a lifetime, which it was, and there daily surprises making for an extremely memorable trip.
I was asked to assist with the changing of the flag at Ft. McHenry; once in the evening and again in the morning. We enjoyed listening to the park rangers giving details of the battle in Baltimore Harbor and how the Fort survived the seemingly impossible battle. After one such lecture, I learned that the Fort flies flags for people. A flag can be purchased or sent to the Fort and they will fly it and return it to you. I happened to bring a Star Spangled Banner along with me. I didn't have a reason to bring it with me, but thought I would. We returned to the Fort the next morning, and my flag was raised, flown, and lowered. What a thrill!
We traveled to Washington, D.C., to the Smithsonian of American History where the original Star Spangled Banner which flew at Ft. McHenry that Francis Scott Key kept his eye on during the battle, is housed. It's kept in a special display room to help insure it will be around for years to come so millions can appreciate and view it. On an interactive screen displaying an image of the flag, little historical details of the flag in general and details on specific parts of the flag were displayed.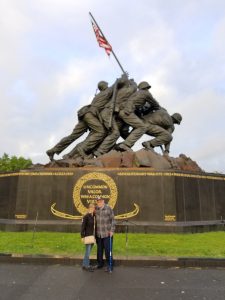 We also saw Dorothy's ruby red slippers and we were touched as we walked through the WW II part of the museum.
We were delighted to meet up with my nephew who took us on a tour of D.C. He has a deep knowledge and love of history. He gave many details that I've never heard. We saw the Air Force monument, The Marine Corps War Memorial with a bronze statue of the flag being raised on Iwo Jima, WW II memorial, Washington memorial, Lincoln Memorial, Korean War Memorial, and Vietnam Memorial. Each was a sobering, humbling memorial to see.
My daughter's favorite surprise has been children who come up to me to thank me for my service. Children six-years-old, children ten-years-old, in between, older and younger. They are soft and respectful as they thank me. That has been a treat.
Monday we spent the day at the US Marine Corps Museum where my nephew serves as a docent. He took us on a tour. So much to see, learn, contemplate, appreciate, and never enough time to do it. A fun surprise was learning about a horse named Sargent Reckless, a Mongolian mare and how she assisted during the Korean War. Thanks, Don Call, for an outstanding tour. And thank you to so many who gave their all for our freedoms.
Sincerely,
Frank Baughman