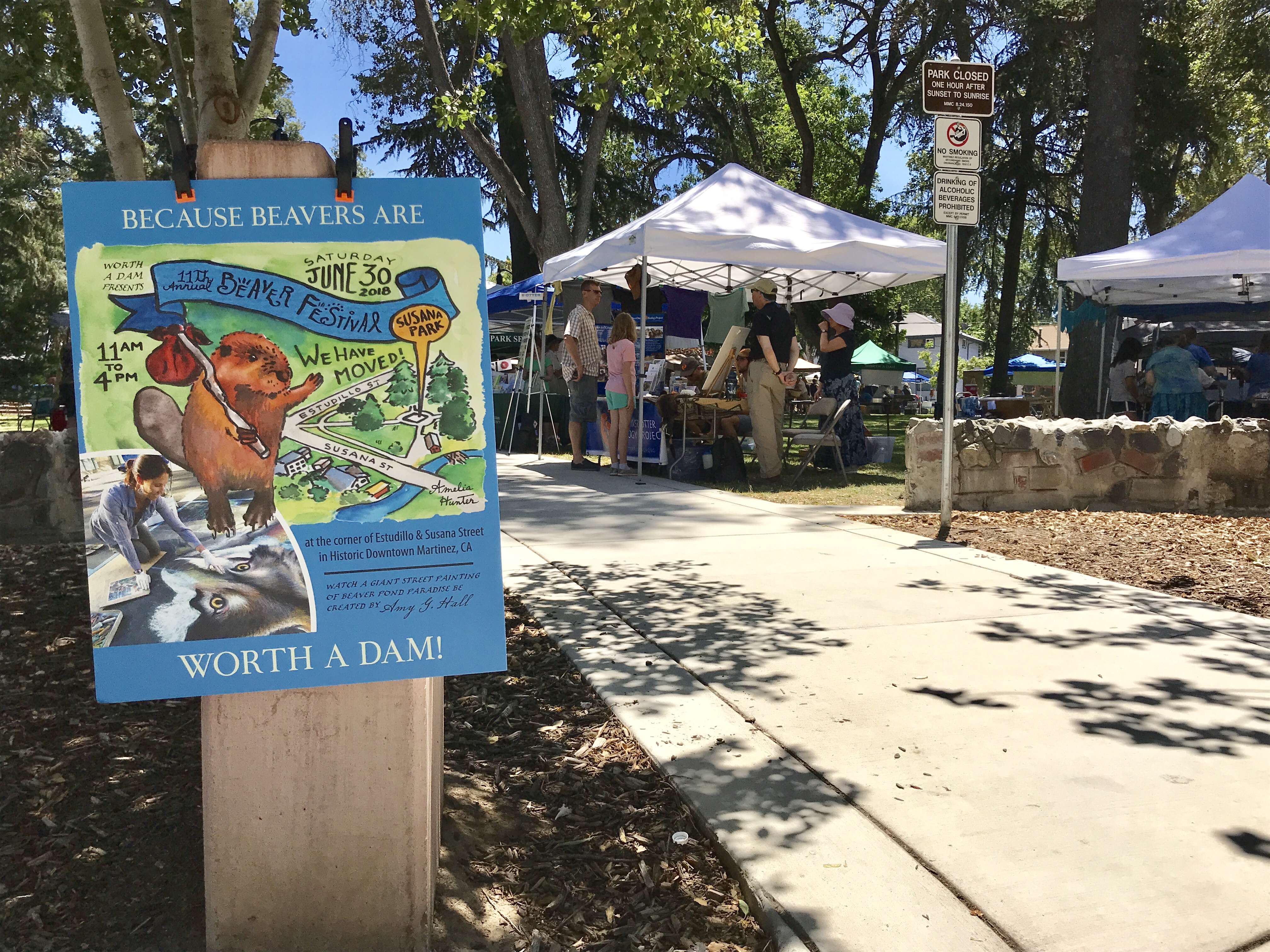 MARTINEZ, Calif. – Susana Park has shade and is a short walk from a new beaver dam. And that has made the new venue popular with fans of the Martinez Beaver Festival, which took place there Saturday.
"Everyone's comfortable," said Heidi Perryman, whose Worth A Dam organization puts the festival together each year.
For the past 10 years, the festival was closer to the Carquinez Strait that often provides breezes. But the little triangular park that became known as "Beaver Park" had no shade.
Susana Park, at the intersection of Estudillo and Susana streets, has a number of trees with canopies that provided shade in addition to that of the tented booths of the environmental organizations that use the festival as a way to let visitors know what they do and to share information about ecological causes.
"It's perfect for artwork, perfect for the stage, and people love it," Perryman said from her own both, where she distributed sheets on which children could affix stickers they obtained from other groups after learning how important beavers are to their surroundings.
Those sheets, once decorated, resembled the chalk mural by Amy G. Hall, the Napa street painter. Hall wasn't the only one to apply chalk to sidewalk during the festival. Anyone with a yen to do so was invited to create their own illustrations to the walkways.
Another celebrity, Ben Goldfarb, gave readings from his book, "Eager: The Surprising Secret Lives of Beavers and Why They Matter." One chapter of the book deals with Martinez's own beaver story.
That begins when a family of beavers made a dam close to the city's downtown area, where flooding has been a historic problem to building owners and business operators. Conflicts arose, pitting those who wanted the beavers to be left alone against those who feared even greater damage to buildings and their contents.
The first Beaver Festival was staged to show how many people support the important aquatic animal. In the meantime, Martinez officials finally warmed up to the option of installing a device called a "beaver deceiver" that would allow beavers to live in Alhambra Creek without causing greater harm during the area's rainy season.
In recent years, that family of beavers moved on, ending the custom of including a guided tour to see beavers. But this year's move to Susana Park coincides with the discovery of two beaver dams in the nearby creek. One could be seen through the chain-link fencing, although Perryman said the other is farther upstream and is obscured from view.
"We're especially happy, because there is a baby beaver in the creek!" Perryman said.