By JEFF ROUBAL
Martinez News-Gazette Columnist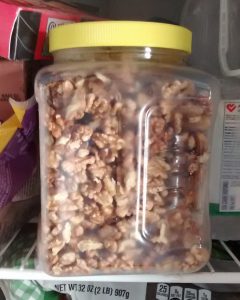 Life is always exciting for us retirees. Yesterday morning after breakfast I went to the garage to put the pliers away and got sucked into a project that took up most of my morning. I cracked walnuts! Vivian bought them in Galt last week and left them in the garage. They were just screaming to be cracked. "No time like the present," I decided then promptly lost track of time. Vivian came out looking for me at noon, just as I was finishing.
Over the last ten years or so, Vivian and I have had a friend in Fairfield who brought us fresh, free walnuts from his tree. Unfortunately his tree hasn't produced any walnuts for the last two years so we have gone without. I started looking for bulk walnuts in the shell six months ago but could not find any place that sold them at a reasonable price. Farms advertise online to sell 50 lb of fresh walnuts in the shell for $100-$150. That's ridiculous.
Have you ever been to Galt? When I was younger, it was a tiny farming town in the Central Valley halfway between Sacramento and Stockton. In recent years, Galt has turned into a bedroom community for Sacramento. The population today is approaching 30,000, up from 9,000 in 1990. When I first saw Galt in the 1960s there were only 1,800 inhabitants. Galt is locally famous for having a phenomenal flea market. When Vivian saw walnuts at the Galt flea market, she bought a bag for me for $5. Was that a good deal? It took me a while to figure it out.
I weighed the fresh walnuts before I started. There were 4.4 lb. I weighed everything again after I got done. I ended up with 30.2 oz of nutmeat. That is almost 2 lb of nutmeat. There was also 40.2 oz of shells, which I composted. My end cost was $2.50 per pound for shelled English Walnuts.
I checked Walmart to find Great Value brand walnuts on sale for $6.22 plus tax for 1 lb of shelled nuts. Sales tax is 9.25% so the total cost would have been $6.79. I also checked Safeway and found Blue Diamond Brand shelled walnuts for $7.98 a pound. With tax that would be $8.72.
Now I have one coffee can full in the freezer. It was nostalgic work that reminded me of how many hours we spent cracking walnuts as kids. My Mom used to buy 50 lb of walnuts each year. We would crack them and put the meats in coffee cans in our freezer out in the garage. The family always had plenty of walnuts for snacking or baking.
One year stands out in particular. As a junior at Soquel High School, I played lineman on the varsity football team. At 126 pounds, that was a gutsy thing for me to do in pursuit of glory and girls. I was racked up on a kickoff return during one of the first games of the 1970/71 season. My left side swoll up to five times its normal size and turned all kinds of colors. Mom drove me to the ER where the doctor diagnosed my injury as a serious hip pointer muscle bruise. He ordered ice packs for the first night followed by one week of bed rest with warm, moist heat on the bruised, purple/black area.
At home, Mom set me up on a deck lounge chair so I could sleep in the living room and wouldn't need to climb stairs. She brought me the television remote and cold drinks. "Are you comfortable?" she asked. "Yes." I replied, thinking to myself how great life could be. I was looking toward a whole week lounging around on my unanticipated vacation from classes and chores. "Great." mom said, "You can crack walnuts while you are laying around with nothing else to do." With that, she hauled in 100 pounds of walnuts, the nutcracker, and two big wooden bowls: one for meats and one for shells. "Call me when the bowls get full and I will empty them." Mom said as she left. All the nuts were cracked in three and a half days. I still remember that week as a highlight in my high school life.
Thanks to Vivian, I got a good deal on walnuts although not nearly as good as we used to get in the past. Some years, Mom would pile us kids into the station wagon to drive down to Watsonville to pick free walnuts at our neighbor's mother's house. Those were the best days, until I caught poison oak one time. This was in my senior year of high school. Mom and us four kids picked walnuts in Watsonville for a couple hours after school one day. The dirt was muddy and the walnuts had been on the ground for a while so many of them were rotten. Most of them still had husks that we removed. We filled four or five paper grocery sacks and returned home.
The next morning, my chest started itching during class. Our school nurse looked at my inflamed skin and asked me what it was. When I mentioned the walnuts, she freaked out. Apparently, people can have a potentially serious reaction to walnut husks. Decomposing walnut husks produce a neurotoxin called Penitrem which is toxic to livestock, can be fatal to dogs, and can trigger adverse reactions in people. Who knew? The school nurse immediately called my mother who drove me to the family physician. With one look, Doctor Boldrick knew that the nurse's fears were unfounded. I had a good dose of plain old poison oak. After that, we were more careful when picking free walnuts.
High school had its ups and downs but life is always exciting for us retirees. I now spend part of each day on the lookout for more cheap walnuts. Until I find them, there is a two-pound can in the freezer to tide us over.