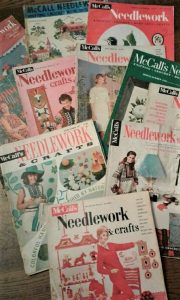 Every so often I get the urge to clean up and reorganize my basement. It's my craft room and I have a lot of good stuff in there. The urge to purge usually comes when I can't walk more than three feet inside the basement door. Last week I discovered that I couldn't even get the door fully open. I don't have junk. I have collections. But sometimes, you have to admit to yourself that you no longer need to collect.
It's my mother's fault of course, that I have so many craft supplies. My mother was very creative. I grew up hearing friends and neighbors say about my mom, "She's so clever and creative!" Our family didn't spend time just sitting in front of the television at our house. We always had some sort of project to work on. I beaded hippie headbands in the 60s, Johnette made yarn animals. My mother's specialty was crocheting and sewing, but when she got an idea in her head of something she wanted to make – well, she just figured out how to do it.
From as far back as I can remember I looked forward to leafing through the pages of Mom's subscription to McCall's Needlework & Craft magazine. The first part of the magazine had knitting and crocheting patterns which I wasn't into yet, but the back of the magazine had a general craft section and a few pages of crafts for kids.
Mama saved every issue. They sat on a shelf in a hall closet the whole time I was growing up. Whenever I felt crafty, I would open the closet door and sit on the floor in the hall and thumb through the magazines while looking for ideas. I may not have done any specific craft in the magazines specifically, but I would take ideas from several projects to make my own.
I grew up and left home and didn't get into the craft closet as often because work and life got in the way. It never occurred to me that those magazines wouldn't always be there.
Life has a way of sending you down unexpected pathways, doesn't it? When Mama was diagnosed with terminal cancer I started going home more often. My kid sister Johnette was just a teenager still. Mama was getting weaker, but Johnette and I never really believed she was going to die. I think Mama knew, though.
I came home one evening after work and went to the hall closet to look for a quick and cute project for an elementary school class I was working with. I opened the closet door and – it was empty.
I came out to the living room where Mama was lying on the couch. "Where are the craft magazines?" I asked, assuming she had moved them somewhere else. "I donated them to the church rummage sale yesterday," my mother replied. I was in shock. It was like a part of my childhood had been stolen. Mama apologized. She said she hadn't realized how much I loved those magazines. She told me I could keep the next magazines as they came in. I did.
One of the first things I did as a married lady was subscribe to my own McCall's Needlework & Crafts magazine. Jeff never understood why I kept lugging those magazines with me every time we moved. They went from Japan to Korea to Germany and back to California. With each move, the box of magazines just got heavier.
After traveling the world, we landed back in California (Travis AFB). It was wonderful to see our relatives again. One day, my Aunt Ruby came to visit from Modesto. She brought a box of yarn scraps with her for my kids to use. Aunt Ruby was an excellent knitter and taught me to knit when I was just ten years old. She said it was time for my kids to learn, too! I reminded her of the 'olden' days when we poured through the pages of the McCall's Needlework and Crafts magazine looking for patterns. I had chosen a cable knit pullover for my first sweater. Then I mentioned how much I missed my mother's magazines.
A few months later, Aunt Ruby was back for another visit. She handed me her car keys as she walked in the door. With a twinkle in her eye, in her typically very gruff voice, she demanded, "Go out to the car and bring in that box from the trunk!" Oh, my was that box heavy!
I sat the box down on the family room floor in front of Aunt Ruby's chair. "Open it!" she demanded. I opened it and was struck dumb. The box was full of McCall's Needlework and Crafts magazines going back to 1950. She was giving them to me. Aunt Ruby explained that she had the same subscription my mother did and still loved thumbing through the pages, looking at all of the knitting patterns. But now, looking at the patterns were only dreams for her. "I'll never have the time to knit everything I want to, and my eyes are not so good anymore," she explained. She said she was thrilled to hear that I wanted her magazines. I was thrilled to get them.
Our Martinez home is the smallest home Jeff and I have ever lived in. There is no room for all of my craft magazines and books in the house. I made a craft library in the basement and I peruse the contents at least once a week. But to be honest, I haven't really looked at the old McCall's Needlework & Craft magazines in years. The styles and fabrics have changed and the craft industry has come into its own. I've also learned to cruise the internet for ideas now.
I brought all of the McCall's magazines in boxes up to my living room last week and set them next to my favorite chair. One by one, I've opened each magazine and looked at every page, from 1950 to the 1990s. I found the pattern for my mother's favorite baby sweater set. I set that magazine aside. I saw the sweater pattern that Aunt Ruby knit for Johnette's second birthday in another issue. The caterpillar out of egg cartons was there just as I remembered it. Wild colors in the 1960s! Granny square evening gowns! Some of the pages had been marked with slips of a torn envelope or a paper napkin. A couple of paper slips had my mother's name on them. The pages had patterns for shawls and ponchos. Remember the crocheted ponchos in the 1970s? My mother made me half a dozen in different colors and even sewed pants to match.
Each evening I looked through a few more issues. Such wonderful memories. But, like Aunt Ruby, the magazines have become just dreams for me. So many things I'd like to make, but I know will never be made. At least by me.
I called my niece who is an expert knitter. Janice loves to knit and so does her daughter Margaret. And her whole family loves vintage clothing! She's thrilled to get the magazines. I'm thrilled they will be perused, used, and loved at least one more time. I can't wait to see what she will make. I'm sure Aunt Ruby and Mama are smiling from heaven above.
In the meantime, the temporarily empty basement bookshelves have been filled with craft projects I can more reasonably expect to complete in the years ahead. Now I can walk into my basement again!
Until next time.