What do Neil Armstrong, Jon Bon Jovi, Bill Clinton, Tom Brokaw, and Michael Jordan have in common? Hint: Alhambra seniors Carson Edwards, Brenson Raygoza, and Delano Roderick have it too. They were all delegates to American Legion Boys State.
I spent Saturday evening, October 5th, enjoying a lovely meal at the Veterans Memorial Building in Martinez. The conversation was lively, informative, and quite enthusiastic. It's been a long time since I talked to teenagers.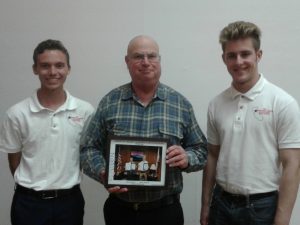 The dinner was put on by the Henry A. McNamara American Legion Post 29 in Martinez to honor the three Martinez delegates. Carson Edwards and Delano Roderick attended, along with rightfully proud family members attended.
According to the American Legion, "Only those who illustrate leadership, character, scholarship, loyalty and service in their schools and community should be considered. Merit and ability are the basis for evaluation during the actual citizens selection process."
Last March, the local high schools recommended a list of eligible candidates to our Martinez Legion post. The Boys and Girls State chairman Mike Steele, then interviewed and selected the representatives for the program. Mike enthused afterwards, "All of the boys were bright young men."
"Our delegates to California Boys State were sponsored by two local organizations- the International Brotherhood of Electrical Workers (IBEW) Local #302 and the National Electrical Contractors Association. They donated the tuition for all three boys to attend," said Jeff Roubal, Post 29 Commander. Les Schwabe and the Shell gas stations in Martinez bought tickets for their employees to attend the dinner.
The Boys State program was created in 1935 by American Legion members Hayes Kennedy and Harold Card. They were concerned about American youth attending political indoctrination camps in the late 1930s. It's hard to believe now, but in the early 20th century fascist, communist, and socialist political programs were rapidly growing in the US.
Hayes Kennedy felt that an alternative youth program was needed to counter antidemocratic propaganda and stress the value and importance of our democratic form of government.
According to the Evergreen Boys State web site, "American Legion Boys State is easily classified as a leadership action program where qualified male high school juniors take part in a practical government course designed to develop in the young citizens a working knowledge of the structure of government and to impress upon them the fact that government is just what they make it."
Every state is a little different, but overall, the boys participate in hands-on lessons on how our government works. The young men are first subdivided into cities. The citizens of each of these cities then have elections to choose their leaders and officials. They elect members of a city council, a mayor, and a police chief and so on. Then they elect representatives to the county and state levels. Carson Edwards explained to me that there were 43 members in his city of "Burbank." There were five counties. From these cities came nominees for state leadership. The mock legislature organized committees, elected members to various positions, and wrote and passed bills similar to the way actual state legislature function.
At the dinner, Delano Roderick and Carson Edwards each gave a speech on what they did and what they learned while at Boys State in June of last summer. Both started their talks with "It was a life changing event." They were both enthusiastic and sincere. I sat next to Carson during dinner so I was able to learn more about his experience.
The program was held at the Sacramento State University campus in Sacramento. Both boys said they hit the ground running. Within an hour of arrival, they were placed in "cities" and were choosing what jobs they would like to pursue.
The "cities" were formed by dormitory room locations. There were 25 cities containing 1,000 boys total. Carson lived in "Burbank," a municipality consisting of 43 Boy Staters. There were few Northern Californians in his city. They were mostly from the Central Valley or Southern Californian. He made friends right away. He had to. He didn't know anyone else! His city group worked well together from the very beginning.
Carson thought about running for a state office, but decided he could do more good working for his city and giving support and encouragement to the other city members. He was elected a city council member and loved his job. As a city council member, he passed revenue and prosperity laws for his city. He also created legislation designating his city as a sanctuary city that condemned hate and violence. He held speech and debate workshops for his city members running for higher office.
I asked him what his city did at Boys State. Carson proudly let me know his city went on to become the State's Model City, which is the top award that a city could win. He said his city had the most elected leaders in the State and that his city enacted a good amount of legislation including becoming a sanctuary city. "I think it was an accomplishment when you bring together 43 different boys from diverse backgrounds, all different races, religions, and cultures, and they still work together to get ahead to win Model City. We embraced each other's differences." One of the two delegates elected to go to Boys Nation in Washington D.C. was from his city.
At the dinner function at the VMB, I asked the boys if it was hard being a stranger and not knowing anyone that first day. Delano and Carson both said there was no problem. You couldn't be shy there. You were surrounded by strangers, but in order to get around you had to speak up. Delano said the more he spoke up the more confident he felt until he had no problem speaking up! Both boys agreed it was fun making friends from all walks of life. Some will be lifelong friends.
Our Martinez boys toured the California State Capitol. They were given certificates from 5th District Congressman Mike Thompson's office and from District 3 Senator Bill Dodd.
I asked Carson what was his biggest "take away" from his Boys State experience. He said "I see in today's world, the political climate is in turmoil, and there are so many disagreements between nations. Even though the people in our city had many different views I learned that we were able to come together to work together." And he got to preregister to vote!
Delano and Carson are both on the cross-country team at Alhambra and are active in other clubs and sports. Delano is interested in a medical career and said the Boys State experience has made him a better citizen. Carson is now thinking of a career in politics. He knows there's a better world out there.
What do Garth Brooks, Tim Cook, Roger Ebert, and Bruce Springsteen have in common with Delano Roderick, Carson Edwards, and Brenson Raygoza? You got it! Boys State.