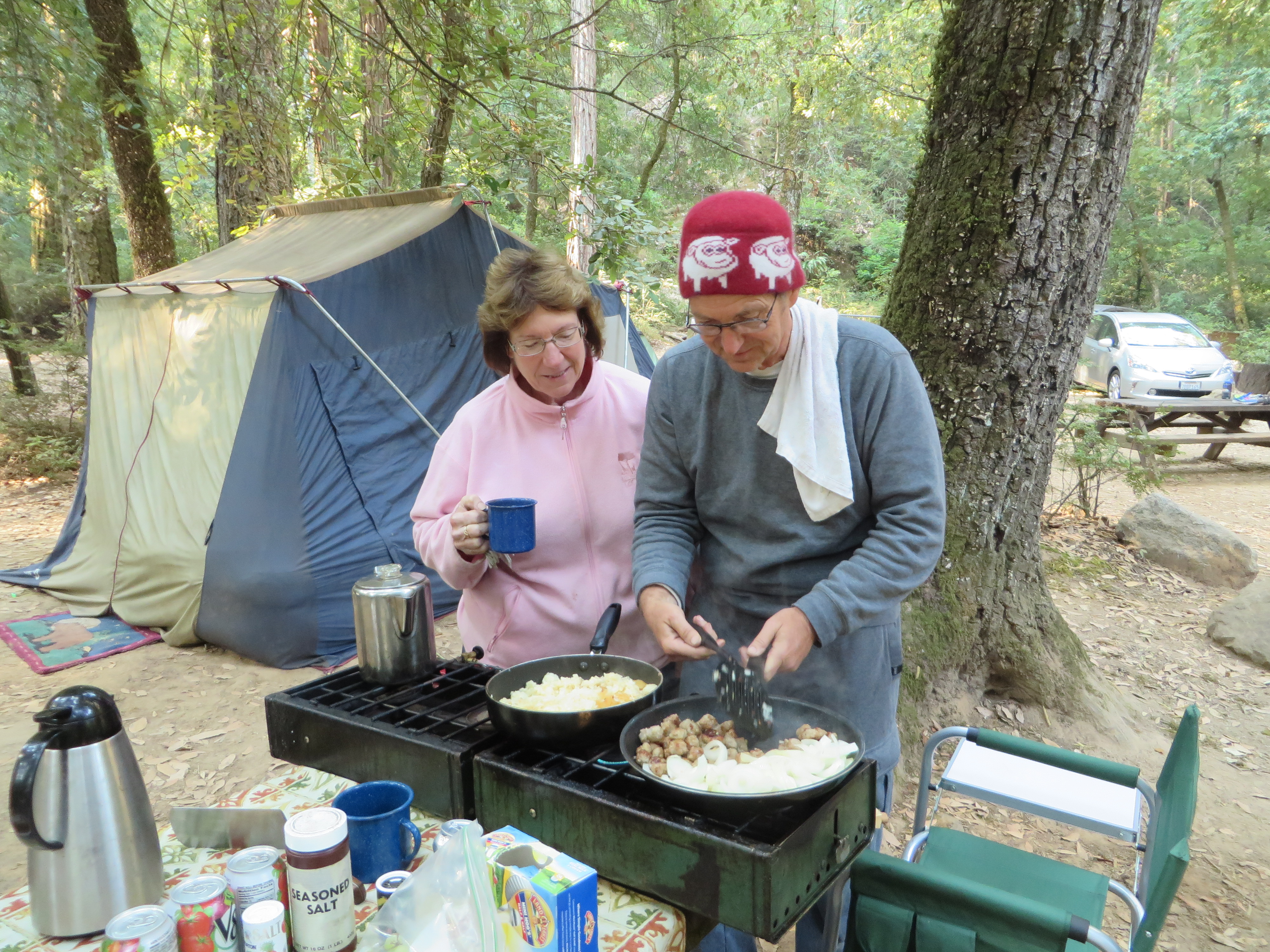 Why can't you run through a campground? You have to "ran" because it's past tents.
It was a simple memorial service. We reminisced about our good times together. We gave our humble thanks for more than twenty-five years of faithful service. Saying farewell to a tried and true comrade was hard, but it was time. Even though she had could barely stand in a gentle wind, had sagging shoulders and her skin was as thin and porous as tissue paper, she held her head high and treated us to one last weekend of joy. Then we tearfully said a wistful goodbye to our old friend as we ceremoniously closed the bear proof dumpster.
We were living in South Korea in 1992 when we first became friends with "the two room tent", as she was known throughout her life with us. The two room tent was the first of many tents we were to acquire over the years, and the most loved.
We were living in a four story apartment building on Osan Air Base in the middle of South Korea the day my husband Jeff opened a very large, curiously shaped birthday present. The look on his face was priceless. "A tent?" he asked me with a dumbstruck look in his eyes while our three children danced around him with joy. "A tent! We have a two room tent!" they exclaimed. "Can we set it up in the living room now?" they eagerly wanted to know. Can you imagine an 8×12 foot dark blue and tan nylon tent sitting in our living room? I couldn't either – so we didn't.
Why a tent? Well, it was one of those things that seemed like a good idea at the time. The 17th World Scout Jamboree was coming to Korea. Our nine year old son was going to participate and so were his sisters. Of course we needed a tent.
I asked my son if he remembered Dad getting the two room tent. He texted, "I remember camping in Korea near the bombing range in the snow!" Jeff laughed when he saw Eddy's message and said "We teased the scouts by telling them we sure hoped the airmen at Pilsung range didn't miss their target!"
We had a lot of good times in that tent. Eddy remembered taking the tent every summer to Boy Scout summer camp. A tag that read "No open flames in tent!" was safety-pinned to the front flap for years, thanks to scout safety regulations. "We carried that thing for miles when we hiked into Camp Messinger!" Eddy recalled. It really was a heavy tent.
On our first camping trip after returning to California in 1993, we found a passport style book in the State Park visitor center gift shop. The pages listed every California State Park with a space to be stamped. We bought the book with the intention of camping in every one of the 280 State Parks. Then we bought the National Park passport book as well, which added 60 more campgrounds to our list. We camp three times a summer. It's going to take a few more years to get to the bottom of the list.
As we took the tent out of its battered bag at Wawona campground in Yosemite last weekend, Jeff, daughter Marion and I admitted, with a heavy heart, that this was the last time the two room tent would be erected. The canvas roof and floor were no longer water proof. The nylon walls had little rips and tears. The front nylon zippers argued with us every time we tried to zip them up or down. The zippers were winning the battle.
All three of our kids slept in the back room of the tent when they were younger. We'd zip them in and then Jeff and I would sleep in the first room in front of the door. The kids couldn't escape without our detection. We didn't need air mattresses then. By the time the kids were adults, Jeff and I moved to the back room so the "kids" wouldn't wake us up when we wanted to sleep in. We also discovered that old bones like air mattresses.
We've camped from as far north as Glacier National Park in Montana and as far south as Sequoia National Park. We've slept in the mountains, in meadows, in the desert, and in our own backyard. We've woken up to snow on the roof top and have been flooded out by the rain. We lit the tent with tiki torches and solar lights to find our way back in the dark. We've decorated the tent for birthdays with streamers and balloons. Every trip has been a glorious adventure.
Last year, while camping at Emerald Bay State Park at Lake Tahoe, we sat in the shadow of our tent to watch the solar eclipse. That was very exciting, but not as exciting as what followed. We were just getting ready to cook dinner when it started to hail! Jeff and I ran to the tent, carrying our cheese and crackers. Marion grabbed the folding chairs and table on the way in.
Jeff played the ukulele and Marion played her guitar while we sat in the front room of our two room tent, munching on crackers and cheese, sipping our sodas, and watching hail as big as eggs hit the ground outside. The thumping on the tent roof was loud and scary. A truck at the campsite next to us was dented by the hail. After the hail stopped, the rain began. Jeff, our camp chef, cooked dinner on the old gas stove under an umbrella. We ate dinner in our tent that night. It was such a lovely evening, all warm and cozy with the pitter patter of rain on the roof of our tent.
Our children have their own tents now. Their newer tents are easy to assemble – just thread the poles through loops and shake it all out. Poof! You have a tent. Because of distance and work schedules we don't get to family camp together very often any more. Sometimes I miss the days when we all fit together nicely into our two room tent.
Before taking the tent down for the last time, I ran my hands through every pocket. I found a hair ribbon, a used battery, a whistle (in case of bears), an old trail map and a hand powered flashlight I always left in the tent pocket for 'just in case'. Then I carefully cut the pockets away from the tent. Maybe someday I'll make each of my kids a practical memento. Pockets are always good for something.
The steel interlocking pole units clanked as Jeff and I pulled them apart. The tent slowly dropped to the ground. We folded it and rolled it up like we've done a hundred times before. But this time, we didn't sweep it out first. No one will ever notice. I patted the old girl gently before we tenderly placed her into a bear proof dumpster. So long, my friend. See you again in camper heaven.
Jeff has been on the internet researching tent options this week. We will need a new one for next season's camping trips. It must have two rooms, of course. It won't be long before our granddaughters are old enough to experience the joys of the great outdoors. Grandma and Grandpa will be ready!