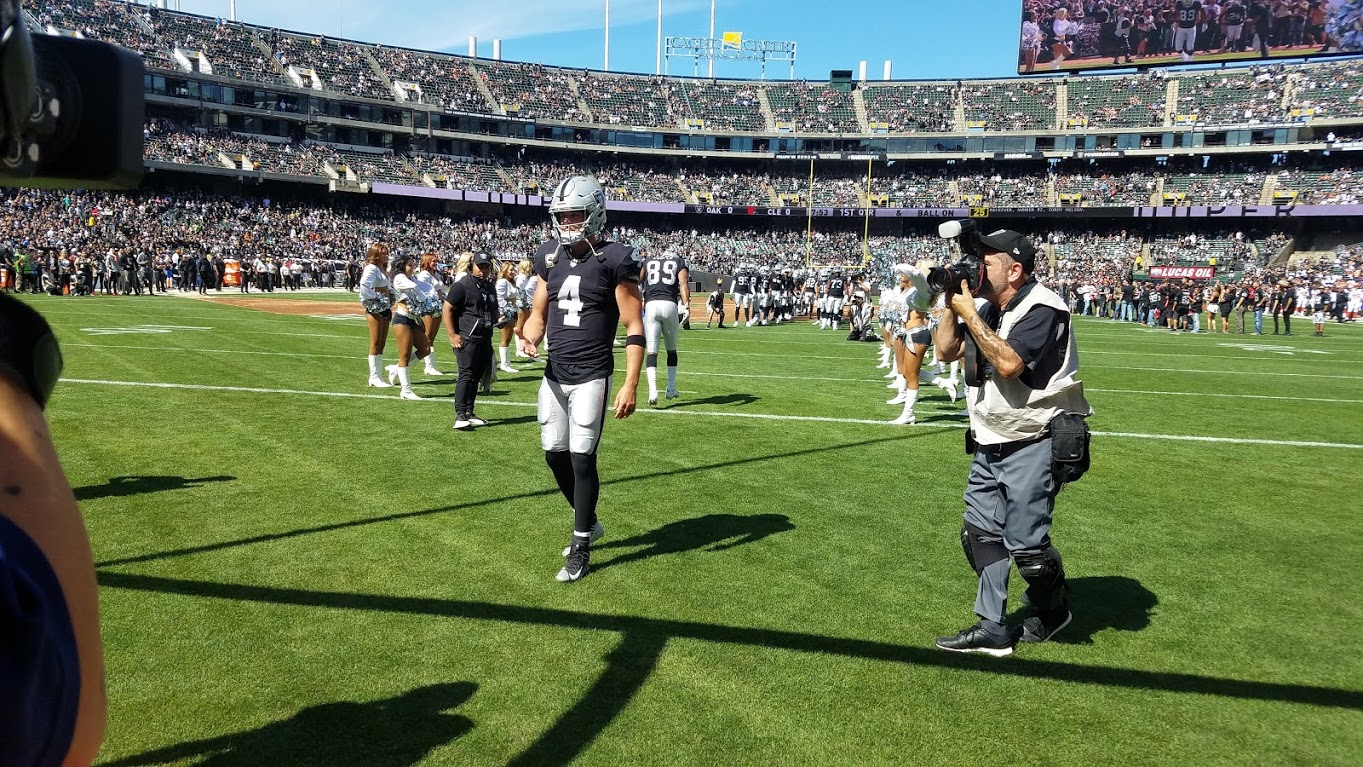 By FELICIA D. PURCELL
Martinez News-Gazette Reporter
The last time the Oakland Raiders went 0-3 was 2014 and Dennis Allen was the head coach. Remember him?
Midway through the fourth quarter it looked like those 2014 Raiders meaning they were going to lose yet another game they could have won.
It was a battle between two teams whose better days are long behind them and heading into this season it looked like the Raiders chapter of being in the abyss was over.
They would immediately make headlines, not for winning but for trading their number one player and former Defensive Player of the Year, Khalil Mack to the Chicago Bears.
Players the Browns in the past would have been considered the team you circled on your schedule as a sure win. After all, the Cleveland Browns (1-2-1), was known as the laughing stalk of the league.
However, they are giving their fans something to cheer about with their golden child quarterback Baker Mayfield who looked less like former draft bomb Johnny Manziel and more like a veteran on the field Sunday.
Both teams went back-and-forth on the field and the Raiders left it all on the field fighting and scratching until the very end.
Marshawn Lynch shut down all of his critics running like a beast finishing 20/130, his longest rush for 52-yards and 3/27 in receiving with his longest at 17-yards.
The game was filled with highs and lows and some even left in the final minutes but with 1:28 Derek Carr hit Jared Cook on a short pass for a 7-yard touchdown. No stranger to rising to the occasion under pressure Carr hit Jordy Nelson for the two-point conversion to tie the game at 42.
In the final seconds of regulation Mayfield would throw an interception, Carr would take a knee and both teams would go into overtime with Oakland winning the toss to receive.
In the final minutes Lynch would take defenders on his back as he pounded for 14-yards over 3-plays and putting rookie back-up kicker Matt McCrane in field goal position.
The 29-yarder gave McCrane redemption, Oakland their first win of the season and Jon Gruden his first win in nearly 10-years.
"I believe that my God is good no matter what I go through," said Raiders quarterback after the game when asked if he leaned on his faith these tough few weeks.
Whatever you believe, the Raiders fought it out and the real faithful's hung around to see a game worth staying for and believing in.
The Raiders travel next Sunday to Los Angeles to face the Chargers. Kickoff is 1:05 p.m. on CBS.