By JEFF ROUBAL
Martinez News-Gazette Columnist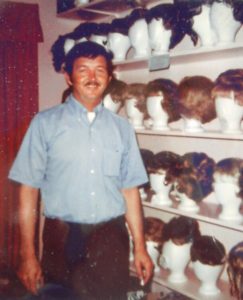 I always thought that I would own a small business someday just like my father. Dad worked as a hairdresser for forty years. Most of the time he worked alone. Once, he built a thirteen operator shop and managed it for seven years. That turned out to be more of a hassle than he wanted. He ended up working seven days a week because of all the added paperwork.
From Tuesday through Saturday, he worked on patrons in the shop. After church and doughnuts, all day Sunday was was taken up with "bookwork" as he called it. There were timecards, paychecks, bills, payroll taxes, withholding, business taxes, sales taxes, etc. He spent at least four or five hours a week assembling documents, writing checks, and getting everything ready to give the accountant. All day Monday was spent running errands: buying supplies for the shop, visiting the accountant, dental appointments, having the vehicles maintained, and everything else.
In 1965, Dad sold that shop and moved west. He rented a station from Olida who owned Olida's Golden Comb in Santa Cruz. In less than two years, he had enough clientele to open his own shop. We converted a rented space next to a plastics factory into a beauty shop which Dad ran by himself. Over the years, he moved three times to bigger and better shops but never had another employee.
During his last twenty years, Dad transitioned from styling live people to styling wigs. Wigs were fashionable during the 1970's and 80's. His last two shops had no shampoo sinks or hair dryers for the patrons. All of the styling was done in the back room. When the patron arrived, his or her wig was clean, perfectly coiffed, and gleaming in the display case. We even installed special lighting to enhance the effect. They looked fabulous!
Not to say that Dad was ever alone in the shop. There was a constant stream of clients all day long dropping off and picking up their wigs and hairpieces. This was, after all, the 1970's. Wigs were all the rage, along with nehru jackets, leisure suits, chunky jewelry, and 4 ½ inch neck ties. Women wore jumpsuits or long, knit vests and more chunky jewelry. I miss the 1970's sometime but that is a different story. Dad had a loyal clientele. Many did not let another beautician touch their heads or wigs for thirty years so business was good.
Sometimes too good. Dad continued to work seven days a week. The shop was open Monday-Saturday and he styled wigs in a workroom at home when the shop was closed. Working by yourself has some inherent drawbacks. You can not have a sick day. On the rare occasion that Dad was too ill to get out of bed, Mom would sit in the shop to greet customers picking up or dropping off wigs. A person working alone can not take days off or vacation. Dad never closed the shop except when we took a big six-week road trip to see all the relatives every five years or so. Dad died in 1990. He was only 58 years old. I have always thought that he worked himself to hard.
Through hard work, Dad earned enough to buy a six bedroom house, raise four kids, and send all of them to private school. Thanks to my parents (and my famous frugality), I graduated from San Francisco State with not one penny of debt.
Dad did not have a price list in the shop. In fact, he made up the prices! He had little notes pinned up all over the workshop to track who paid how much for which service. Despite all these notes, he sometimes slipped. I remember once that he asked a customer for $45. When she said that it previously cost $35, Dad replied in a conspiratorial whisper, "You are right, that should be the total after you subtract the loyal customer discount. After all, we have known each other for many, many years, haven't we dear? Just don't tell anyone else!"
I once saw him sell a new wig to a man for $250. It was the exact same wig that he had sold to a woman the week before for $50. When I asked him about it, Dad explained simply, "Men's wigs are more expensive."
Dad did not always receive money for his labor. He had one customer who was an Avon representative. She would pay him with Avon bottles. It worked out great. She got her wigs styled and Dad amassed a display of Avon cologne and perfume decanters that amazed everyone who entered the shop. We covered one wall with glass shelves to highlight his collection. Dad had another customer who dealt in hams so they would trade wigs for hams. A couple times a year, Dad would come home with a huge gourmet ham.
Dad was a wheeler-dealer at heart. One of his joys was to go to the flea market and dicker with the vendors to see how low they would go. He almost always walked away but once in a while found a deal too good to pass up. That was when he would come home with something completely random. I remember a four foot brass giraffe and an electric shoe shine station to decorate the shop. A couple years ago I tried dickering and brought home a $5, 50-pound bag of onions. Vivian was not impressed. I diced them all and filled our freezer with little Ziplock bags. Vivian and I had enough onions to last one whole year but the freezer smelled funny for two) years.
I am now having second thoughts about owning a small business someday like my father. I did, however, learn a lot about hair styling. To this day I cut my daughter's hair. And it looks fabulous!