By CHARLIE JARRETT
Special to the Gazette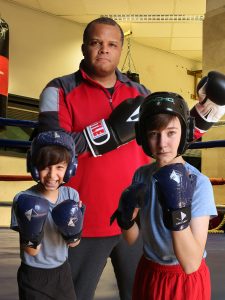 "Billy Elliot the Musical" is a moving, inspiring, and delightful musical based primarily on the 2000 film of the same name. The music in this musical was created by Elton John, and the book and lyrics are by Lee Hall, who wrote the film's initial screenplay. My wife and I have seen this musical at least twice and have. We also look forward to seeing it again whenever it appears locally. This past week,"Billy Elliot the Musical" opened in the Woodminster Amphitheater nestled in Oakland's beautiful Joaquin Miller Park, in the foothills just above the Mormon Temple. We thoroughly enjoyed this past Friday night's production and are excited to tell you that this is a show that is well worth your time, money, and edification process.
Why do I say edification process? Because the musical is based in large part upon a punishing year-long coal strike which took place in North East England in the early 1980s that tore apart the lives of hundreds of coal miners, particularly those in County Durham, in northeast England. While this musical doesn't elaborate specifically on the motives of the Local NMU leaders (National Union of Mineworkers), the story takes place at a time when the NMU decided to walk off the job and go on strike against the National Coal Board (a government agency). History suggests that the NMU leadership was hoping to create a severe enough energy shortage that it would encourage the NCB to meet their demands. This walkout became known as "the most bitter industrial dispute in British history" and was waged to prevent the British coal industry, from being shut down.
Set in a mining town in northern England around 1984, the story centers around Billy Elliot (Joey Dean), an 11-year-old boy whose father and older brother (both miners) are deeply involved in supporting their union. His father (Bob Moorhead) is strong-willed and rough spoken; a widowed-miner who is supporting his younger son Billy, an older son, Tony (Matt Skinner); and his widowed mother (Krista Wigle). Throughout the play a significant number of actors add to the story, portraying the communities' characters, including its diehard union members, families, flying pickets and police.
Billy has no aspirations to be involved in boxing (as his father demands), the typical sports activity of young boys living in mine country. Following his school activities one afternoon, Billy Elliot arrives late in the communities general-purpose activity center for his daily boxing lessons. The frustrated boxing instructor walks out of the class while throwing the center's keys to young Billy, exhorting him to turn them over to the incoming ballet teacher so that she can lock up the building when her lessons are finished. Following a not so cordial introduction to ballet instructor, Mrs. Wilkinson (Deborah Del Mastro), Billy is forced to hang around and watch her instructing her young female students. While watching her class, Billy detects in himself a disquieting discomfort, probably caused by not understanding what ballet is all about and at the same time sensing an admiration for ballet's tightly choreographed dance movements. Subsequently, over a number of following weeks, Billy surrenders his 50p (pence) boxing lesson fee to the ballet instructor, while attending her every class instead of boxing. At the same time, Billy's dad and brother Tony have been fully occupied and engaged in the Union's picketing process. When the former boxing instructor divulges to Billy's father (while they are working a picket line) that he's not seen Billy in weeks, it sends the concerned father into a fit of rage, in that he has been paying for those boxing lessons with hard-to-come-by money. Dad rushes to the community center seeking an explanation and discovers the unimaginable, that his son wants to become a ballet dancer! At least for the time being, Billy's world has come crashing down!
This show consists of a huge cast, of which I lost count at 37. For the most part the acting is very good, with at least seven equity actors in key roles, and several of the young people (especially Gideon Klapow as Michael) demonstrated "amazing" performances and exceptional talent. Also, Billy's father's touching solo in the second act, "Deep into the Ground", is beautifully delivered by Mr. Moorhead. When added to the clever and tightly choreographed song and dance ensemble routine in "Solidarity", the music still resonates in my mind today! Great show, you ought to go!
This poignant, inspirational, and moving musical story of the world and families in disarray is brilliant theater. Now, for a very reasonable fee ($33-$70 each – plus an additional broad variety of discounts), you can attend and enjoy this musical, that, in its professional productions, has won many outstanding production awards all over the world. "Billy Elliot the Musical" is directed by Joel Schlader, with musical direction by Mark Dietrich, and choreography by Sarah Pon and Blake Hennessey –York. Costumes, so important in this huge "time and country" specific theatrical undertaking, were designed, coordinated and supplied very well by Lisa Danz and Liz Martin's Pink Depford Costume Design Studio in Martinez.
The theater is located in the Woodminster Amphitheater, in the Joaquin Miller Park, at 3540 Sanborn Dr., Oakland (just east of Highway 13). On-premises-parking is only five dollars per car. Tickets may be secured by calling (510) 531-9597, or www.woodminster.com , or at the box office at the amphitheater entrance. In closing, allow me to warn you to dress in layers, as this is an open-air theater in the Oakland Hills, which can be very chilly or downright cold on a foggy evening!