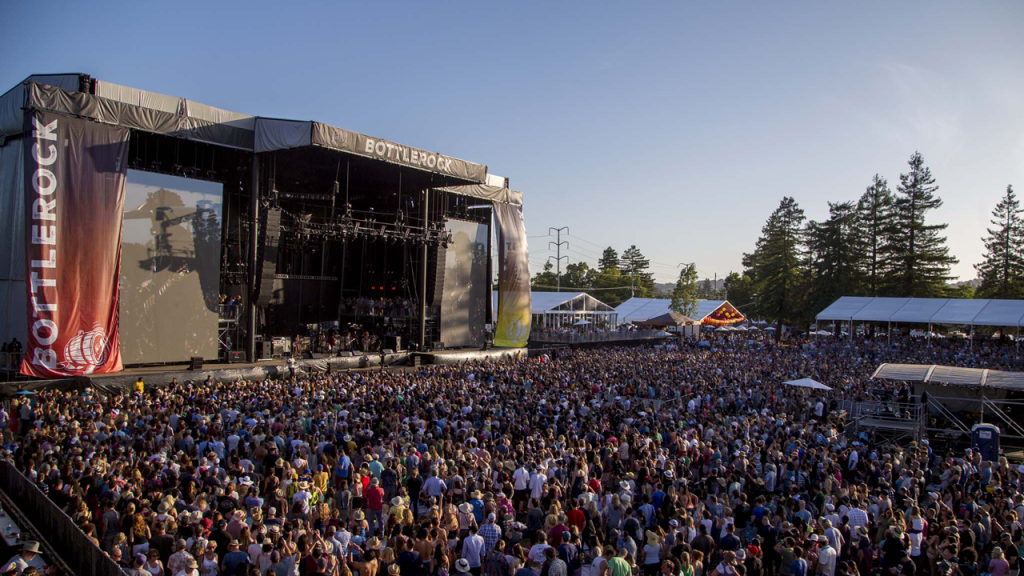 by Steve Langsam
For the sixth straight year Napa Valley is prepared to rock with over 86 musical acts filling the airwaves of the Napa Valley Expo for BottleRock May 25th through May 26th. This year features some of the best acts the festival has had including The Killers, Muse, Bruno Mars, The Chain Smokers, Incubus and Snoop Dogg. In addition there are several great chefs in attendance such as The Iron Chef Masaharu Morimoto, Giada De Laurentiis and Trisha Yearwood who will do their own rocking with pots and pans on the Williams Sonoma Culinary Stage.
But the weekend isn't just about music and food, although those are two great reasons to come out to the festival. It's about giving back to the community. Still recovering from the North Bay fires from last fall, BottleRock Presents has already helped raise over $23 million to support the Tipping Point Emergency Relief Fund, The Napa Valley and Sonoma County Communication Foundations, along with The North Bay Fire Relief Fund and NomaGives.
This year BottleRock will continue its donations to several organizations including but not limited to the 30/30 Project, California Waterfowl Association, IMAGINE BUS PROJECT, Napa Valley Disaster Relief Fund, Queen of the Valley Foundation and the V Foundation. The donations also go several schools in the surrounding areas.
But the giving back doesn't just come in the form of donations, it comes in the form of representation. BottleRock has made it a priority to showcase everything Napa Valley and to keep things local, working with 30 Napa Valley wineries and 28 Napa restaurants to keep every hydrated and nourished during the three day weekend event. The food comes with local flare from 51 different restaurants including Mustards Grill, Oenotri, Goose and Gander and Brix to name a few. While the wine comes from 23 different vintners including JaM Cellars, Miner Family Winery, Silver Oak Cellars and Amuse Bouche.
For those interested in wine, there are plenty of craft beer choices, 33 different vendors including selections from Lagunitas, Hop Valley, Drakes and Heretic Brewing Company. For those looking for a cocktail there will be a bourbon bar featuring six distilleries including favorites Basil Hayden's, and Knob Creek. 
Outside the venue the fun starts on Thursday May 24th as Michael Franti plays at the Archer Hotel. On Friday and Saturday the JaM Cellars Ballroom plays host to the official BottleRock after show featuring the Bleachers Friday and Thievery Corporation on Saturday. There are several other after shows featuring great acts such as Fitz and the Tantrums and X Ambassadors outside of Napa, be on the lookout for those venues which will be from San Francisco to Sacramento.
All tickets to this year's BottleRock festival are sold out but you can still get in with BottleRock having a few more giveaways planned before the festival starts. The gates open on at 11am with music starting at 12pm through 10pm Friday through Sunday.