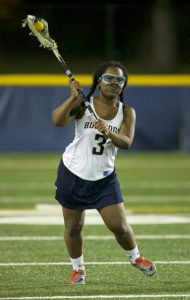 MARTINEZ, Calif. – A Briones Independent Study School student who had been allowed to play on Alhambra High School's lacrosse team is seeking reinstatement after being told she no longer qualifies to participate.
But reinstating her as a team member may be beyond the control of Martinez Unified School District, its chief administrator said.
Kamarie Wright said she had expected to play as usual in the team's March 13 game when she was called by Athletic Director Pat Ertola, who said she was being removed from the team because she is "technically not a student."
Ertola said Kamarie's status as a student changed when she completed her work at Briones, the student said.
Told she was being graduated early, Kamarie and her mother, Wendy Wright, spoke with school officials, saying they didn't want the girl to be dismissed early from the school and prevented from participating in senior events. Still, Kamarie was bumped from the team.
"The school claimed that they didn't know I played lacross," Kamarie said.
The family asked her former teacher, Gretchen VanTil, to tell the athletic director that Kamarie had good grades and was able to play. Wendy Wright also spoke to Janelle Eyet, Martinez Unified School District's director of Student Services.
Eyet said Kamarie's eligibility ended when she was notified she was being graduated and that it was too late to change those circumstances, Kamarie said.
"I have not gotten my diploma," Kamarie said. "So I don't see how I 'graduated.'"
Kamarie has been a Briones student since she transferred there in the middle of ninth grade. She said she preferred its operation to that of Alhambra High School.
"I tried to go back in 11th grade, but the lack of control in the classrooms was frustrating," she said. "I went back to Briones and stuck with it throughout my 12th grade year."
She said she studied the same basic requirement classes that any school would teach. "It was just at my own pace and without students all around me like in a classroom."
Briones' educational structure helped Kamarie improve her grades, from Ds and Fs to all-A grades. "I got to focus on my school work in the privacy of my home," she said. She also could focus on herself, she said.
In contrast, she said, she found herself caught up "with all the drama going on."
She started playing lacrosse during her 10th grade year. She said the sport is her escape from stress. When she transferred to Briones, she was told she could continue playing lacrosse at Alhambra High School. And she did.
"I went through all the positions, and the one that called out to me was defense, which is guarding the goal, and that is what I stuck with, because I was – am – an aggressive player," she said.
"I love lacrosse because the game just gives me a rush of energy, and I feel free as I run across the field. Playing against other teams can be challenging and intimidating, ut at the end of the day, whether we win or lose, we are in it for the fun.
"My teammates are the best thing about lacrosse," she continued. "They stick with you through everything, from on the field and even through a text message asking if you're okay, or how you (are) holding up today."
She said her teammates have stuck by her, giving her hope and lifting her spirits even as she was being told she no longer was on the team.
"I couldn't ask for a better team; we are a family, and we will stand up for each other in any way we can," she said, adding that she feels she's being punished for making good grades and completing classes.
Lacrosse not only has been a big part of Kamarie's life, it's a family tradition, she said. A younger brother is on the boys' lacrosse team, and an older brother was on the boys' team for four years.
Wendy Wright said her daughter has been "extremely depressed" since being dropped from the team.
She said Kamarie chose to attend the independent study school, part of the Martinez Unified School District, after failing many subjects at Alhambra High School.
"After many hours of self-discipline, my daughter graduated with straight As," she said. Kamarie became involved in wrestling as well as lacrosse.
Wendy said she asked VanTil not to graduate her early, "as I didn't want her to miss out on her senior activities," including lacrosse. Since finding out on March 13 she is no longer able to play on the team or participate in other activities, Kamarie has been experiencing depression, her mother said.
She said Principal Lori O'Connor told her nothing could be done since the diploma already had been submitted to the state of California, and that VanTil didn't know Kamarie had been part of the Alhambra High School team.
The mother said she received similar information from Eyet, who suggested Kamarie might be able to participate on the sideline.
"I have since escalated this issue to the superintendent, C.J. Cammack. He has talked to the administration at Alhambra," Wendy said.
The District has been able to make one decision in Kamarie's favor. It will allow her to attend the prom, Wendy said.
But whether Kamarie can return to the lacrosse team is a question that must be decided at the state level, even if local school officials endorsed reinstatement. That's because the California Interscholastic Federation-North Coast Section (CIF-NCS) rules on eligibility.
Wendy said Cammack has emailed CIF-NCS Gil Lemmon to see if Kamarie can be given a waiver so she can participate on the lacrosse team before the season ends.
"The District Administration is aware of the current situation related to a student that graduated from Briones but desires to continue playing lacrosse," Cammack said, explaining he could say only so much about the issue because of privacy rights regulations. "The administration remains in communication with the family regarding this matter."
He said the District would like to see the student rejoin the lacrosse team, but it also must make sure "all eligibility requirements are met for the North Coast Section regulations for interscholastic athletics."
He explained the differences in the way Alhambra High School and Briones Independent Study approach education.
"Students in the Briones Independent Study may finish their schooling and earn their high school diploma provided they have met core academic requirements and reached 210 credits. Once they reach that point, they are able to discontinue in school and be considered a graduate," he said.
"On the other hand, students at Alhambra High School must acquire 240 credits to graduate. However, students in AHS are required to be in at least five classes at all times through the end of the school year, regardless of their credits earned," he said.
A student athlete at either Briones or Alhambra High School must meet the CIF-NCS requirement to be enrolled in at least 20 units of study and attending school regularly, Cammack said.
"Any student that does not meet that criteria, in addition to certain GPA (grade point average) requirements, is considered ineligible for competition," he explained. "These eligibility requirements are specific to NCS (North Coast Section) and are above and beyond the jurisdiction of MUSD."
Cammack said there's no specific requirement in policy that a Briones student must be graduated once he or she meets their credit requirements. "However, that is the most common practice," he said.
Once a Briones student meets graduation requirements, parents are involved in conversations about next steps for their student, he said.
"Briones is a very important alternative education pathway for our students," he said. "Students have various needs for why an independent study program may be required and often those needs are very intensive. Currently, there is a waiting list of students who desire to be enrolled in Briones Independent Study."