By MATT SIEGER
News-Gazette Contributor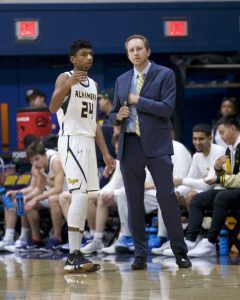 MARTINEZ, Calif. – After three consecutive losses last week, the Alhambra High basketball team had to make a choice.
"We had quite possibly our toughest week of the season," said coach Chris Petiti. "We played three road games against three teams that are tough and well coached with quality players. I told the guys on Monday, what we love about athletics and the game of basketball is that it reveals character. How are you going to respond to our toughest week?"
They responded beautifully, with an impressive 69-36 non-conference home victory over the Kennedy (Fremont) Titans.
The Bulldogs (6-5) came out firing on all cylinders. A quick bucket by Bobby Turnquist, a Wyatt Hammer three-pointer and another by Jason Wong gave them an 8-0 lead, forcing a Kennedy timeout after just two minutes of play.
Alhambra was relentless. Jalen Shepard nailed a three-ball after the timeout. Two free throws by Hammer and a trey by Joshua Palmer stretched the lead to 16-1 with 3:27 left in the quarter.
But Kennedy (6-5) stormed back. Led by Aman Abdella and Joshua Libiran, they closed the gap to 19-15 at the quarter and climbed within 21-20 on a three-pointer by Johnny Harman just two minutes into the second quarter.
Then Alhambra stepped on the gas and never looked in the rearview mirror.
After a steal and layup by Brody Eglite, Wong and Shepard hit back-to-back three-pointers. Another highlight was a coast-to-coast layup by Ekbir Purewal. Meanwhile, the defense clamped down. The Bulldogs outscored the Titans 23-7 to take a 42-22 lead at halftime.
"I think just having the extra practice time during the week helped," said Petiti. "We really made an effort to focus on defense, get back to what I hope is our foundation."
Alhambra's defense stayed strong the rest of the game, limiting the Titans to 14 points in the second half.
On offense, third-quarter highlights included a nice steal and outlet pass by Turnquist to Shepard. When Shepard's shot rolled off the rim, Eglite followed and banked it home. Iverson Suisala also had a steal that he cashed in for a layup and added another bucket in the quarter.
Back-to-back fast-break layups by Connor Gray and Thomas Major jump-started the Dogs in the fourth quarter. Gray also saved a ball heading out of bounds, leading to a three-pointer by Purewal.
Bulldog ball movement was the key to the strong offensive showing.
"They say there's magic in the ball," noted Petiti. "When you keep it moving and everybody touches it, all of a sudden it elevates everybody's play."
Petiti had a problem the night before the game all coaches wish they had.
He said, "I was thinking, Wow, I've got 12 guys who were all playing really well in practice. How am I going to make time for everybody?"
He did his best, and all 12 players contributed. In fact, all 12 scored.
Shepard led the well-balanced effort with 13 points, while Wong added 12 – on four-for-five three-point shooting.
Abdella topped Kennedy with 13 points, with Libiran tossing in 8.