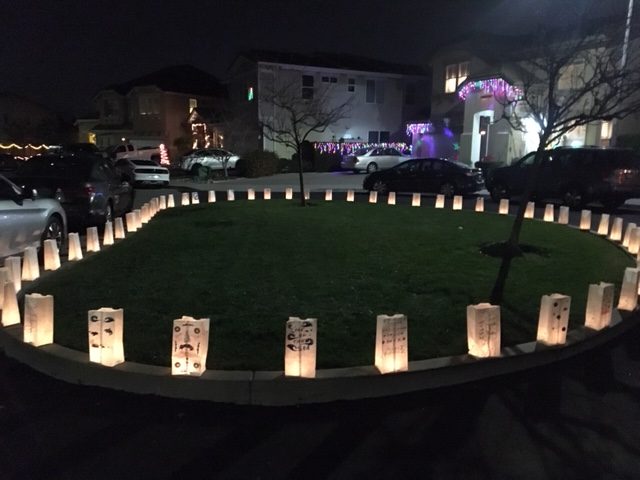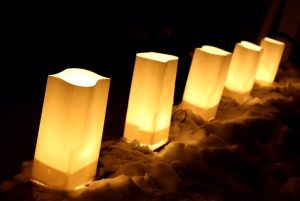 MARTINEZ, Calif. – Just as they have done for the past 20 years, neighbors who live in the Brittany Hills subdivision will be lighting luminaries that will line the sidewalks and curbs, said Debbie Hall, one of those who will be creating and lighting the decorations.
The custom began with the construction of the first homes in 1999, Hall said.
Luminaries are white paper bags partially filled with sand into which candles are placed.
"The neighborhood lights 2,500 luminaries every year on Dec. 23," Hall said. "The neighbors meet in the center island on Toulouse Way at 1:30 p.m. to begin the process of assembling the bags."
And that can become a big community gathering. There are 150 homes in the development as well as Morello Hills Christian Church, Hall said. The simple lanterns then are put into place, lining the streets.
"At 5 p.m., the luminaries are lit, and every home will be connected in the neighborhood," Hall said. A half hour after the candles are lit, the neighbors meet at the subdivision's center island for hot cocoa and cookies.
Hall said luminaries are a custom that came from Mexico, where they originated as small bonfires that were set in front of homes and in churchyards as a way to commemorate the birth of Jesus Christ on the final night of La Posada that recalls the story of Mary and Joseph traveling to Bethlehem, where they sought shelter before Mary gave birth.
Luminaries originated as part of the religious customs, although Hall said, "We encourage everyone to celebrate the Luminaries in their own way and beliefs. Everyone is welcome to come by and celebrate this beautiful tradition with the Brittany Hills neighbors."
The event begins at 1:30 p.m. Sunday along Toulouse Way with the assembly of bags and the lanterns will be lit starting at 5 p.m. Sunday. Refreshments will be served at 5:30 p.m. Sunday