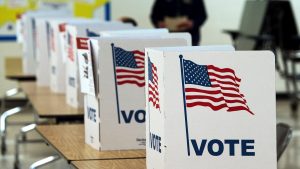 Candidate slates have been set in the Martinez mayoral and Council November elections as well as the Martinez Unified School District Board of Education, according to the Contra Costa County Elections Office.
In the mayoral race, incumbent Rob Schroder is being challenged by Yazmin Llamas-Morales. This is the city's only at-large race since a Malibu attorney, Kevin Shenkman, accused both Martinez and the school district of violating the California Voting Rights Act and threatened a suit unless both changed to by-district voting.
Working to accomplish the change during the limited time California provides to agencies willing to switch, both panels adopted by-district voting earlier this year. The Nov. 6 election will be the first under the new systems.
Council District 1 has a single candidate. Vice Mayor Lara DeLaney is unopposed in seeking re-election.
In the District 4 race, the incumbent Debbie McKillop is facing John Stevens.
In his candidate statement, Schroder wrote that in the past, he and the Council balanced the city's budget and has a healthy reserve for emergencies; started and is continuing to repave roads throughout Martinez; hired Police Chief Manjit Sappal and approved a plan to retain and hire more officers; established a 2-1-1 strategy to encourage homeless people to leave the streets and seek treatment; renovated city park ballfields and welcomed the new professional baseball team, the Martinez Clippers.
He wrote he also supported the new stores, restaurants, coffee shops and breweries that are part of the downtown's renaissance; upgraded city parks, picnic areas, lighting, the Rankin swimming pool, the local library and other playing fields; and preserved hundreds of acres of open space and future trails while opening the city's first off-leash dog park.
He listed his "to do" list if he is returned as mayor: Develop a funding plan to hire more police officers to prevent and investigate home and car burglaries and improve call response times; replace faulty water mains to maintain water quality and prevent seasonal flooding; strengthen the city's finance against a future recession; and rebuild the city's waterfront and marina with a restaurant-event center, a boutique hotel and ferry service to San Francisco.
He said he has received endorsements of former U.S. Rep. George Miller and current Representatives Mike Thompson and Mark DeSaulnier, members of Martinez Police and the Contra Costa County Sheriff's Office, Assemblymember Tim Grayson, Contra Costa County District 5 Supervisor Federal Glover, East Bay Regional Park District Director Colin Coffey and others.
Challenger Yazmin Llamas-Morales wrote that her immigrant grandparents taught her to work hard and build a strong community for the future. Those values were also instilled in her by her union machinist father and their extended labor family.
"Today, my ironworker husband and I are proudly raising our three young children in Martinez, where his grandparents set roots," she wrote. "I'm a mother and professional," with a master's degree in public administration and bachelor of arts in education and ethnic studies from the University of California, Berkeley.
Llamas-Morales said as a small business owner "and tireless advocate for families, veterans, the disabled, seniors and teachers," she would address the cost of housing, growing small businesses and improving government efficiency. "I will work to ensure that everyone's voice is heard and use my business management, real estate and finance skills to provide an improved place to live, work and visit."
Saying Martinez has had but two mayors in the past 30 years, she called for new ideas and diverse representation rather than "the political status quo."
If she is elected mayor, she said, her focus would be on working with public safety officials to eliminate property crime and provide support to police and firefighters; attract small businesses and nonprofits, and develop more middle-class jobs; create conditions for sustainable growth while preserving civic life and the city's heritage; and develop the trust and confidence needed to tackle Martinez's complex final issues.
While DeLaney is unopposed, she also filed a candidate's statement, saying she upholds standards of ethics, integrity, independence and transparency in public office. As a member of the Council, she worked to achieve millions of dollars in local roadway repair projects; the renovation of all municipal parks, including Hidden Valley and Hidden Lakes, the local library and the pool at Rankin Park; and the opening of two indoor sports complexes and debut of the city's professional baseball team.
"I have supported development of the right scale and location. I also have voted against housing that I did not believe was appropriate," she said. "I can make tough choices."
DeLaney earned a master's degree in public policy and has a career in county administration, she wrote. "I am a budget watchdog, ensuring your tax dollars are well-spent."
In continuing her work on the Council, she said she would work to continue the revitalization of Martinez's downtown district to raise property values, to rebuild the city's marina, and to enhance public safety, which she called a top priority.
Council District 4 Incumbent Debbie McKillop also cited the accomplishments made during her past four years on the Council: Creating programs to repair and repave city roads, acquiring and preserving open space, balancing the budget with healthy reserves, hiring Sappal and other officers, committing to test backlogged sexual assault evidence kits to convict sexual offenders, funding the sidewalk and crosswalk so Tavan Estates residents can cross safely to Golden Hills Park and the creation of both the city's first dog park and the launch of its professional baseball team.
"I'm a fourth-generation resident, descendant of early Martinez Families (cousin to baseball legend Joe DiMaggio), Alhambra High graduate, later earning a bachelor's in chemistry/environmental studies and a master's in public administration," she wrote. She also is a single mother of twin daughters.
Her career is as a forensic criminal laboratory scientist and manaer for the Contra Costa County Sheriff's Office, with experience in crime scene reconstruction, DNA testing, toxicology, bloodstain pattern and gunshot residue analysis.
"This work has taught me to be a good listener – to analyze/solve complex problems," she wrote.
If she is returned to the Council, she said she would focus on expanding the 2-1-1 program to get homeless people off the streets, addressing the city's water main problems that continue to flood streets, ensure transparency and accountability at City Hall and dedicate a park to the late mayor John Sparacino.
She said she has received endorsements from the Martinez Police Officers' Association, Deputy Sheriffs Association, U.S. Rep. Thompson, Schroder and others.
District 4 challenger is John Stevens, a retired business person who wrote, "I love Martinez for its diversity, friendly people, beautiful landscapes and rich history."
He wrote that to keep thriving, Martinez needs leadership committed to establishing and implementing a strong public safety plan; making Martinez fiscally sound and responsive to citiziens' concerns; investing in needed infrastructure and street improvements, crafting a waterfront master plan that includes paying down the marina's debt and securing the money needed to preserve Alhambra Highlands as open space.
Stevens has been a small business owner and chief executive officer of the Martinez Chamber of Commerce. "I understand the importance of attracting businesses, helping them to succeed and create new jobs," he wrote, adding that the city needs "new, committed leadership."
"With the Chamber, I instituted policies that support our downtown through programs such as the family-friendly Studios on the Streets," he wrote. "As an activist, I worked for express public transportation for seniors and people with disabilities, resulting in The County Connection Route 3, and advocated on Capitol Hill for health care around HIV/AIDS, breast and cervical cancers."
He said he is proud of his advocacy for street repairs, speed reduction at dangerous intersections, improvements to Golden Hills Park and the launch of the dog park.
"These experiences of local and federal activism, as well as earning a master's in public administration with a focus in management and policy and a certification in legislative studies provide the skills necessary to balance our budget while bringing top rate services to Martinez," he wrote.
In the Martinez Unified School District races, Area 3 incumbent is Deidre Siguenza, who wrote that during her six years on the Board of Education, all District schools have been recognized by California for excellent academics, increased graduation rates, comleted a facility master plan and enhanced safety at all schools.
"We have opened neew facilities and departments and have improved plans to rebuild John Muir Elementary School," she wrote.
A parent and longtime Martinez resident, Siguenza wrote that her children attend Morello Par Elementary and Martinez Junior High schools. "I care deeply about our schools and believe that our community's success depends on the education of all our children."
She cited her experience in collaborating with stakeholders and community members to deliver educational services while addressing the health, education and safety needs of the District's students and staff.
"I understand MUSD's ongoing budget needs and what is required to maintain high-quality education," she wrote. She also said she supports strong educational standards and would work for the District's success.
The Area 3 challenger is Craig Lazzeretti, who, as metro editor, is a member of the East Bay Times newspaper team that last year won the Pulitzer Prize for breaking news for its coverage of the Ghost Ship warehouse fire.
He also is a parent and community volunteer who participates in the Contra Costa County Court Appointed Special Advocate (CASA) program that advocates for children in the court system. "I want every child to thrive!" he wrote in his candidate statement.
Lazzeretti described his dedication to the wellbeing of all MUSD students and promised to demonstrate leadership he said "has been missing in crucial areas of need, including the emotional and physical safety of our students and staff and repairing fractured relations with our teachers."
He wrote that he has fought for government transparency and accountability, and would use his leadership skills to manage tax dollars responsibly, would prioritize classroom instruction and safety within the current budget challenges and would work to reduce the number of teachers leaving the District, which he said is impairing quality education.
Lazzeretti has spoken at Board meetings and other places about the need for school safety, and has started an online group that discusses campus security, bullying reduction, behavioral interventions for at-risk students and gun safety matters.
Llamas-Morales also had expressed an interest in entering the Area 3 race, according to the elections office documents, but has pursued the mayoral race instead.
Area 5's race has been decided. Incumbent Bobbi Horack, currently the Board's clerk, is unopposed. Because rules for the Council races and the MUSD Board races differ, Area 5 and Horack's name will not be on the ballot, although City Council District 1 and DeLaney's name will be.
Deadline to register to vote is Oct. 22. Vote by mail mailing will be Oct. 8, and the last day to request a vote-by-mail ballot is Oct. 30. Election day is Nov. 6, when local, county, state and national level decisions will be made.