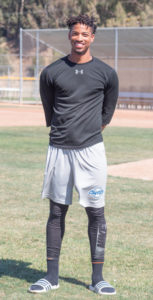 Just six starts into his tenure in the Pacific Association, RHP Chris Powell is headed to the Schaumburg Boomers of the independent Frontier League after posting a 2-1 win-loss record and a 5.35 ERA with the Martinez Clippers.
Chris Powell is the first Clippers player to be promoted in franchise history, as he joins his new team immediately with his first start scheduled for Thursday in Crestwood, Ill. against the Windy City Thunderbolts. The Boomers, managed by Jamie Bennett, are just 2.5 games out of first place in the Frontier League's Eastern Division at 29-26 on the year.
"Any time I get the opportunity, at this point in my career, to showcase my talent, no matter where it's at, I try to do that to the best of my ability," Powell said of the promotion. "Any opportunity I get I'm thankful for, and I'm going to go out there and represent the Martinez Clippers as best as possible."
Powell, a native of Upland, Calif., spent time in the American Association after leaving the Dodgers organization late last year. Coming to Martinez from the Gary SouthShore RailCats, Powell had struggled with mechanical issues at the beginning of this season; but over his final two starts in Martinez, Powell threw 14 innings and allowed just five earned runs for an ERA of 2.57 while striking out 17.
"When I was in the Dodger organization, I had a really good command of the strike zone, and I wanted to get to that point," said Powell of his improvement this season; "I knew something was off at the beginning of the year, when I was playing with the Gary team, so coming here, getting innings, and having coaches that trusted me helped me get back to where I want to be."
– courtesy of Sam Weismann, Martinez Clippers