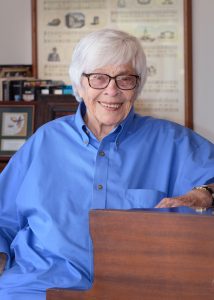 By Harriett Burt
A memorial service will be held on Friday, November 2, 2018 for Claudia Whitnah, who died on October 7, 2018 after a long and productive life. The beloved Whitnah was a well-known, longtime Martinez teacher and active citizen. She was 93.
Born in Oakland, she grew up in Berkeley where she was a member of the Berkeley High Class of 1941. After three years at UC Berkeley where she was editor of its famous humor magazine, "The Pelican", Claudia transferred to New York University and shared an apartment with her actor brother, the late Ben Murphy. There she savored the exciting life of World War II New York and met many up and coming actors and musicians. Following graduation, she worked at Life Magazine before returning to the Bay Area. There she married Lionel Whitnah to whom she was married for three years.
Having obtained an elementary teaching credential, Claudia taught in San Pablo, Antioch and West Pittsburg before coming to the Martinez Elementary School District in 1954. After teaching at Montecito for two years, she transferred to Martinez Elementary where she taught 6th grade and 1st grade for a total of 27 years. Her former students still talk about her classes with pleasure, especially remembering books she read to them among other activities.
After retirement, Claudia continued to teach, organizing a 'Humanities' class at the Senior Center through the Martinez Adult School which featured lively discussions on a variety of social topics. One of her great regrets was that increasing deafness finally stopped her from continuing the class. Also, during retirement, Claudia and her closest friends, Sylva Dajani and Marian Albers, took trips all over the country in Claudia's big white van.
Claudia was awarded the Martinez Chamber of Commerce 2014 Lifetime Achievement Award for her contributions to the community over the years. The fact that she gave one of the most hilarious acceptance speeches ever made at that dignified event didn't overshadow her contributions to the community as a teacher, an environmentalist, a recovering alcoholic and a worker and supporter of many local organizations and their fundraisers for over 60 years.
In the 1950s and 60s she served on the Martinez Recreation Commission and as Grievance Chairperson for the Martinez Education Association. In the 1970s, Claudia was active in the newly formed Martinez Historical Society, serving on the board. Thirty years later in her 90s, she volunteered weekly at the Contra Costa County History Center.
During the 1980s when the health and environmental impact of local chemical and related industries became enough of an issue for Martinez citizens to protest, Claudia became a member of the Communities for a Safe Environment which was made up of Martinez residents working to stop a French company located next to Shell from building a furnace/smoke stack that would pour toxic smoke into the air. The group had a great deal to do with the establishment of the sense of local responsibility for the environment and building cooperation and support of the City and its population now practiced by the Shell Refinery and its contractors.
Claudia also participated in groups such as the County Commission on Aging (now the Area Agency on Aging) when society was just beginning to focus on issues impacting the elderly not just in Martinez but throughout the county. As she aged, she benefited from programs such as Meals on Wheels. According to Paul Kraintz who runs the non-profit, Meals on Wheels of Contra Costa, Claudia sent a $10 donation to the organization each month in addition to her share of cost payment without fail until her death.
As she maintained her sobriety, she reached out to many other fighting the challenge of alcoholism by being available to talk and to drive those who needed a ride to meetings even when it meant she had to sacrifice a chance on a free ticket to go to her beloved San Francisco Opera.
Claudia thought that one of her most challenging and interesting experiences was her term as a member of the Contra Costa Grand Jury in 2007-08. The experience provided her great mind and social conscience with a lot of exercise as she and her fellow jurors investigated, sometimes contentiously, County government operations and developed recommendations for the Board of Supervisors.
Claudia is survived by Marcia Kent of Martinez, whom Claudia called "her daughter by choice" and Marcia's husband, Nick Riley as well as a host of Martinez friends, admirers and former students.
A memorial service will be held on Friday, November 2, 2018 at 1 p.m. at Connolly and Taylor Funeral Chapel, 4000 Alhambra Ave., with a reception immediately following.
Memorial donations may be made to Meals on Wheels of Contra Costa, P. O. Box 3195, Martinez, CA 94553. And to Martinez Lioness Club Hospital Equipment Lending Program, P. O. Box 765, Martinez, CA 94553 or to a charity of one's choice.
© 2018 Martinez News-Gazette All Rights Reserved