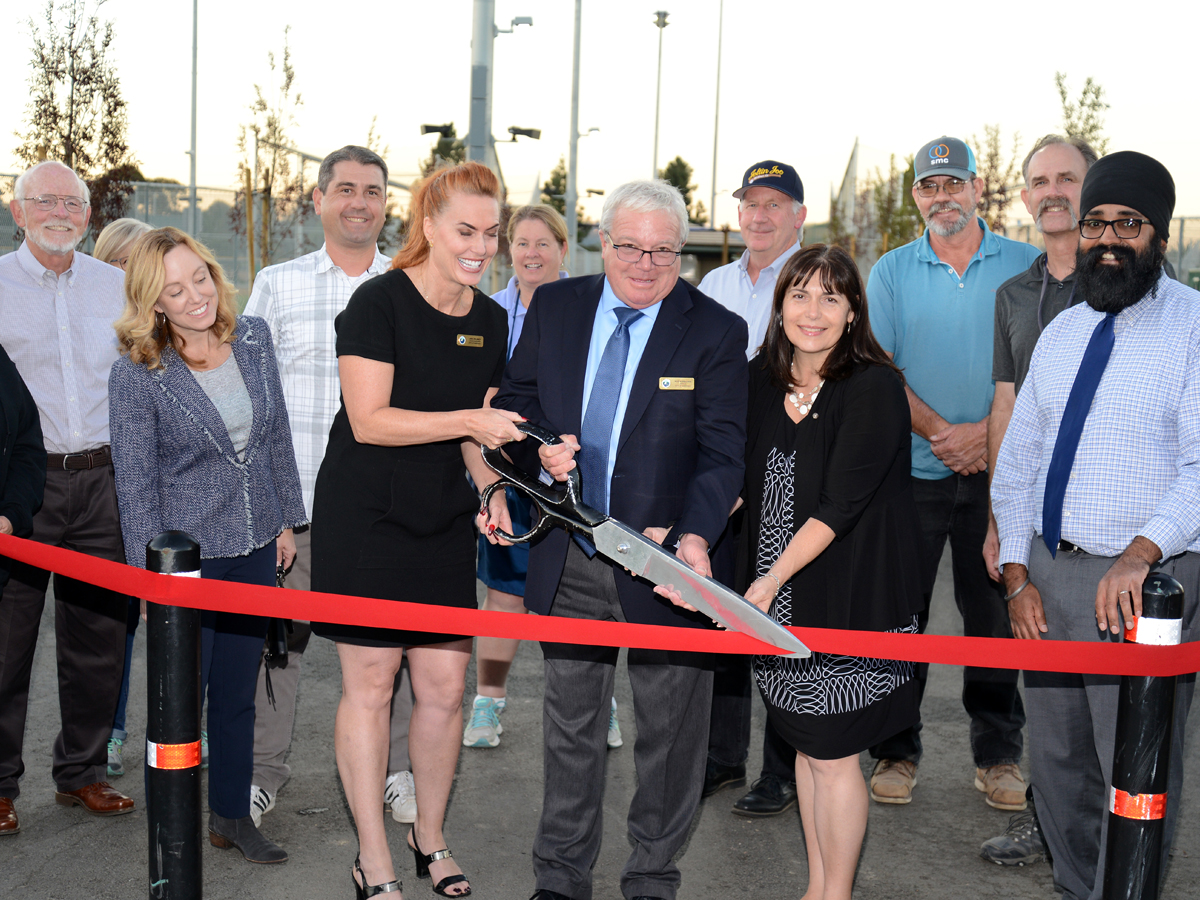 First row, l-r: PRMCC member Adrianne Ursino, Vice-Mayor Lara DeLaney, Mayor Rob Schroder, Councilmember Debbie McKillop, PRMCC member Satinder Malhi. Back row: City Manager Brad Kilger, PRMCC Chair Dylan Radke, Recreation Supervisor Patty Lorrick, City Engineer Tim Tucker and representatives of Dillingham and Suarez and Munoz. (ROBERT PERRY/MARTINEZ NEWS-GAZETTE)
The city of Martinez held a ribbon cutting at Waterfront Park on Thursday.
Members of the Martinez City Council, the Parks, Recreation, Mariana and Community commission, city staff and representatives of the contractor were in attendance
Below are some of Mayor Rob Schroder's edited comments from the ceremony.
"The Waterfront Park Renovation Project is the single largest project both in size and investment by the City in the past 20 years. Waterfront Park covers over 28 acres of land. The City invested $9.5 million dollars in the project.
"The project includes new ADA pathways, a larger events meadow, new restroom, picnic and bar-b-ques, new and expanded parking, ballfields and new field and safety lighting.
"The project planted 1,750 shrubs, 170 trees, 5 acres of sod and equal amounts of seeded turf and turf enhancement. Over 4,000 feet of chain link fence was erected. Picnic enhancements was a large part of the project with the renovation of the group picnic area and new picnic areas spread through the park. Approximately 60 new picnic tables, 80 trash and recycling receptacles and 11 grills were installed. Parking was added near bocce and along North Court Street. To get around the park 100,000 square feet of new ADA accessible walkways and sidewalks were installed.
"Four new, lighted, fields were constructed as part of the project. The Council invested additional funding to enhance the championship field strictly to be used for baseball. Those improvements include a grass infield, additional bleacher seating, bullpens, a scoreboard and much more.
"With this new venue under construction the City was able to secure an agreement with lifelong Martinez residents Paulette and Jeff Carpoff to bring professional baseball to Martinez.
"I would like to thank landscape architect Dillingham and Associate and local engineering firm LCC for the design; Suarez and Munoz our contractor, East Bay Regional Park District for our WW grant and Contra Costa County for a grant for the restroom.
"I would also like to thank staff for their hard work. I would also like to thank Carpoffs but most of all I would like to thank the residents of Martinez for passing Measure H which made this project possible."