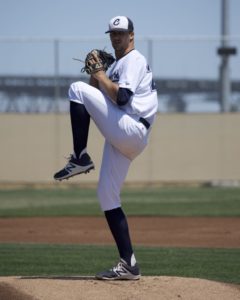 MARTINEZ, Calif. – Martinez earned its place in baseball history with men's and women's teams long before the first pitch of the May 31 season opener for the Clippers independent league ball club.
The city is known throughout the sport as the birthplace of New York Yankees legend Joe DiMaggio, whose nickname, "The Yankee Clipper," gives the local team its name. Even Martinez Historical Museum has a "Play Ball!" exhibit on display through Oct. 1.
But this is the Martinez Clippers' inaugural year, and history for the club can be made at any of the games, right up to Friday, when the regular season ends in a home game against Pittsburg.
None of that is lost on the young players who have been Martinez's "Boys of Summer," as Roger Kahn called ball players in his book by that name.
Clippers pitcher Logan Campbell said he is glad to be given a chance to play in Martinez, and hopes he gets a chance to stay playing here. This year is special, though. "A lot of records are being broken from the first pitch," he said.
Professional ball, even at the independent league level, requires former college players to play harder, he said. "The game is bigger, faster and stronger," he said. "There's stiffer competition. You're playing at the highest level."
"Anytime you can play baseball, it's a blessing," said Alex Oleszkowicz. Some fans may not recognize that name – it's rarely announced in a lineup. But Oleszkowicz has a busy job, catching for pitchers warming up in the Clippers bullpen out past the third base line where Bench Coach Bart Zeller signals Martinez runners to advance or stay put.
As for DiMaggio, Oleszkowicz said, "Everybody knows who he is. He's one of the best of the Yankees." He said he was one of many who grew up hearing older relatives talk about DiMaggio. His described how the record-setting legend revamped how baseball was played.
DiMaggio's nickname, "The Yankee Clipper," was inspired by speed. Clippers were the fastest ships under sail power, and that name transferred to the speedy Boeing Clipper plane. It was applied to center fielder DiMaggio because of his own speed in covering the outfield.
Also a college ball player, Oleszkowicz said in pro ball, "everything moves faster."
In fact, one strategy of playing pro ball is to find a way to slow down its pace; "let things come to you, pretend you are a kid playing catch in your back yard," he said.
There's another thing he's noticed that's different about playing for the Clippers. "There are more people in the stands," he said. "That first night was awesome." The players heard those cheers, he said.
Players had high expectations after camp, and those signed to the Clippers had hoped to start strong out of the gate, Oleszkowicz said.
Both conceded the team got off to a rough start and needed time "to figure things out," Oleszkowicz said. Some players wondered whether the community would keep filling those stands.
"The crowd stuck here," Oleszkowicz said.
Like the fans, the team was determined to make it to the end of the inaugural year, Campbell said.
"All year, we've been playing hard. We've never given up," Oleszkowicz said.
But just before the middle of the season, Clippers players escorted DiMaggio's boat, the Joltin Joe, in the Martinez Hometown Fourth of July Parade.
"The parade reminded us the town is with us. Everybody was behind us during a tough time. That gave us a boost. It felt great it was awesome. I'll never forget it," Oleszkowicz said.
"That day – to hear the crowd cheer meant this is Martinez's team," Campbell said.
At first players didn't realize the boat not only was given DiMaggio's other nickname, it actually had belonged to the legend. They learned that during the parade. Afterwards, each player decided to walk up and touch the vessel.
"You could feel that piece of history," Campbell said.
Outfielder Jacob Barfield said being part of the Clippers' inaugural year "is a cool experience."
Like his teammates, he is impressed with Martinez fans. "The town loves us – the people love you and support you," he said. He's noticed that as the season has gone on, he and his teammates get approached by residents, who say, "You look familiar – are you from the team?"
And that has become more frequent since the Clippers made their appearance at the Fourth of July parade, he said.
Catcher Wilkyns Jimenez said he, too, is grateful for the opportunity to play pro ball in Martinez. "It's beautiful," he said of both the city and the ball park the team has nicknamed unofficially "Joe DiMaggio Fields."
"We're working hard every day, and playing hard and competitively," he said. Despite the hard work, participating in the inaugural season has been fun, too, he said.
"It's my pleasure to be here," he said.
Jimmy Lunardelli Jr.'s outfield skills include a dramatic catch last week that would have made the highlight reel at the Major League level,
"We have an opportunity out here," he said. "We represent Martinez." He said people are talking about the new sports team in town, and he said the ball club is determined "to provide fun for everybody."
Fortunately for the Clippers, he said, "The fans are great – they're going to have your back. It means a lot to have people come out."
He called the club "a bunch of scrappers" who are determined to end the season with a strong finish.
As for the team's home town, he said, "Obviously, there's a ton of history. That's one of the greatest things.
"We have to live up to the legacy that Martinez has provided," he said. "It's all you want it to be. This is a match made in heaven."