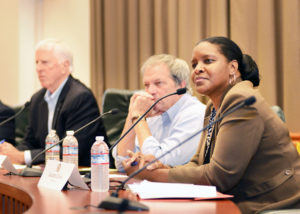 MARTINEZ, Calif. ­­– Martinez residents and business owners used Wednesday's town hall meeting with their U.S. Reps. Mike Thompson and Mark Desaulnier and Postmaster Jeanette Davis to air their frustrations with mail delivery – or lack of it.
Members of Martinez City Council also were present to hear the complaints, many of which they've been hearing since at least 2015.
But this time, saw attorney Deborah Farr, who called her situation "egregious," wave a thick folder of mail she received May 10 but which had been sent from June to October of last year.
That folder, she said, contains such missing legal documents as clients' power of attorney, deeds, forms, bills and payments.
"I hope this does not reflect on our reputation," she said later. "It's frustrating when you're dealing with legal issues."
It also has been costly, her office manager, Linda Cutright, said after the session. Clients have had to order "stop payments" on checks, she said. In one case, a bill that Farr's office mailed from Martinez to a client was missing for seven months. "We had to eat it," Cutright said.
"These are significant things that shouldn't be lost," Farr replied, explaining that in several cases, her clients had to get new documents and pay to have them notarized again. The situation has made her switch delivery systems.
Davis said that situation may have involved an individual internal matter she couldn't discuss, then said, "It looked like the mail had come in that way."
Another resident, Felix Sanchez, said the problems started when Davis became the city's postmaster. "I'd be firing you at this point," he said. His comments drew cheers from many in the Council chamber.
One business owner said she started noting which post office she used to send out bills. "The ones in Martinez disappeared. It just continues to happen. Is it a driver problem? Should I go to Benicia?"
She said she went to the Alhambra office to complain and was directed to ring a bell at a door to speak to someone about her concerns. "I wanted an hour after ringing the bell," she said.
A man who said he operates a home-based business said poor service at the Alhambra Avenue office has forced him to use Concord's post office instead.
"In December, I put complaints online, and no one responded. I don't know where it goes. There's no response," he said. "It's upsetting."
Concord's postal service was no better at one time, DeSaulnier said. It took meetings, action and a change of management before customers saw improvement.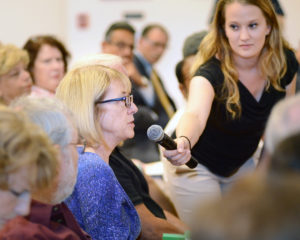 Members of the City Council are not immune, and all were in attendance Wednesday. Councilmember Noralea Gipner said her husband walked into the post office to mail five bills. "It took a month for them to get there," she said.
"I can't tell you where the breakdown was," Davis said.
A resident of Christie Road west of Martinez and east of Franklin Canyon Golf Course said the families on her road have no postal service there, but must drive more than a mile to pick up their mail from boxes on another street. That setup offers no provision to redirect misdelivered letters, so the families end up driving those letters to one of the Martinez post offices. Davis promised to look into setting up boxes closer to the rural road.
Several customers said they like their regular carriers, or the carriers they had before those employees retired. Some said they haven't had regular carriers in years, and many the temporary fill-ins during vacations or illnesses, or the long-term substitutes on other routes invariably misdeliver mail or skip deliveries for days.
One woman said when she requests a hold, mail gets delivered. When she asks for delivery, her mail doesn't come.
Davis said the Alhambra Avenue post office has several clerks present at all times. But those who filled the Council chamber Wednesday said they usually see only one person at the counter, even when lines are long.
"There is enough staffing," Davis insisted. "I'll assure three clerks at the window."
Some clerks may be handling passport applications and photographs, she said, but several at the meeting said the Alhambra Avenue office doesn't keep its posted passport application hours.
"It's erratic," Cathy Ivers said, saying that while applications should be accepted until 2 p.m., no one was available at 11:30 a.m. one day.
She brought up another concern related to the November general election. Many of Martinez's precincts now have fewer than 250 people, and those voters will be required to vote by mail. Ivers asked how Davis would assure ballots would get to the elections office.
Davis said it is "wonderful" that Martinez is the county seat, and that it wouldn't have issues. "You can feel confident you will get your ballots," she said.
One woman said she received mail which should have gone to four neighbors. While delivering those letters around her blocks, she sought out her own missing mail, which went to several other houses.
After Davis said her employees get 30 minute lunch periods and two 10-minute breaks, a man told her he saw a carrier parked at Hidden Lakes Park when he went out for a long walk. The carrier was still there well past a 30-minute meal break, he said.
Some residents defended postal employees, saying that they've been told some work double shifts and then are called in to work on a day off.
One woman said employees have told her they don't make doctor appointments, for fear they will be called in to work. Others told her they don't get regular training. "The work load is not properly managed," she said.
"You have been before the Council three times," she reminded Davis, but after those meetings, "the management style hasn't changed."
Davis said there is a five-day training program for employees, and that she is concerned about employees working overtime. "It's a work in progress," she said, adding that changes won't happen overnight.
"It is a postal service policy that employees have to work when you don't have adequate staffing," she said. That includes employees who haven't volunteered for overtime hours.
"Working days-off consistently? That's not happening," she insisted. "Our goal is to get the mail delivered."
She said staffing models are based on routes and deliveries, and her office's greatest challenge is to retain employees, "to get people who want to work at the Postal Service. It's a job that's physical."
She knows – she began as a letter carrier herself, she said.
As several residents mentioned, this isn't the first time residents have brought their complaints to government officials. Wilma Murray asked what postal customers should do after the town hall "if it's not working?"
In 2015, Martinez City Council heard residents say they bypass their more convenient local post office to take mail to Walnut Creek or other cities, saying those offices are more reliable. At that meeting, Lara DeLaney, now vice mayor, handed Davis an 11-page list of missed deliveries, lost mail, poor treatment at the lobby and reports of late mail.
Then as now, residents complained about rude clerks, late or missed mail and other types of poor service. At a May 2015 Council meeting, Davis vowed things would improve.
Some residents said Wednesday things did improve for a while. But in recent months, service has declined again, they said.
Earlier this year, several resident used a previous Council meeting's public comment period to make similar complaints that were described Wednesday. As a result, Davis made a presentation at the Council's April 5 meeting.
At that meeting, Davis denied that neighborhoods had skipped service for days at a time. "That's not possible," she said. She said she talks with employees, coaches them and trains them to deliver mail accurately, and that she has an "open door" policy that welcomes customers to talk with her.
After that meeting, Councilmember Mark Ross suggested a Martinez town hall or workshop to follow up on residents' concerns. Then the staff of both Thompson (D-Napa) and DeSaulnier (D-Walnut Creek) whose districts include portions of the city, began setting up the town hall after residents contacted their offices, he said.
Davis has been postmaster since 2003, she said Wednesday, and promised "to be around even more" at the Alhambra office.
She reiterated Wednesday that she speaks with each of her employees, and said new carriers often don't deliver by last name, but by house numbers. They can become confused and deliver to the wrong street, she said.
Davis said she has posted grease board where carriers can check for daily reminders, particularly about deliveries and held mail. She promised to incorporate the postal service's missed-delivery program to make sure customers get their mail.
"I realize we do have a staffing shortage," Davis said.
"We strive to provide you with exemplary service," she said. "This is a good way to keep the lines of communication open."
Mario Harris, manager of postal operations of the Bay Valley District, agreed with Davis's assessment that slots need to be filled. "We're hiring," he said. People can apply on the postal service's website, www.usps.com, he said.
Part of the problem is the economy is so strong, few people are looking for jobs, he said. "But it's not just a job – it's a career," he said.
He said this was his first time to attend a postal service meeting in Martinez, but not the first time he has heard some of the complaints. Customers in other areas have similar concerns.
They can use the www.usps.com website to sign up for the United States Postal Service's "informed delivery" emails that will tell customers what mail they can expect to be delivered before it arrives, he said.
They can track packages online at www.usps.com if those parcels have tracking numbers. They can call USPS Customer Service number, 1-800-275-8777 or use the website to file complaints.
He provided audience members with a direct number to the local post office, 925-228-5937, as well as Davis's email, jeanette.davis@usps.gov.
Thompson said his office would seek ways to mitigate the problems residents and constituents described at the town hall.
He told Davis he hoped the problems would be identified and addressed so he and DeSaulnier "never again call you up."
DeSaulnier told the audience, "I'm delighted to be here. I'm not delighted you are having problems." He noted that their concerns were serious enough that "you have two members of Congress" at the town hall.
"If both Congressmen come out, you know it's not tolerable," Thompson agreed.