By SCOTT BABA
Art and Entertainment Editor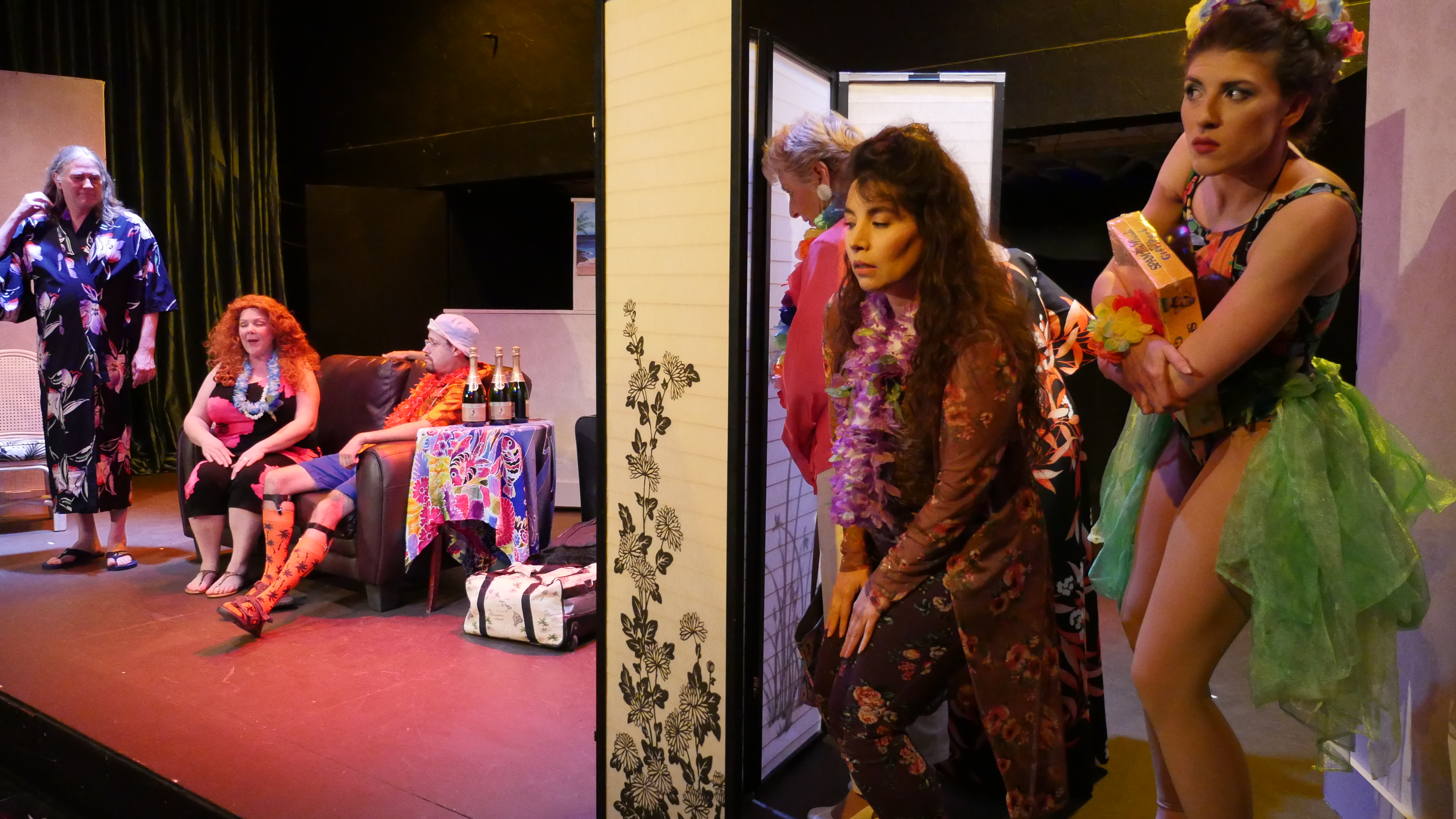 Onstage Theater closes out its 40th season this month with "A Funny Little Thing Called Love" at the Campbell Theater, a series of one-act plays written by Jessie Jones, Nicholas Hope and Jamie Wooten, the writing trio that is sometimes collectively know as Jones Hope Wooten.
Jones Hope Wooten are some of the most prolific writers in modern theater, and their work is no stranger to Martinez.
Campbell regulars may recognize the punchy, fast-paced, quip-filled style of writing in "A Funny Little Thing Called Love" as similar to other plays put on locally, like "Christmas Belles," Onstage Theater's semi-regular end-of-the-year holiday production.
"A Funny Little Thing Called Love" contains five standalone one-act comedies with a wildly diverse range of settings and characters.
In the quick introductory tale, "Love Is On the Air," a newsroom reports on the beautiful full moon shining down, and its enchanting magic which is said to bring lovers together.
In "The Lone Star Ladies' Justice Brigade," a man's evening goes sideways when he is suddenly brought face to face with the consequences of his romantic adventurism.
A newlywed couple find their relationship under strain when their Hawaiian honeymoon is unexpectedly interrupted in "A Hono-lulu of a Honeymoon."
In "A Little Brit of Romance," a quiet evening at a rooftop cafe in London is interrupted by the turbulent relationship troubles of an Oklahoman woman and her fiance, which draws in everyone present as unwilling participants.
The final play, "Upper West Side Story," is a delightful escalation comedy as one man's attempt to prepare the perfect evening to propose spirals inexorably out of control.
The nature of the multi-play format means that there are a wide variety of stories, styles, and characters, and some of the individual one-acts can be hit and miss, depending on personal preference.
But if not every play is for every audience member, the selection is also wide enough here that everyone will definitely be able to find something they enjoy. And Jones Hope Wooten, who got their start in sitcoms, keep the quips, jokes and physical gags flowing well enough that, should any particular narrative fall flat, the comedy still remains constant.
Actor Randall Nott said that the fast pace and humor of "A Funny Little Thing Called Love" was an interesting stylistic choice.
"It is very much TV style comedy, sitcom stuff, setups for one-liners and character bits we know," Nott said. "It's classic in many ways, I guess – cheap in many others. It's kind of going back and forth, rides the line between them."
Nott said that the tone matched the lighthearted series of stories well.
"The silliness of it seems to be an ongoing theme – that you can just let that go and have fun with it," he said.
Throughout the play, common themes and symbols weave the five distinct tales into a cohesive whole. Every story revolves around love and relationships in some fashion, although usually in a roundabout way that subverts classic tropes and expectations of the romance genre.
"A Hono-lulu of a Honeymoon," for example, sidesteps the courtship phase entirely, and begins after the wedding, choosing instead to explore the "after" in "happily ever after," and the learning curve required to reconcile two previously separate lives into one new whole.
Another surprising rejection of traditional romance in "A Funny Little Thing Called Love" is the age of its characters. Nobody in the play represents the usual "young lovers" archetype. Instead, most of the characters are apparently well into their middle age. Many of them have been married before, some multiple times. Everyone seems a little bit battered by life, and little bit broken. There's a vulnerability to these characters, a knowledge of what it's like to have been burned before, and a willingness to face the flames again anyway. It's an aspect of the play that's surprisingly refreshing, and which makes the romance all the sweeter.
Director Edwin Peabody said that the age and experience of the characters was something that drew him to the play, and something he wanted to share.
"I thought it was important to kind of realize that a lot of people this age, 40s and 50s, are experiencing these things as well," said Peabody. "And it is a funny little thing called love, especially when you're older. Because you have a history and you have a past, but at the same time, each of these characters that fall in love, they enter into it really honestly, versus some kind of comic way to get in."
Peabody added, "It's like people are realizing – through comedy, or through all this craziness – that they all just want to be together, not alone."
The cast pulls double and triple duty throughout the performance. Other productions of the play have fielded as many as 30 different actors, but Onstage chose to take a more minimalist approach, with only ten actors playing all the parts, everyone weaving deftly between the many stories and characters.
Jennifer Lynn Brown Peabody, who plays four different characters, said that switching between everything was complex, but fun. "I think it's hilarious. It's fun because I get to play four different people," she said. "I have to figure out which one I'm going to be next. It's like multiple personalities."
Delaney Duquesne, who also plays four different characters, said that it took some time to develop each unique character.
"In the beginning I found that I was very one-note," she said. "But now that I've worked with them so much, I find that it's a lot easier to access them."
Meanwhile, Remington Stone, who plays three different characters (including two of the romantic leads), said he was just happy to be here.
"I usually play villains, so this is a complete departure for me," Stone said. "Playing normal, wholesome people, kissing people on stage – that never happens."
Though the narratives can be a little uneven from one play to the next, there's definitely something for everyone in this fun, funny, heartwarming collection of comedies currently playing at the Campbell Theater.