By BILL SHARKEY III
Martinez News-Gazette Columnist
THE PASSING of former Governor George (Duke) Deukmejian this week, just short of his 90th birthday, brought to mind an incident 30 years ago during his years as our Governor. An incident in which knowing the right people got things done. The issue involved the Governor, a Republican.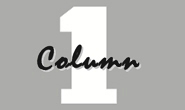 I received a phone call one morning from Mark Finucane, a Contra Costa County executive. Mark needed some help with an urgent and critical issue regarding the County Hospital and Sacramento. He had heard that I knew former Assemblyman Donald D. Doyle of Alamo, a longtime friend of our family who served in the 1950s. My sister, Nanette, was his secretary for two years right out of secretarial school.
After a quick briefing regarding the urgency and importance of the issue to our hospital, I told Mark I would do what I could. Because of Don Doyle's stature in California politics, and his prominence in the Republican party, I called him right away. His wife, Thelma, answered, and said Don was just heading out the door. She caught him. I briefed him on the issue which required the action of the Governor on a very short time line to 'save' the hospital's situation. Things seemed to be hung up within the Governor's staff which did not realize the deadline looming.
"Good timing, Bill," my friend said. "I'm on my way to Sacramento to have lunch with Duke," "I will discuss it and make him aware of the situation." Happy ending to the brief saga. Hospital issue resolved with a couple quick phone calls, lunch between two old friends, the Governor's signature and ….voila! Mission accomplished, as they say, and an incident fun to recall.
VOTER INFORMATION arrived recently in a heavy publication with a ton of material, all of which is very important, we're certain. Lots of information regarding Regional Measure 3, Bay Area Traffic Relief Plan, and, if passed, may keep us from being strangled by our own traffic 'tie-ups'. But, if the 4.5 BILLION DOLLARS doesn't get the job done, there will be eager beaver proponents for the next one down the road. Our traffic situation is not a humorous one, so we out and about in the frantic day-to-day fracas must do whatever it takes to mitigate it. Just maybe the $4.5 Billion might do it? Probably not at the costs proposed. Nothing of the scope they are planning can come in on budget.
For Martinez residents, the headliners are the Yes on I, No on F, both of which are debated ad nauseum in the voter guide. Your eyes will roll back and forth as you do your homework preparing for June 5th. The elective office candidate lists are a piece of cake. A good unwind!
Since election day results were posted for the 2016 national elections, we've heard all kinds of speculation and hype about the 2018 mid-term campaign. It's here. What a disappointment, so far, with only three weeks to go. The great 'retirement exodus' from Congress has a lot of interest around the country, including those bailing out because of their overzealous 'assaults' on co-workers now being revealed, some after years. How stupid can these guys be? Plenty!
BAD DECISION by a last-minute candidate for the Alameda County Board of Education, someone who has essentially no qualifications for the position, as he demonstrated during interviews. He is running against an incumbent with a good two-term record as a member. The last-minute decision will cost Alameda County $144,000 because there would have been no other candidate against the incumbent. The newcomer has never been to a meeting of the Board. He wants to bring cost savings to the District, but has neve seen the budget or spending plan.
HORSE 'IN AROUND. Today, we are so pleased to note the agreement between the park district and the Tri-Cities Horsemen's Association to use the waterfront arena at the Radke Martinez Regional Shoreline. There are so few areas for horse lovers to ride and to show or compete, this is such great news. We congratulate those who worked this agreement to make the facility available. Bravo! My family and other early members of the Martinez Horsemen's Association, founded in 1945, can remember so vividly such great times with our horses as individuals or with our groups. Thanks so much for what has happened with this latest agreement. The agreements, such as the preservation of land and open space, make the quality of life so much better.
CHEERS, and more, to all Mothers as their day comes today. We can never thank our Mothers enough for all they have done for us. Even those Mothers who are no longer with us can be remembered and thought of with love and appreciation. It is their day!! And they are why we are here to celebrate.