by Bill Sharkey III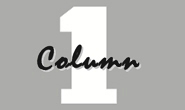 WHAT HAPPENED? You tell me! Whatever it was, it was mighty fast. And, here we are again. No longer an unemployed volunteer columnist. Hardly a day off to consider my future. Perhaps, just as well! Reflecting on my past keeps me well occupied; it's been such a long past. Maybe good for a cheap autobiography?
It seems there was an 'obituary' notice in the old Morning News-Gazette on Page One announcing in advance the pending demise of the 161-year-old newspaper which had its founding in September 1858, and continued under a variety of names until the planned death on December 29, 2019. Strange, stating a specific date of a death of something in advance? Oh, well!
So, after the Page One shocker announcement hit the streets (newspaper talk), people were definitely shocked. What would we do for local news? How would we keep apprised of upcoming events? How would Martinez P.D. tell us if there were bad guys lurking in our neighborhoods? What music groups would be playing at Armando's next week? Where are the beavers? Who is planning to run for political office? What is the legal profession doing if we don't have Barbara Cetko's legal advertising to keep us current? When is the next crab feed fund-raiser which we certainly can't afford to miss?
No wonder there was distress, concern, mourning in the community. It would be like losing a dear friend, or favorite aunt, or worse. Wow!!
Then, talk began to filter through the gloom. There might be something cooking to continue the Gazette or, as Harriette Burt has always fondly called it, "The Gazoo". However, the publisher, known for a lack of communication technique, any conversation regarding speculations of things to come was not coming forth. So, plans moved ahead for the final day's publication. Many news writers, civic leaders, readers, business folks gathered their forces and provided an historic final edition of the Morning News-Gazette, the 161-year-old purveyor of news and advertising (never fake news!!), maybe a rumor or tad of gossip along the way. As a famous newspaper has stated, "All the news fit to print".
THEN, as the old story line which has been used in plays, etc., a strange thing happened on the way to the funeral for the beloved publication.
The grave diggers had completed their grave digging chores, and were standing by for the procession. Their grave site was prepared according to specifications. A large crowd of mourners had gathered to be part of the services. Anything reaching the venerable age of 161 years deserved proper mourning and respect. They were ready with hankies, tissues and dark glasses. It was a beautiful day in Martinez, a place be happy and safe. But, now a place without a newspaper. How could it be true?
As the gathering of friends, mourners and longtime subscribers waited for the procession to arrive, some began to be restless, began to fiigit. Has something happened, they wondered? What could possibly delay a funeral for such an important member of the community?
Than, 'the word' came down from out there some place…there would be no funeral today. What?? Why not?? Answer: The reported demise of The Gazette (for Harriett, the Gazoo) had been apparently premature (not fake news) but, certainly official sounding on Page One the day it appeared. Was it a 'played closed to the vest' move, or was it a case of saved by the bell? Hopefully, we will hear the story one day soon. All of us are most anxious to know what is ahead. Meanwhile, how about a cup of coffee and a print newspaper to read? I will buy!
WE ALL KNEW 2020 was going to be an exciting (?) year, right?!? What we did not know was that our unfit Oval Office Person was going to get us into another potential war in the Middle East. As of my deadline, we are still just (just!?!) in the back and forth threatening stage. "If you do this, we'll do worse". How did we get here? We got here by 'hiring' a know-it-all real estate tycoon from NYC who has no integrity, and no idea of how a president of the United States behaves, or how to lead a nation of good people with ethics and rules of law and order. He also does not know how a leader of this "best nation of all time" should behave when out on the international scene.
When we hear explanations of why we had to assassinate a very popular Iranian general from the Oval Officed Occupant, knowing that has lied or made mistaken facts over 15,000 times since January 20, 2017, how confident can we be that what he and Mike Pompeo are now saying is the truth? Scary? You bet, Mr. and Ms America!!
As we citizens at home are waiting for the BIG BOOM, or whatever the Iranians and their supporters around the world might do, we have our thoughts on the upcoming 2020 national election next November.
OH, YES, THAT!! How do you feel about candidates chasing around the landscape trying to be presidential wannabees? Anyone stand out for whom you would like to plunk down $$ to help? Anyone know the details of the proposals for health care? Have you heard that drug costs are going to increase about five-plus percent in 2020? Make a difference? Or, are you more concerned about the international situation? How about the immigration problems? How about crime in your neighborhood? Then, of course, there are the homeless.
So much of which to be concerned. Or, are you concerned?
CHEERS to those who stepped up to save our local newspaper. As of this columnist's deadline, we are, fortunately, not in a new Middle East war, the SF 49ers made it to the NFL playoffs, and it looks like we are not headed for another California drought. And, so long to the former Oakland Raiders. If the Warriors can just get it all together!
Wish to comment? bjsharkeyiii36@gmail.com