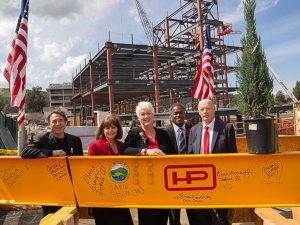 MARTINEZ, Calif. – The last piece of structural steel has been placed on the new Contra Costa County Administration Building.
County officials marked that achievement Tuesday with a "topping out" ceremony.
Susan Shiu, the county's director of the Office of Communications and Media, called the topping-out "a significant milestone for the project."
Construction began in 2018 on the $60 million building, and it's on schedule to open by spring of 2020, she said in the county's statement.
When it's finished, the 71,000-square-foot administration building will incorporate many of the new sustainable construction approaches, according to the statement.
"It will allow Contra Costa County to better serve the community with a dynamic, welcoming space that is both efficient and distinctive," Shiu's statement said.
The new building will replace the current high-rise building which has a look that many have compared to old cigarette dispensing machines. The new building has been designed to be more compatible with Martinez's downtown architecture.
Despite the current building's dominating size, county employees have said it no longer meets the needs of a busy government operation.
Some departments are divided among multiple floors. Restrooms aren't convenient, and climate control can be problematic. Space is at a premium and the older building doesn't accommodate ever-changing technological use.
The new building has been designed to correct those shortcomings while incorporating features that complement, rather than interfere, with the ambiance of Martinez's downtown area officials have said in the past.
Contractor Hensel Phelps, and Fentress Architects worked with county officials to design and build what Shiu's statement called "an efficient and community-friendly space for county residents and visitors.
"The new building will house office space for a variety of county departments, including a Board of Supervisors meeting chamber," her statement said.
The project team are aiming for Leadership in Energy and Environmental Design (LEED) Gold certification in building sustainability, the statement said.
In addition, the four-story building's steel structure is expected manage both gravity loads and seismic forces efficiently among its interconnected columns and beams.
"Placing the final steel beam on the new building today confirms the county's commitment to keeping this project on schedule and on budget," said Board Chairperson and Supervisor John Gioia.
"We are excited to mark the milestone toward a new building that will make it easier for residents to access county services," he said.
"Strength, flexibility and innovative design-build solutions, project administration and collaboration are keeping this key project on schedule to benefit the public the County serves," County Administrator David J. Twa said.