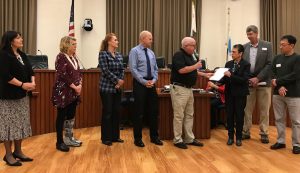 MARTINEZ, Calif. – Whether helping Northern California fire victims and those in other parts of the state, hurricane victims in Florida and the East Coast, or answering calls for help when Hawai'i's Kilauea volcano erupted last year, the Red Cross is ready to respond.
Besides large disasters, Red Cross volunteers also provide help to individuals and families who may have lost their home to fires or other smaller calamities.
During the March 20 meeting, Martinez City Council recognized the work of this humanitarian organization for the work it does locally, around California, and throughout the country and its territories.
The largest organization of its kind, it typically responds to 62,000 disasters in the United States, and stands ready to answer calls for help, whether that's providing meals and snacks or collecting donated blood.
The American Red Cross also provides training to the public so individuals can learn how to save lives, and assists those in the military and their families. It cooperates with humanitarian efforts throughout the world.
Its preventive measures added the Home Fire Campaign in October 2014, through which it has cooperated with fire department and other community organizations to install at no cost to residents more than 1.5 million smoke alarms in 648,000 homes. Those alarms are estimated to have saved 511 lives.
Last year in the San Francisco Bay Area alone, the Red Cross Bay Area responded to 838 home fires, installed 10,604 free smoke alarms and made 3,403 households safer, according to the Martinez Council proclamation.
In Contra Costa County alone, the Red Cross provided help in 109 local disasters, and taught first aid, cardiopulmonary resuscitation (CPR) and automated external defibrillator (AED) use to 6,595 people. The agency also collected 16,025 units of blood from county donors.
The city's proclamation also recognized volunteers who gave 43,495 hours of their time to help those in need and suffering during emergencies.
Volunteers are always needed, said Marcelle Indelicato, of Contra Costa County's Office of Emergency Services, who with Cliff Buxton and Tom Ta represented the Red Cross at the Council meeting.
Besides directly helping disaster victims, volunteers are needed to restock supplies and handle data entry, distributing door hangers and providing information in other ways and handling the logistics of installing fire alarms.
The Red Cross is recruiting 30,000 volunteers in preparation for three public "Sound the Alarm" events to provide fire alarms. Bilingual volunteers especially are needed for the presentations, the agency has announced.
Those interested in volunteering or attending may visit the website SoundTheAlarm.org/norcal/ coastal. Those with questions may contact Jennifer Lucas at Jennifer.lucas@redcross.org or by phone at 925-303-8572.
Training for the Sound the Alarm events can be done online by video class on YouTube. Training in person will be available at the Red Cross office, 1300 Alberta Way, Concord, and can be arranged for organizations by contacting Lucas for appointments.
For those unable to take the training, other volunteer opportunities are available. Those interested may visit the website https://www.redcross.org/local/california/northern-california-coastal.html.
The events are from 9 a.m. to 3 p.m. April 27 at Concord Cascade and Sun Valley Village, 125 Sahara Drive, Pacheco; 9 a.m. to 3 p.m. May 1 in Chateau Mobile Home Park, 3301 Buchanan Road, Antioch; and 9 a.m. to 3 p.m. May 4 at Parchester Village, 900 Williams Drive, Richmond.
"Our community depends on the American Red Cross, which relies on volunteers and the generosity of the public to perform its mission," the city's proclamation said.