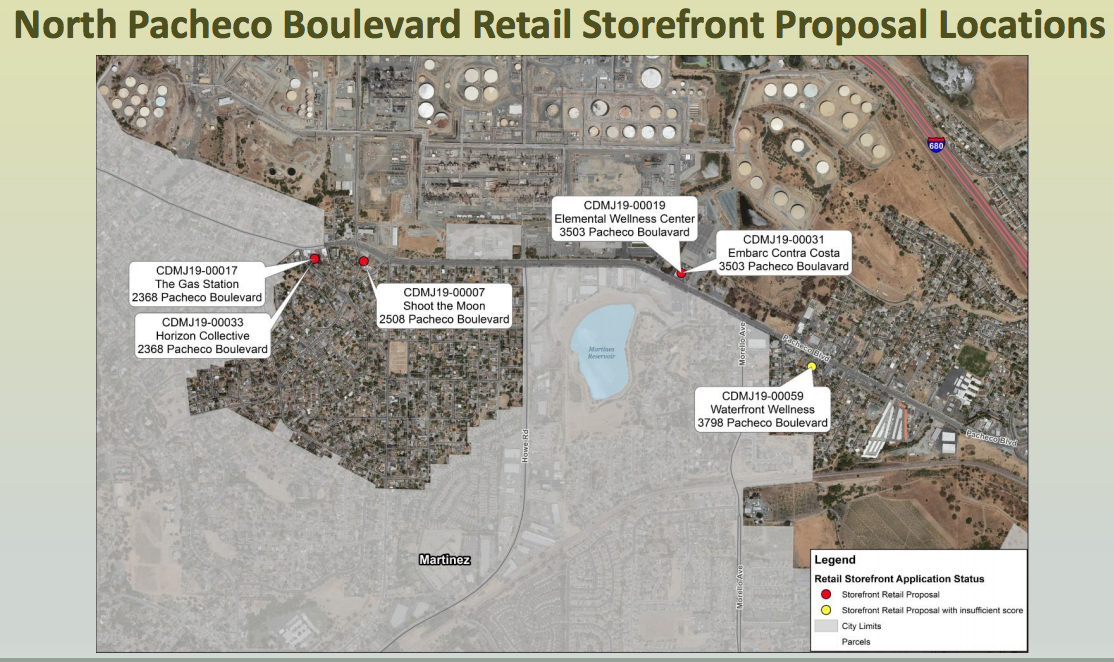 MARTINEZ, Calif. – Contra Costa County Board Supervisors will consider six cannabis store proposals located on north Pacheco Boulevard, just outside the city limits, at the Dec. 10 board meeting.
The City of Martinez has just approved the only two cannabis retail operations allowed in the city, Firefly, and Embarc. More retail cannabis stores just beyond the city could change the dynamic that local leaders had in mind.
The County plans to allow up to four retail stores. There are 20 applicants with proposals for locations in Pacheco, El Sobrante, Bay Point, Richmond, and Clyde.
There are four applicants listing sites on south Pacheco Boulevard.
A county interdepartmental panel collected and ranked viable applicants. To address geographic distribution, the county panel has developed alternate ranking scenarios for Board consideration.
• Scenario #1 – 1 in El Sobrante, 1 on north Pacheco Boulevard, 1 on south Pacheco Boulevard, and 1 in Bay Point.
• Scenario #2 – 1 in El Sobrante, 2 on south Pacheco Boulevard, and 1 on north Pacheco Blvd.
Some of the Pacheco Boulevard applicants have listed the same property location. Embarc is one of those.
Lauren Carpenter, Embarc head of strategy, said the owner of the property allowed two cannabis businesses to apply using the same proposed location. Presumably, the owner will work with either one if either is selected by the County.
The proposals have been rated according to a numerical methodology similar to the one used to rate applicants for cannabis store locations in the City of Martinez. The company's financial strength, successful experience in the business, location, and safety procedures are among the criteria used to rate the businesses for a staff recommendation.
The City council has repeatedly declared the area just beyond city boundaries as within the city's sphere of influence, and the council has staff working on the feasibility of annexing much of the unincorporated Pacheco Boulevard area, as well as Mountain View.
Pacheco Boulevard is one of the major entrances to the city, and Martinez residents were pleased when the County installed a sidewalk and made street improvements in the area. There is no doubt that anything happening in that area will have some effect on Martinez.
How a county-approved cannabis business would be affected by annexation is not clear. It is possible that it might be "grandfathered".
"We decided to only have two," Mark Ross said. "That doesn't mean that is all we will ever have." It would be hard for us to say you can't have one when we just approved two."
The County reportedly hopes to reap $1.7 to $4.4 million in annual revenue from these businesses to cover the cost of public services such as safety, health, and environmental protection. Ross said, "I don't think there is going to have as much income as has been promulgated.
All of these proposed retail store locations will bring tax revenue to  county coffers, not Martinez. And potentially take business away from the two retail stores located inside Martinez city limits.
The Adult Use of Marijuana Act in November 2016, which gives local cities and counties the ability to allow and control commercial marijuana retailers, manufacturers, distributors, cultivators, and testing laboratories. At the Dec. 10 meeting the Supervisors will decide on what retailers can apply and they will consider seven commercial cultivation proposals for east county locations.
The Supervisors meet in Board Chambers room 107, Administration Building, 651 Pine Street, Martinez, California. The meeting is Tuesday, December 10 at 9 a.m.