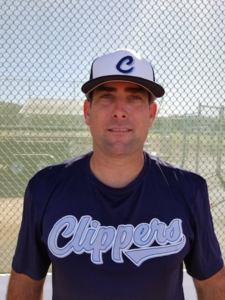 Effective July 10, 2018, Dan Parker has been named the new Field Manager of the Martinez Clippers.
(Courtesy of Martinez Clippers) – Parker is currently Head Coach for the Napa Valley College Storm, who play in the Bay Valley division of the CCCBCA. The Storm finished sixth in 2018, going 15-24 overall and 9-12 in conference play.
"I'm extremely excited to be able to coach professional baseball near my hometown," Parker said. "We're going to try to get the best we can out of each guy [on the roster], and move forward from there…we're going to put the best lineup out there, not change too much, but make sure we're challenging [teams in the Pacific Association]."
Dan Parker grew up in Danville, Calif., and played baseball at Diablo Valley College before being selected in the 16th round of the 1999 MLB Amateur Draft by the Houston Astros. Parker elected to forgo a spot on the Fresno State roster to play minor league ball in the Astros' system, where he pitched for two years, before playing independent ball for another two seasons in the early 2000s.
Parker began his coaching career as the head coach for Tamalpais High School (2005-06) and St. Helena High School (2007-08). He was an assistant coach at Justin-Siena High School (2009-10) and Napa Valley College (2011-12).
Parker served as associate head coach for Diablo Valley College (2013-14).
In 2015 and 2016, he was an as assistant coach and the recruiting coordinator for Academy of Art University, a private school in San Francisco. The Urban Knights (15-34 overall) finished in eighth place in 2016 in the Pacific West Conference, an NCAA Division II League.
Research credit: Napa Valley Register