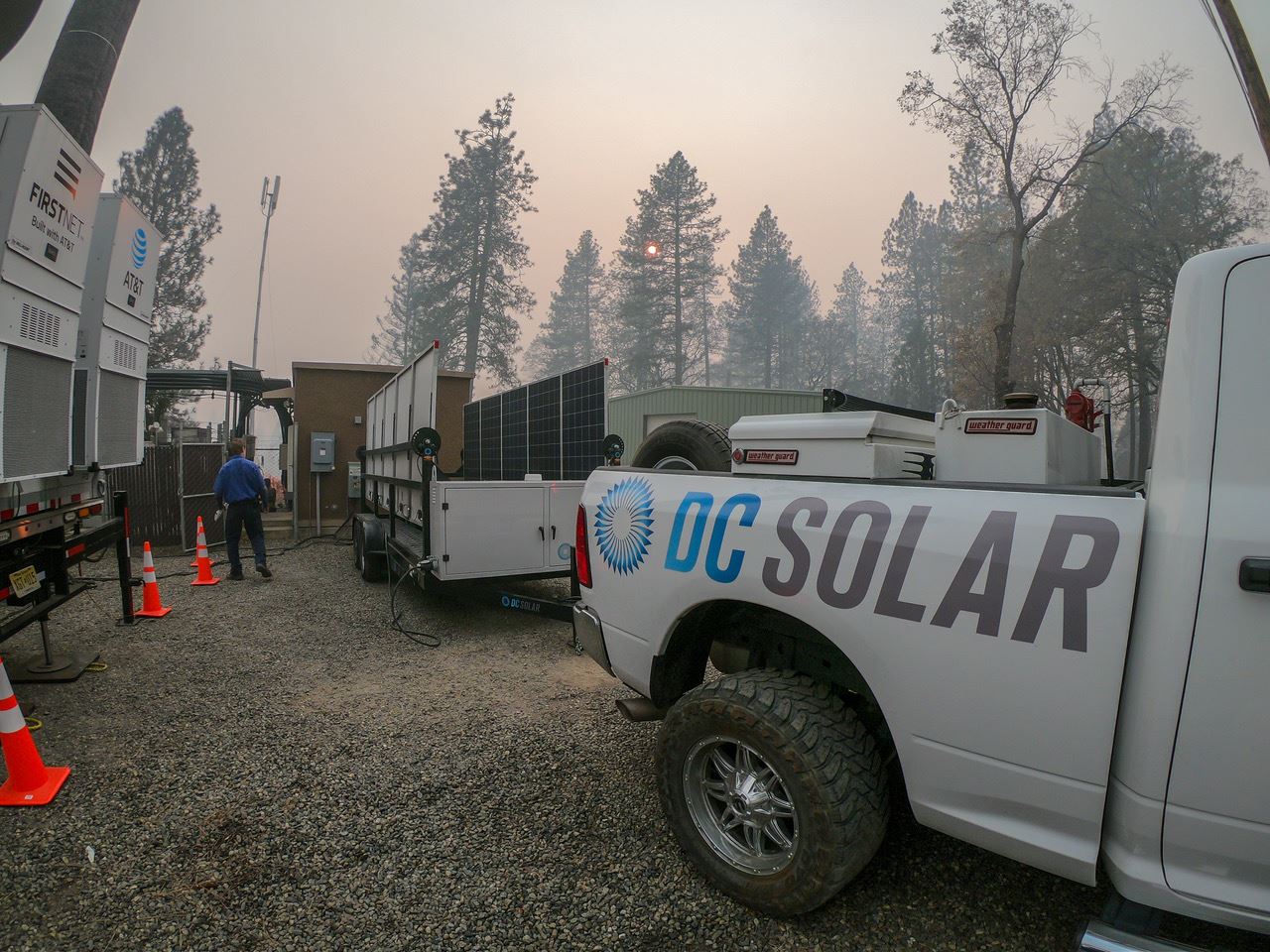 When people think of DC Solar products, they often think of entertainment – concerts, games or other big-venue events – where bright but temporary illumination is needed.
And the company with connections to both Martinez and Benicia certainly does that. But it does far more, as first responders battling the Camp Fire in Butte County as well as fire survivors are discovering.
Since the catastrophic wildfire began raging through Butte County, DC Solar has been preparing to send its equipment north, for humanitarian purposes, said John Miranda, director of communications. In this case, a top priority is restoring cell phone service so emergency responders can talk with each other and survivors can let loved ones know they are safe.
"From the very beginning, when Jeff (owner and founder Jeff Carpoff) was imagining the product and what it could do, even before the company was formed, he knew there was just such an application," Miranda said. "
That "application" is off-the grid, solar powered generators that can provide energy for disaster relief and recovery.
"We're happy to see it used that way," Miranda said.
The Camp fire first was reported at Pulga about 6;20 a.m. Nov. 8. From a few acres, it spread fast
Within an hour, the Adventist Health Feather River Hospital in Paradise, about 25 miles from where the fire first was seen, began evacuating patients in any vehicle that moved. Some nurses called their families as they drove through flames, unsure they and their patients would make it out alive.
In two hours, the morning sky was nighttime-black with smoke. It was spreading in 80 football field-sized swaths each minute, pushed by 55 mph wind gusts. By 2 p.m., CalFire said, the fire was burning across 18,000 acres. In a day and a half, Paradise, a city that once was home to 26,000, was in ruins.
By Monday, 79 people were known killed by the fire, nearly 12,000 homes, 472 commercial buildings and 3,388 other structures were destroyed. Another 14,500 remain threatened. So far, 151,272 acres have burned, and the fire is considered 70 percent contained.
The area's cell towers and communications fibers and other energy infrastructure has been incinerated. That's why DC Solar had been waiting for authorities' clearance to deploy. "The news is 'We need cell service. We need power.' That's one of our specialties," Miranda said.
Their effort isn't limited to the Camp Fire. Miranda has been in Southern California, where the Woolsey fire has scorched about 100,000 acres near Malibu. Three have died in that fire, which has destroyed more than 1,500 buildings.
"We've been working with T-Mobile since 2012," Miranda said. "Most of the work in Benicia is generated from working with T-Mobile, especially last year. They keep us really busier than anybody." So DC Solar has a ready-made partnership with that cell service provider when it heads to emergency sites.
DC Solar's equipment units use photovoltaic panels to gather power from the sun, which it stores in batteries. "Big, big batteries," Miranda added.
Those batteries hold the sun-created power which through an inverter, a type of conductor, directs appropriate amounts of electricity to energize lights or other equipment, "whatever's being used," Miranda said. If it is illumination, those units can power lights all night long, using solar power collected during the day, he said.
Although the Camp Fire is being called the worst in California's history and one of the worst in the nation, DC Solar has gained experience working last year after the Napa-Sonoma and other fires.
"We were up at every wildfire in the last two years, powering cell towers," Miranda said. Some of those towers weren't burned, but still quit transmitting signals. "Sometimes they go down for other reasons," he said.
"Keeping first responders connected and customers connected is vital," Miranda said. "Every year there's been a big fire, like the Napa fire, our trailers have been on the side of the road." That's where they have been parked, catching rays to power up those batteries for heavy duty work.
Besides California fires, DC Solar has sent its equipment to other disasters, such as Hurricane Sandy in New Jersey.
It's in discussions with the Puerto Rican government to formulate solutions for that island after the devastation by Hurricane Maria.
"It's a humanitarian crisis there, and some parts are coming back faster," Miranda said. "I've been out there a few times. I think there's a good chance DC Solar could have a presence there."
Unlike other methods of providing electricity, DC Solar units are off-grid and use renewable energy.
"One of the benefits of mobile solar, one reason we're safer, is we're bringing a generator that does not require fuel to supply the power to light the tower. It makes it safer," he said. "It's not putting people in harm's way."
That's because the generators don't have to be maintained the way diesel generators must be. No one needs to check on fuel levels.
"Part of our work is to show people what we do, how important off-grid power is, especially in instances like this. This is a new way of doing things. It's not only helpful, but vital in disaster recovery," Miranda said.
In addition to being safer, the solar-powered units are not contributing to the climate change some people have said has made California wildfires worse in 2017 and 2018 and has strengthened the power of summer and fall hurricanes that have struck the Southeast. "Everyone has a role to do a bit," Miranda said. "Disasters are dangerous."
DC Solar has been in the California fire zones for about a week. "They wouldn't let us up until Wednesday (Nov. 14), so Wednesday is when we deployed," Miranda said.
The company sent four of its "Solar Eclipse" units powering four separate cell tower sites. "It's important work," he said. The coordinated effort between the portable solar power company and the cell service provider are giving first responders their first opportunities at cell service.
In that week, Miranda said people have given workers positive comments when cell phone and internet service are restored.
"Especially when they're trying to reach loved ones, saying, 'Are you alive? Where are you?' – this is lifesaving stuff of the highest order," he said. "I think people have been overwhelmingly positive and appreciative."