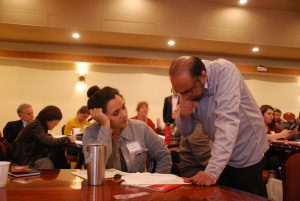 MARTINEZ, Calif. – A business's website should reflect the values of its company, Deluxe experts told a room full of Martinez small business owners Monday morning in a daylong seminar.
Martinez earned the right to the educational program, which was given at no charge, by being among the top 10 in a nation-wide contest to pick a city to receive $500,000 in counseling and other services during the third season of Deluxe's "Small Business Revolution" series.
This city, one of thousands that entered, made it to the top five finals, but lost to Alton, Ill. Martinez may appear in some episodes of the internet program.
And Monday, it was first – the other nine finalists will get their workshops between now and late June.
Understanding the customer experience is important to business owners, said Linzi Breckenridge, director of content experience.
That understanding can turn a bad situation around, she said, citing an example of an extended valet service she used that marketed itself well, delivered on its promises and when someone hit her car when it was in their care, the company notified her and handled the repairs. "That left an indelible impression," she said.
Companies need to meet customer needs, provide a touch point so customers encounter the business, and create a positive ambiance, she said. In developing a website, a businessperson should consider why he or she started the company in the first place, how goals help execute the company's mission, how to target a customer and know who they are and how to tailor messages to that audience and differentiate that business from competitors.
Breckenridge illustrated her points with a Deluxe website makeover of a children's learning center that had a dark, snow-flecked wall as its featured element when browsers clicked on its link. Once overhauled, the website was bright and focused on the owner's experience and her focus on children's learning opportunities in a safe environment.
New text made the website easier to spot in searches and other revisions made it easier for potential customers to contact the learning center.
Not only did the woman reach enrollment goals, she's considering opening a second location, Breckenridge said.
Similar stories were told by Noah Turner, search engine optimization manager; Brant Schmitz, director of email and marketing automation; and Elizabeth Anderson, director of social media and content.
They described in detail how business owners can use emails and social media more effectively and increase the visibility of the company's web presence with little or no added expense.
In addition to speaking to the audience at large, the advisors took turns answering questions in breakout groups, advising which social media sites would be more effective for different business types and when blogs can boost a company's presence.
They also told businesspeople how often their company's Facebook page should get a post so it doesn't defeat its effectiveness, when a website should get new content and why business owners shouldn't fear those who decide to "unsubscribe" to their company's emails.
Vijay Balakrishnan, vice president of epayments, and Vince Zamora, lead finance analyst, gave the businesspeople a dose of reality – finance and budgeting.
Balakrishnan said 82 percent of businesses fail because they can't manage cash.
And many smaller businesses can't even last five years, they said.
But business owners don't have to be financial wizards to create a budget, which Balakrishnan said is a projection into the future, not the look into the past that financial statements are.
Profitability and optimized cash flow will sustain a business, they said.
"It's important to be realistic," Balakrishnan said.
And it's also important to realize a budget can be a flexible plan, Zamora said. For instance, adding a premium product to a company's line will change both expenses and revenues, he said.
As a bonus, members of the Service Corps of Retired Executives (SCORE), which can be reached through the Martinez Chamber of Commerce and which is underwritten by the Small Business Administration, were available to give attendees even more counseling.
Stephanie Telfer, who owns The Remedy Wellness Center, had plans for making changes even before the seminar wrapped up.
"I'm realizing that our website needs to be a better window as to who we are," she said. "For us, this is more imperative."
Her company faces the challenge of being on a second floor, rather than at street level where they can be discovered by those walking through the city's downtown. She doesn't want her business to be considered a "wellness speakeasy," she said. "We want people to feel welcome."
Marie Knutson, who operates a UPS store on Arnold Drive, said the seminar "is extremely valuable." Since her company is a franchise, the main headquarters limits what she can do independently, although she has found alternatives.
"Some of the marketing I'm doing for the UPS Store," she said. "But the tricks I am learning from this I hadn't thought of." That includes making sure those who find her store online see its address and hours as well as other information. Some of those changes she plans to make right away.
Rita Kwan is in banking now – she's assistant vice president and branch manager at East West Bank of San Francisco. But she's had a small business and is considering opening another down the road. At Monday's seminar, she learned that she needs to reach out to customers, through emails, a website and social media.
Leanne Peterson, executive director of Main Street Martinez and the driving force behind Martinez's entry into the contest, called the seminar "an invaluable opportunity" for those who attended.
"I think it's going to be a great help," she said, especially for those who needed a boost in using Internet resources in better ways.
And she said the room of Martinez area businesspeople were "engaged and learning," and she praised DeLuxe for providing such an experienced array of speakers.
As for Peterson herself, she expects to use the social media guidance right away, and since Main Street Martinez already was planning to overhaul its website, the tips she heard Monday were timed perfectly.
This is the first time DeLuxe chose to present the seminar to its top 10 cities, Andrew Isenberg, manager of national partnerships, said. And for the first time, those attending the seminar got personalized attention in the small table groups.
"I think it was terrific. We got outstanding questions, and the feedback was outstanding," he said.
Those interested in Deluxe's resources and advisors for Martinez's businesses may visit the website www.deluxe.com/mymartinez or call 866-850-8810.