Austin Dillon, with his Hall of Fame grandfather Richard Childress watching, capitalized on a bump from Darrell "Bubba" Wallace and a spin by Aric Almirola to win the 2018 Daytona 500 in overtime laps Sunday afternoon.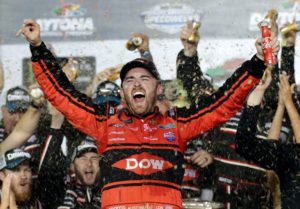 The crash-filled season opener had but 12 cars on the lead lap and more than a third of the original field of 40 were in the garage or loaded on the haulers after the series of crashes.
One accident brought out the eighth caution  on what would have been the last lap when a pileup collected nine cars.
Only a few cars pitted – much of the field had gotten the fuel and tires needed to finish the race, either during green-flag stops or under cautions.
Once the track was cleaned and the race was restarted, Aric Almirola won a short but intense battle for the lead. Then he was forced to block not only Hamlin but also Dillon, who was coming up fast to challenge the top two.
Almirola appeared to slow slightly when his car became unstable. At the same time, Dillon was advancing to the front, with help of Wallace's push from behind.
Dillon had passed Hamlin, then had set his sights on Almirola. But when Almirola slowed, the two cars struck. Almirola went for a spin, causing the last chain reaction crash behind him.
Dillon's No. 3 Chevrolet cruised to the front and stayed there for the race's finish.
Wallace was close behind, barely edging Hamlin out for second place. Hamlin was third.
Hamlin was disappointed in his third place finish. "I mean, definitely put ourselves in position on the final restart," he said. His crew had sought assistance from some of the other drivers, just as Wallace and Dillon had cooperated. In the end, he said, he picked the wrong lane for the restart.
The crashes "took out a lot of really good cars today," he said, but added, "I wouldn't panic and change anything."
As for his own finish, "I blew my right front tire out," after a side draft from Wallace.
Hamlin was followed by Joey Logano, Chris Buescher, Paul Menard, Ryan Blaney, Ryan Newman, Michael McDowell and Los Gatos native A.J. Allmendinger for the top 10.
Blaney led the most laps, 118, and for much of the race it appeared he'd win instead of finish seventh.
But few watching the race would have made any predictions. Crashes had a way of making those predictions fade away.
Past Cup champion Kyle Busch spun out on Lap 50, collecting David Ragan and William Byron, the new driver who pilots the No. 24 Chevrolet that once was Vallejo native Jeff Gordon's ride, until Gordon retired from full time racing to provide color commentary for Fox.
Just as the first stage of the race was being won by Busch's brother, Kurt, who won the Daytona 500 last year, a crash behind him caught Ty Dillon, Trevor Bayne, Ricky Stenhouse Jr., Erik Jones, Byron, Elk Grove's Kyle Larson and Daniel Suarez.
On Lap 93, Byron's bad luck continued when he scraped the wall and then cut a right front tire.
Kasey Kahne, Chase Elliott and Bakersfield's Kevin Harvick got tangled lap 102, just past the halfway point. And before those crashes were done, Danica Patrick's NASCAR Cup career ended in tangled metal on Turn 4.
The only woman who has raced full seasons at the Cup level, she has said the Daytona 500 would be her last NASCAR race, although she has said she will drive in the Indianapolis 500 later this year.
Several teams had unfortunate pit road and pit box incidents. Several pitted before pit road was open, and a few sped down pit road. Logano was one of them, and said his car was having brake problems.  Hamlin had to drive back from being a lap down after having his car serviced outside of its assigned pit box.
Dillon only led one lap, but as his crew chief, Justin Alexander, said, "You only have to lead one lap."
He said both he and Almirola consider the finish "just racing," and there were no ill feelings. Almirola said something similar after he left the track's care center after crashing.
While Dillon isn't superstitious, a young race fan he won over by handing him an autographed hat might have brought the driver some luck. The boy met up with the driver a day later and handed him a "lucky penny," one he had found heads-up. Dillon put the penny in the car.
And it will stay in the car as it is displayed in Daytona Beach for the coming year.
"It belongs with its owner – the car," the victorious driver said.
After the race, he described how his wife, Whitney, became emotional after a family prayer and then told her husband the Daytona 500 would be a rough race, but that it would work out – he'd win when it counted, on the last lap. "That's how it worked out," he said.
At 27, Dillon is one of the younger Cup drivers, with just a few seasons under his belt. But he is linked with racing history, not just because Childress is his father. And one story involves an earlier time when a different penny was glued into a No. 3 Chevrolet race car.
Childress, a former racer, became a team owner, and his most famous driver was the late Dale Earnhardt, father of the recently retired Dale Earnhardt Jr. ironically, the senior Earnhardt also had a lucky penny given to him by a fan, and he had glued it to his car's dash the day he got his sole Daytona 500 win.
Earnhardt's car was a black No. 3 Chevrolet. That number's use in racing ended after Earnhardt's death in the 2001 Daytona 500. The ride was renumbered 29, and for a while belonged to Bakersfield native Kevin Harvick.
Then in 2013, after talking with Earnhardt fans and the late driver's family, Childress announced the number would return to the track, and that Dillon would be its driver.
Last year, he won the Coca-Cola 600 at Charlotte Motor Speedway, taking the No. 3 car to Victory Lane for the first time since Earnhardt's last win in 2000.
Plus, Childress has plenty of admiration for Petty, one of his friends. Their respective teams share information and assistance. Wallace, whose push helped propel Dillon to the front from fourth place, drives for Petty, in a car that bears "the King's" own racing number.
It wasn't lost on Childress that two famous race car numbers, the 3 and the 43, had just finished one-two at stock car racing's most prestigious race.
Wallace initially was upset that he finished only second.
Then, because his car also had been tapped in the final crash, he was being treated in the track's in-care center when Petty walked in.
The King was scowling, and asked if his young driver had forgotten the first thing he'd told him. "Don't wreck the car!" he said.
"But I didn't!" Wallace denied– and his team owner grinned and gave him a hug.
Wallace accomplished the best finish for a rookie in the Daytona 500, and he's also recorded the best finish for an African American in the race, exceeding the accomplishments of Wendell Scott, who was 13th in the 1966 Daytona 500.
Just as Dillon's success Sunday was being celebrated by his grandfather after the race, Wallace found himself being hugged by his mother, Desiree, then by his older sister. Five years older than Wallace, his sister Brittany gave him the nickname "Bubba," which he's kept because it prevents confusion with his dad.
Normally upbeat and wisecracking, Wallace shared their tears. Wiping his face, he tried to be chipper. "It's a sensitive subject, but I'm just so emotion over where my family has been the last two years," he said, explaining how much he wants to make his family proud of him.
"It's just so hard, and so having them here to support me is – " and he broke off to order himself, "Pull it together, Bud. Pull it together. You just finished second. It's awesome."
Besides family, Wallace was surrounded by his new sponsor, Click n' Close, a division of Mid America Mortgage, and, of course, team owner Petty.
Formula One legend Lewis Hamilton and baseball legend Hank Aaron both wished him well before the race.
Wallace drove boldly through the first third of the race and was a constant threat for the lead. Despite getting banged up in some of the race's crashes, he kept his car back in the top five as the laps would down.
While he's had mixed success in Xfinity and better luck in the Camping World truck series, the rookie has been getting complimentary – even admiring – remarks from more seasoned drivers.
"I just try to be myself," he said, explaining that while racing, he tries to "hold the steady line. That's how you're going to gain respect."
He continued, "If you run a good, clean race, run all the laps, I think you'll get a lot of respect and I think our cars, the way my guys built our car, we were a really good push car. We got behind there a little bit, and I'm like, 'Man, we're not really going anywhere." Then he noticed where and how he could make up ground.
During the final lap, Wallace said he felt Logano "breathing down my neck, knowing that he likes to just dart out, and everybody is going to go with him." He strived to keep Logano "in my mirror." He also was focused on holding his lines through the final four turns. "I almost got caught up there on the backstretch."
After soaking in his accomplishments, he said, "It's a good day just to come home second, just to come home with a finish here at Daytona. A lot of cars wrecked out early, and we were able to capitalize on that. It really means a lot to be able to just run all the laps, have a good clean race and earn the respect of your peers."
Several other California drivers were competing in the Daytona 500. Of them, David Gilliland of Riverside was 14th; Larson was 19th; Grass Valley's Matt DiBenedetto, who appeared poised for a top five finish until getting caught up in one of the crashes, was 27th; Brendan Gaughan of Los Angeles was 2th; Harvick was 31st; and Jimmie Johnson, who is a seven time season champion from El Cajon, was another crash victim, finishing 38th.
Patrick, the only woman in the field, was 35th. Defending series champion Martin Truex Jr. was 18th, also after getting collected in a crash. A Canadian driver, D.J. Kennington, was 24th.
The next race in the Monster Energy NASCAR Cup series will be the Folds of Honor Quik Trip 500 at Atlanta, Ga., Motor Speedway. It will be broadcast Sunday, Feb. 25, on FOX.