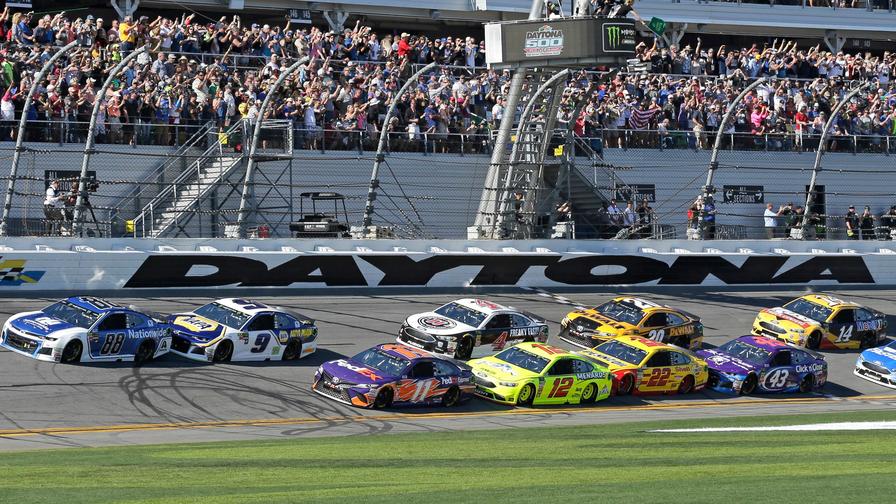 NASCAR's top drivers are in Daytona Beach, Fla., taking in sights and making public appearances in advance of Sunday's season opening Daytona 500.
Playtime will be over as the racers get to work, experiencing new car packages in one of the prime races of the Monster Energy NASCAR Cup Series.
Getting an early win is important, said Denny Hamlin, driver of Joe Gibbs Racing No. 11 FedEx Toyota. It puts a driver in a position to take greater risks during the season, because the all-important berth in the playoffs is assured by a trip to Victory Lane.
And it's always good to get that win at Daytona International Speedway. He recalled the first time Dale Earnhardt Jr. won the race, in 2004.
"He was carrying the trophy to his trailer," Hamlin said. He remembered hoping that one day he would have that opportunity.
Ten years later, he found himself in a battle to the finish with Martin Truex Jr. He won the race by a scant 0.011 seconds, the closest finish in the race's history. "I got my own!" he said with a smile.
While all drivers will be competing in cars with new aerodynamics and engine configurations, Hamlin also has a new crew chief, Chris Gabehart, who brought Joe Gibbs Racing nine Xfinity wins in three years.
Because of the size of Daytona International Speedway and the 500-mile length of the season opener, Hamlin said the Daytona 500 is a good race to start developing a rapport with the man who masterminds race strategies. "We won't be talking about handling too much," he said.
Like his rivals, Hamlin is anxious to get the 2019 season started.
"I'm looking forward to this year." Matt DiBenedetto, a native of Grass Valley, has even more changes this year – a whole new team.
Leavine Family Racing brought him on board as its new driver, and the team owner also has switched to Toyota as its manufacturer. In addition, the owners have a new technical alliance with Joe Gibbs Racing.
"It's an amazing opportunity," he said. DiBenedetto has driven four seasons for BK Racing and Go Fas Racing, and has multiple top-10 finishes in the series. Leavine Family Racing has placed as high as fourth at the Daytona 500.
Many of the changes stem from Furniture Row Racing's dissolution, ending its alliance with Toyota as well as Gibbs.
It returns DiBenedetto back to the Toyota fold after a 10-year absence. "I had a great relationship with them," he said.
While this change could represent an opportunity for DiBenetto to improve his record, he said, "Each year is so important, you've got to do your job to the best of your ability," he said. "Each year is a make or break year."
He said drivers have told him the new Cup car configuration resembles NASCAR's truck series setups. That might give some drivers with truck series experience an advantage DiBenedetto doesn't have – he hasn't raced in that series.
But DiBenedetto said he believes he's progressed as a "plate" racer.
That's important in Sunday's race. Both Daytona International Speedway and Talladega Superspeedway are NASCAR's restrictor plate tracks, requiring those plates to reduce speeds after Bobby Allison's car sailed off the track and into the Talladega catch fence in 1987.
And he's glad to be driving for a team that will link him to other Toyota drivers, who historically help each other through the race, if not all the way to the finish line.
"I'm going to make the most of it," he said of his new situation. Bubba Wallace races for "The King," the NASCAR legend Richard Petty. And like Petty, the personable driver said he enjoys interacting with fans prior to getting down to business on race day.
NASCAR has been pondering lower viewership on television and races with empty seats. The motorsports governing body doesn't release attendance numbers, but broadcast footage periodically shows stands that no longer are filled. Wallace said he's happy to make public appearances if it helps the sport. "I get a lot of requests," he said.
Like many of the newer drivers, he's also active on social media, including filing pre-race vlogs leading up to races. "To see the sport grow makes you feel good," he said.
He also is interested in proposals to bring back some older tracks that have been dropped from the Monster Energy schedule, such as Rockingham Speedway in North Carolina.
"I'll do anything to bring fans in," he said. "They're out there."
After trips to Central Florida attractions, multiple media interviews, practice and qualifying, Wallace also is excited about the new season's first race. He's hoping this year to improve on his second-place 2018 Daytona 500 finish. "Let's make it happen," he said.
Hendrick Motorsports driver William Byron, 21, will start the Daytona 500 from the No. 1 spot, the first time he has won a pole in the Cup series. His teammate, Alex Bowman, will start alongside.
Another Hendrick driver, seven-time champion Jimmie Johnson, already has one NASCAR victory under his belt, winning the rain-interrupted Advance Auto Care Clash earlier in the week. It was his first checkered flag since 2017. The win doesn't count toward the Cup series, but it did raise some controversy after Johnson, running second, tried an aggressive pass to Paul Menard's lower side. The two cars made contact that sent Menard spinning.
That set up a crash that affected most of the field. The race continued under caution with Johnson in the lead until officials declared it finished at 59 laps because of rain. The Daytona 500 will be broadcast on FOX at 11:30 a.m. Pacific time Sunday.