Martinez voters will be deciding only one Council seat this year since the city was accused by a Malibu attorney, Kevin Shenkman, representing a San Antonio client, of violating the California Voting Rights Act through its at-large elections.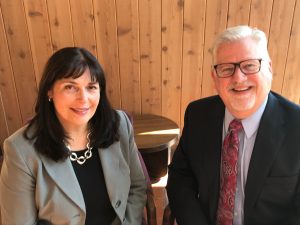 To avoid risking millions of dollars in a court battle with Shenkman, the City Council adopted four Council districts, but kept the mayor an at-large race. Vice Mayor Lara DeLaney, whose term expires this year, is unopposed, but District 4 incumbent Debbie McKillop is being challenged by John Stevens.
The two candidates tackled several city issues Friday morning in an interview organized by the Contra Costa County Elections Division and two chapters of the League of Women Voters with questions by KTVU reporter Alex Savidge. The program will be broadcast Oct. 1.
Savidge opened with an issue that has Bay Area wide impacts, rising costs of housing and other living expenses. Martinez is not immune, both candidates said.
Stevens, a retired businessman and former executive of the Martinez Chamber of Commerce, said increasing housing construction could counter those high costs. He recommended infill homes in the city's downtown and modifying the two-story restriction on downtown construction to allow three and four story buildings as were built in Martinez's past.
Both approaches could help housing be more affordable, he said. But the Council would need to modify the Downtown Specific Plan that has restricted construction to no more stories than two, he said.
Once that change is made, construction would take time to meet the city's residential needs, so he also suggested reducing building fees. Developers have told him that fees for a 2,600 square foot home could be as high as $100,000, pricing some people out of the market even before a home is built.
McKillop, manager of the Contra Costa County criminal laboratory, also likes the idea of multi-story construction in the downtown area, with retail storefronts on the first floor and dwellings on upper floors. She said putting more homes near the city's full-service Amtrak station, which also is a bus hub, as well as at Granger's Wharf makes sense, but she would not want homes near the East Bay Regional Park District property north of the railroad tracks.
Getting more people living downtown not only would give them transit opportunities through the bus hub and train depot, it also would encourage downtown shopping and dining.
To reduce rents, she would encourage providing a variety of home styles.
For instance, older residents may want to downsize their homes and may not want to deal with a large lawn, while growing families need to accommodate their children, both with rooms as well as with yards, she said. Another option is multiple-use homes, with "in-law units," from small suites to full apartments, that would allow several generations to live together while maintaining privacy and independence.
Expensive housing has contributed to increasing the city's homeless population, although it's not the sole reason.
Stevens said Martinez isn't doing enough to address the problem. Shortages in Martinez Police staffing must be improved, and the city must start working more closely with the Contra Costa County Board of Supervisors to increase resources.
Patients who once were taken to Doctors Hospital in Richmond now are sent to the Contra Costa Regional Medical Center in Martinez.
When patients are released from that hospital or are released from the county jail in Martinez, they are not returned to their home communities, where they may have existing support systems, he said. Instead, they are staying in Martinez, with little or no support or housing.
McKillop said Martinez is the first city to have a Coordinated Outreach Referral Engagement (CORE) team it shares with Pleasant Hill to encourage the homeless population to enter programs or accept services. Residents can call 2-1-1 to get those services started, she said. The goal is to get homeless people off the streets. "We want them to be productive members of society," she said.
She agreed that both the county's hospital and jail release into Martinez those people who need those services and helping hands, and the county needs to do what it can to return people to their home communities.
The city budget was another topic raised Friday, and both candidates encouraged voters to approve Measure X, a half-cent sales tax to produce revenues the Council has said would bolster money for Martinez Police and allow more aggressive work on its aging infrastructure, especially its water delivery system.
Unlike another half-cent sales tax increase, Measure D that approved by more than two-thirds of city voters two years ago to raise money to maintain and repair local roads, Measure X doesn't specifically earmark its revenues for specific expenditures.
Had the Council handled it that way, Measure X also would have required a two-thirds vote during a non-presidential general election. A survey indicated residents favorited Measure X, but that it had a better chance of passage if it was a general-use tax that requires only a simple majority to be approved.
If voters don't approve Measure X, the results could be "draconian," Stevens said. It could lead to staff cutbacks and also would impact city reserves.
Passage of Measure X would assure that Martinez Police would be able to fill vacancies, retain officers and have enough staff to assign a school resource officer to Martinez Unified School District and that surviving aging water mains could be replaced before they break.
Martinez needs to maintain its reserves "for a rainy day – or tsunami," Stevens said. But he also advocated paying down all debt. To do otherwise is like a family that pays only the minimum required on its credit card bills.
The Council has been looking at financial problems, police recruitment and retention, the aging water distribution system and the city's fiscal goals. "I'm hoping citizens look at Measure X" and see that it would help Martinez pay for those expenses.
Measure X would help assure residents' quality of life in a city that is close to being a full-service municipality. Should residents decide not to invest in Martinez, she said, the city would have to look at cutbacks to several services.
Martinez can only spend the money it has, and doing the work it can afford based on a prioritized list of jobs. "We'll work through these," she said, "but we have challenges."
The infrastructure can't be fixed without money, Stevens agreed. But besides Measure X, he said he would look at other revenue sources, such as adding events to the city's Waterfront Park amphitheater.
Martinez needs to market its downtown so more people will shop and dine there, and it needs to offer more activities in Waterfront Park in a strategy that resembles how a department store arranges its merchandise – by putting children's items upstairs, the store assures that adults must pass by adult clothing and accessories in home some of that merchandise will catch a shopper's eye.
He said people have told him they want a nice waterfront restaurant that would have a good view of the strait and an enjoyable ambiance. But they also want a sandwich shop that would allow them to pick up food they could eat picnic style in the park. Working with state agencies would help prepare the downtown for additional commercial businesses.
McKillop said the Council has established a Planning and Community Development Department, which is  being staffed to do exactly that – help market and encourage commerce in the city and the patrons that assure those commercial places are successful.
"It's advocating for Martinez," she said.
The Marina Master Plan has been developed, and progress is being made in that direction, too. Martinez wands a vibrant waterfront park and marina, with restaurants, a hotel and a small convention center suitable for weddings and recreational activities.
Residents want to go to the Waterfornt Park and Marina for a variety of reasons, so activities are needed for children and families need a place to stroll through a beautiful site. And another family attraction is the Martinez Clippers ball club, and the inaugural season attracted both residents and visitors alike.
Both touched on open space. McKillop has been a member of the Council that offered its own open space protection measure that excluded private property in a mandate to have a public referendum if a parcel's zoning is to be increased from open space or parkland to something denser. Instead, a citizens' grass-roots measure I, which also affects private property, was approved by more than 100 votes.
McKillop said individual property owners should be able to develop land as they see fit, and she agreed that height restrictions on development should be lifted, to take the pressure away from vacant acreage as prospective building sites.
 On the other hand, during McKillop's first term on the Council, the city has accomplished preserving some open space. It is in negotiations with a landowner so Alhambra Highlands won't be turned into a subdivision.
Stevens said the ordinance resulting from Measure I may need revisiting. "The passed ordinance may be too restrictive," he said. "The dialog is not finished." He said he also likes construction near transit areas, and urged the city to do what it can to avoid reductions in bus service.
He said his top priority is public safety – more police officers on the street. He also would develop a city emergency awareness program so that in an emergency, residents would know where to go. Unlike people in the coastal Southeasst of the country, Martinez isn't prepared for a disaster.
McKillop said the city needs to provide the money for the recruitment of suitable candidates and retention of quality police officers. That's the top protection for members of the community.
"We need safe streets. We don't need cars broken into," she said.
Martinez Police Chief Manjit Sappal is working on a citywide emergency plan, she said. But in a true emergency or disaster, there could never be enough first responders to take care of everyone, she said.
However, Martinez has a Community Emergency Response Team (CERT), a citizen-based trained cadre of volunteers who know how to help themselves and their neighbors, know where people should go in emergencies and how to handle certain situations and keep things under control until police, firefighters, medical technicians and utility repair workers can respond.
McKillop recently completed the CERT course herself, and urged others to do the same.
In closing statements, she said she is a single mother rearing two daughters while having a full-time professional career.
During her first term, the Council has accomplished a lot in the four years she has been on the panel – repairing roads, preserving open space to expand the acreage at Mount Wanda, balancing the city budget, hiring Sappal as chief, making park improvements and in her own job, speeding up the processing of evidence, opening the city's first dog park and welcoming the new baseball club, the Martinez Clippers. She also agreed with the city's naming of a city park for the late mayor John Sparacino.
Her career has taught her to be a good listener and to think critically with discernment.
Stevens said if he is elected, he would balance the budget and work to have the city pay down its bills and become more cautious with its spending. Budgets start balanced, but then spending edges revenues.
He said he has attended most of the Council's meeting during the past six years, and has executive experience as the former chief executive of the Chamber. He would focus on infrastructure as well as the budget.
In addition, he would try to expand the city government's transparency and the ability for residents to participate. For instance, he said limiting public comment to three minutes is too restrictive, and he would like to see more town halls conducted away from Martinez City Hall and instead meet in other parts of the city. "We need a more personal approach and transparency," he said.
Those interested in voting in the Nov. 6 election have until Oct. 22, and the Elections Division's registration web pageis https://www.cocovote.us/quick_link/voter-registration/.
Broadcast of this and other election races' candidates will be available through cocovote.us, and information about the upcoming election is available from the League of Women Voters at http://votersedge.org/ca.