Martinez Mayoral race challenger Yazmin Llamas-Morales said her city is fractured, its municipal budget is facing fiscal calamity and its residents are looking to fresh faces like hers for solutions, even if that means she would spend time on a learning curve.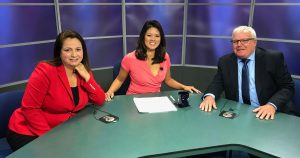 Incumbent Mayor Rob Schroder said residents he meets are more optimistic, saying they like where they live. He said conservative budgeting has helped Martinez prepare for upcoming spending mandates and his and the City Council's guidance have produced a growing local renaissance.
The two appeared Wednesday on a CCTV interview that showcased where the two candidates have similar positions as well as where they differ.
"My priorities are to get the budget under control. There's not enough reserve to cover the debt," Llamas-Morales said.
She called her "defining topics" the tackling of the city's debt, especially through encouraging medical and recreational marijuana commerce.
She also wanted to see the Martinez marina developed similar to that of Benicia or Santa Monica, develop community public gardens, increase walking paths and make more local investments.
Schroder said the difference between the two candidates is experience, which means he wouldn't need a learning curve once he is sworn in.
Under his years as mayor, Schroder said, the city government has found ways to invest in Martinez. Its half-cent sales tax Measure D was well-endorsed by voters and has tripled the money available for road maintenance and repair. The first round of those projects are underway.
The city's downtown is "alive after 5," and has craft beer breweries, new restaurants and other popular hot spots as well as a new professional baseball team that finished its inaugural season on an up note to enthusiastic crowds, Schroder said.
The Martinez Waterfront Park has been undergoing an $8 million renovation paid by a bond issue, and it will reopen soon, he said. Before long, the public will be asked to make suggestions for marina upgrades, such as a boutique hotel, restaurants and other amenities, Schroder said.
But there are problems with the city's downtown as well as the marina, Llamas-Morales said. "It's dead after 5 – there's not much going on," she said, especially compared to Pleasant Hill or Concord. "We need to do something."
She said people aren't going downtown, that the nearby Sunvalley Mall likely would be dead in 15 years, and city officials need to be more active in getting people to spend money in Martinez.
Being a campaign newcomer and non-politician is an advantage, Llamas-Morales said. It means she isn't recycling the same ideas as proposed in the past.
Instead, she's offering "ideas for millennials. I'm out there meeting people. I'm among the people I represent. I'm not stuck in meetings with special interests," she said. "I don't listen to special interests or big developers."
"You say downtown isn't alive – but it is," Schroder said. He described the Martinez Clippers games that were attended by hundreds of people. At one time, young people said nothing was going on in Martinez, he said, "but there is now."
As for the accusation he was meeting with developers, he said there's only one development in the works, the controversial plan to put homes on the former Pine Meadow golf course. "There are no developers handing out hundred-dollar bills," he said."
In the past, Martinez has had a contentious Council. "I've been on some Councils that couldn't work together," Schroder said. He praised the current makeup, calling it "excellent."
But the Council doesn't represent the broad spectrum of residents, Llamas-Morales countered. Most Councilmembers live short distances from each other in the older part of town.
That's led residents of Hidden Lake and other areas to feel underrepresented or ignored. "Martinez is a huge city in itself," she said. A mayor should make sure all voices are heard, she added.
Some of that representation will change since Martinez adopted by-district voting for its four Council seats. The mayoral race remains at large, in keeping with what was instituted in the 1970s' elections in which residents approved an elected rather than rotating mayor.
"I'm not happy how the lines were drawn," Llamas-Morales said. "The three Councilmembers live within blocks of each other." She would redraw the lines for equitable representation, she promised.
Schroder said he wasn't satisfied with what the Council adopted, either. On that point, the two agreed.
"It could be improved," he said. "It's going to change in 2020 anyway." New districts will be drawn to keep the one person-one vote requirement after the results of the 2020 census results are in.
Furthermore, Schroder said voting districts didn't make sense in a city the size of Martinez, with a population a little higher than 37,000 during the 2010 census. He called the city's makeup racially homogeneous, rather than divided by ethnic neighborhoods.
Forced into drawing those districts in a short time period, he said the Council opted to copy Pasadena's example.
The district map gave each north-south district a little bit of the downtown, which he called a city's "heart," as well as other development zones and economic areas, to make each a microcosm of Martinez as a whole.
He called the forced redistricting "a joke," to which Llamas-Morales said that as a Latina, she objected.
"It's not a joke. That's insulting to me. Martinez is diverse. It has a diverse population," she said. When Schroder reiterated the districts could be improved, she replied they should be changed.
Although both had some concurrence on open space preservation, the two disagreed about housing for those aging in Martinez.
Llamas-Morales said she was an environmentalist, and said the city is as developed as it can be. She said she opposed the way the city has battled the voter-approved Measure I, which would require a voter referendum if public or privately-owned land is under consideration for rezoning from open space or parkland to a denser designation.
Nor does she like high density housing, saying neither city roads nor local schools could accommodate such construction.
However, Martinez's aging population can't afford property taxes, and she encouraged building lower-density affordable housing for the elderly.
Schroder replied that low-income housing equates to higher-density construction.
However, he also favors open-space preservation. He cited the city's ongoing negotiations with the owners of the Alhambra Highlands acreage in hopes that land, once walked by environmentalist John Muir, can remain as open space instead of a residential subdivision.
Measure I, which defeated by a little more than 100 votes the city's own open space Measure F which had similar provisions but excluded private property from the referendum requirement, "has holes," Schroder said. "It contradicts itself."
The city is undergoing new development and improvements, Schroder said.
Besides the $4 million in Measure D sales tax and other-source revenues earmarked specifically for local roads repairs and maintenance, area buildings also are being improved.
In many cases, existing properties are being modified for reuse as well. Martinez's downtown area is getting a gradual makeover, he said. Additional growth may take place near transit areas, he said.
Llamas-Morales said the entire city needs to be developed, especially its perimeter areas. She said Martinez has too many vacant and dilapidated buildings and apartments that need to be brought up to code.
She said she would avoid high-density development in the city's downtown so it retains its longtime charm.
The two also differed in their perception of the November election.
Schroder said voters are focusing on the governor's race between the Democrat Lieutenant governor Gavin Newsom and Republican attorney and tax specialist John Cox rather than local races.
A recently-released survey of Martinez residents indicated three-quarters were not aware they'd be voting by districts in November.
Instead of Council districts spurring greater candidate participation in local elections, only one non-incumbent is in a Council race. Vice Mayor Lara DeLaney is unopposed, although her name will remain on the ballot. Past candidate John Stevens is challenging incumbent Councilmember Debbie McKillop.
But Llamas-Morales said those she has met have a different view. "I see a lot of excitement," she said. "I'm running for mayor. It's time for new blood and fresh ideas."
She said she has spoken to those who are happy a woman and mother is in the race. "The feedback I get is it's time for a change. People want someone who represents them."
She said the first change she would make would depend on what the public wants, and she would seek those opinions through a series of public forums. "Residents haven't been heard," she said.
But Martinez's government is open to the public and has been doing surveys and workshops all along, Schroder said.
The city extensively polled residents prior to putting another half-cent tax on this year's ballot. Measure X revenues, if passed by a simple majority, would be used for several city services, with an eye toward public safety and the homeless, he said.
The Council also periodically takes its meetings on the road, going out to the city's neighborhoods, Schroder said.
Besides speaking during public comment periods, residents also can contact members of the Council, including the mayor. "It's an open government, more open than people realize," he said.
Llamas-Morales said when new people are elected, "there's always a learning curve." But she said she's a quick learner. An experienced politician may hit the ground running, she said, but they often are running in the same direction each time.
"Citizens are ready for new leadership," she said. "I know how to listen and how to bring people together."
Schroder said with the exception of certain issues, such as the two conflicting open-space measures decided in June, Martinez residents aren't really divided.
"People say what a great city Martinez is," he said. "I'm in the trenches every day. I have a good picture of what's out there."
But Llamas-Morales disagreed.
"Martinez is hurting," she said. While it's a good place to live, she said, those who read the Facebook page Martinez Rants and Raves and other social media sites can see many are troubled.
In closing, she identified herself as a daughter and granddaughter of immigrants whose husband is an ironworker. She has 20 years of experience in the finance and paralegal fields. "Martinez needs new leadership, new, fresh ideas. The voices of the citizens need to be heard."
Schroder said during his years as mayor, the city has balanced its budget with a healthy reserve to prepare it to face the financial challenges that are coming. The city also hired Police Chief Manjit Sappal, became involved in the 2-1-1 program to help homeless residents and welcomed the Martinez Clippers baseball club.
The downtown area has new coffee shops and other stores, breweries and restaurants that have opened while he has been in office. City parks have been improved, hundreds of open space acres have been preserved, and the city's first off-leash dog park has been opened, he said.
"It's been an honor to be Martinez's mayor for several years," he said.
The broadcast, with host Claudine Wong of KTVU, was arranged by the Contra Costa County Elections Division which is encouraging residents to register to vote and learn more about the Nov. 6 election through the website http://votersedge.org/ca.
The Elections Division is participating in Tuesday's National Voter Registration Day, providing voter registration kits. Those interested in registering to vote may visit the website https://www.cocovote.us/registration-and-voting-options/register-to-vote/.
Replays of this and other interviews will be available later online at https://www.cocovote.us.