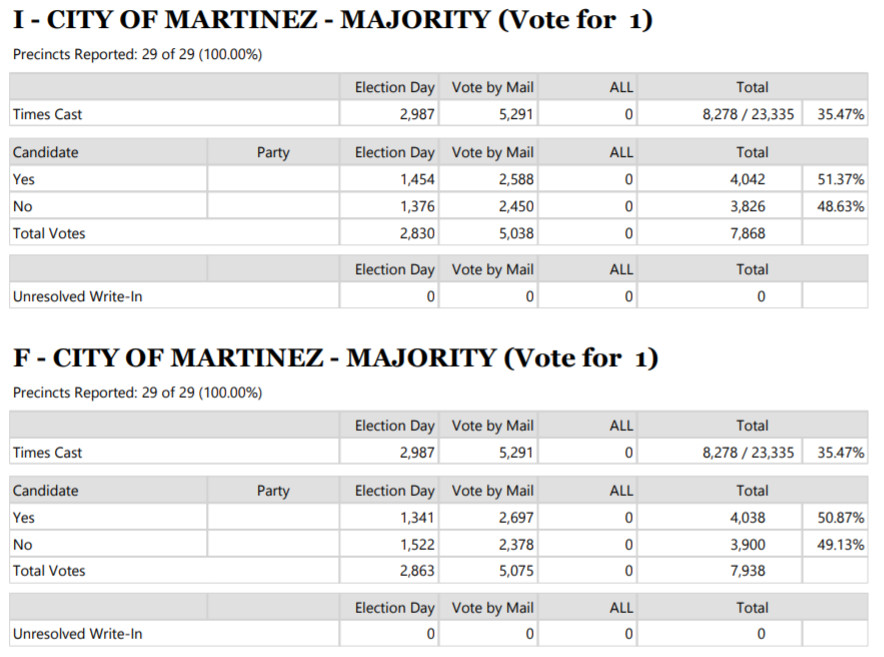 A razor thin margin of four votes shows Measure I ahead of Measure F in the duel of opposing open space measures following a Friday afternoon update provided by the Contra Costa County election department.
Election night results showed Measure F on top by 75 votes. Election officials informed there was over 80,000 ballots left to be counted and Friday's update only accounts for a portion. Election officials say there are still 60,000 votes left to recorded.
Measure I counts 4,042 (51.37 percent) yes votes to 4,038 (50.87 percent) yes votes for Measure F.
Following Tuesday's election night count  Measure F, placed on the ballot by the Martinez City Council, had received 2,762 "yes" votes and 2,542 "no" votes, or 52.07 percent favoring. That measure excluded private property from a requirement of a public referendum on applications that would intensify the use or development.
Measure I, which was initiated by Martinez residents, many of whom belong to Friends of Pine Meadow that oppose a housing development on the closed golf course, would have applied to private property as well as publicly owned land.
It had received 2,687 "yes" votes and 2,562 "no" votes, or a 52.19 percent positive vote. However, as established by the Council before Tuesday's primary election, the measure that received the most votes, would prevail.