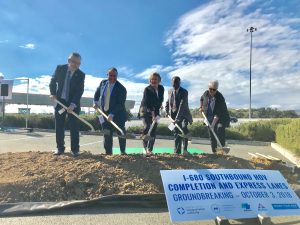 MARTINEZ, Calif. ­­– With the turn of five golden shovels, area officials on Wednesday marked the beginning of a $127 million construction project that will complete an express lane on southbound Interstate-680 from Marina Vista Avenue in Martinez to the Contra Costa-Alameda counties' shared line.
Randall Iwasaki, executive director of the Contra Costa Transportation Authority (CCTA); Tony Tavares, Caltrans District 4 director; Amy Worth, Orinda mayor and Metropolitan Transportation Commission (MTC) representative to Contra Costa County cities; Contra Costa County District 5 Supervisor Federal Glover; and Contra Costa County District 4 Supervisor Karen Mitchoff hoisted shovels of dirt in the symbolic groundbreaking on the north side of the Martinez-Benicia Bridge toll plaza.
Part of the express lane already is open to traffic. That's the stretch between Walnut Creek and San Ramon. Once the new segment is done, the express lane will be 24 miles long, making it the longest express lane in the San Francisco Bay Area.
"It takes a team to develop a project," Iwasaki said as he thanked participating cities and other agencies.
Worth called the construction of the express lane "a good investment." Its beginning in October, celebrated as "Share Your Ride Month," illustrated that the largest untapped resource to ease congestion is filling the empty seats in motorists' cars.
The newer Fastrak transponders – slimmer flexible toll tags that cost less to produce than the original square-shaped ones – allow motorists to set them with the number of passengers in the vehicle, Worth said.
By using them in express lanes, motorists can save time as they travel, Worth said. The express lanes also will be used by buses and vans as well as carpoolers. "It's the most flexible way to expand transit," she said.
"Transportation isn't a sprint. It's a marathon," said Glover, who also is CCTA chairperson. Although CCTA is a leader in the county's area of transportation, it takes a partnership to assemble the funding for transportation projects, he said. "And this will be a prime example."
Because of voter support, taxpayer money is part of that funding for the express lane, Glover said. Once it's complete, "it will keep people moving and get people home to raise their families."
District 4 Supervisor Mitchoff, who is chairperson of the Board this year, said the express lane also will help those who don't carpool, because it will shift cars to the new lane. Much of the express lane will go through her district, she said.
"It's a great help to everyone in Contra Costa County," she said.
Tavares said Wednesday's groundbreaking and the resulting project "is reinventing freeways." At one time, highways were designed for single-occupant cars, but those roads have reached capacity, he said. California needs the options that express lanes provide.
According to CCTA information, it takes a motorist 25 more minutes to drive I-680 in peak commuter hours than during non-peak times. By 2020, that difference is predicted to quadruple.
Each van, bus or carpool vehicle takes at least one car off the highway system, he said. Plus, there are individuals willing to pay the toll to use the expressway even when the motorist is the vehicle's sole occupant. That revenue will underwrite future projects, he said.
The express lane is expected to save motorists 15 minutes during the commute, he said. "It represents another tool to reduce congestion."
Much of the work will take place on state right-of-way, and will occur in multiple areas simultaneously during daytime, evening and weekend hours, according to information provided by the CCTA. During the widening of I-680 south of Rudgear Road, the start of the existing express lane will be shifted temporarily about three-quarters of a mile south.
The project is expected to take at least three years to complete. Toll system installation and testing will take place late in 2020, and the lane is expected to open at the end of 2021.
Eventually, a similar lane will be available the entire northbound length through Contra Costa County.
Building express lanes is one of several strategies CCTA has for addressing congestion. Another is to look at congestion "hot spots," between Livorna Road and Treat Boulevard, especially where vehicles change lanes or merge on and off I-680. Additional lanes and ramp improvements are expected to provide relief. Total cost of the express lanes and modifications at heavier congestion areas is expected to cost $350 million.
Another approach is to designate shoulder lanes for transit buses, so they can bypass congestion in heavy traffic. Such lanes are being planned between Bollinger Canyon and Ygnacio Valley Road in areas where the adjacent lane speed limit is 35 mph or slower. That's a $10 million solution.
Tied into this strategy is adding more buses in cities and for schools, expanding park-and-ride places and having multimodal hubs to increase parking, bicycle and ride sharing and shuttles between mobility hubs and transit stations. That's estimated to cost $58 million.
Making express buses and other transit options available, getting travelers from their homes to transit services and then to their final destinations also are being examined as ways to get more people out of their private vehicles by making public transit convenient. Eventually, autonomous vehicles – driverless cars – will require communication connections with infrastructure and other vehicles.
Information gathering and ramp metering, which ultimately could cost $53 million, are expected to provide smoother travel and reduced congestion, and mobile applications that can provide information about transportation options are expected to help travelers who want to use alternatives to single-user personal vehicles.
Those interested in CCTA's plans for congestion reduction along I-680 may visit its website, ccta.net.