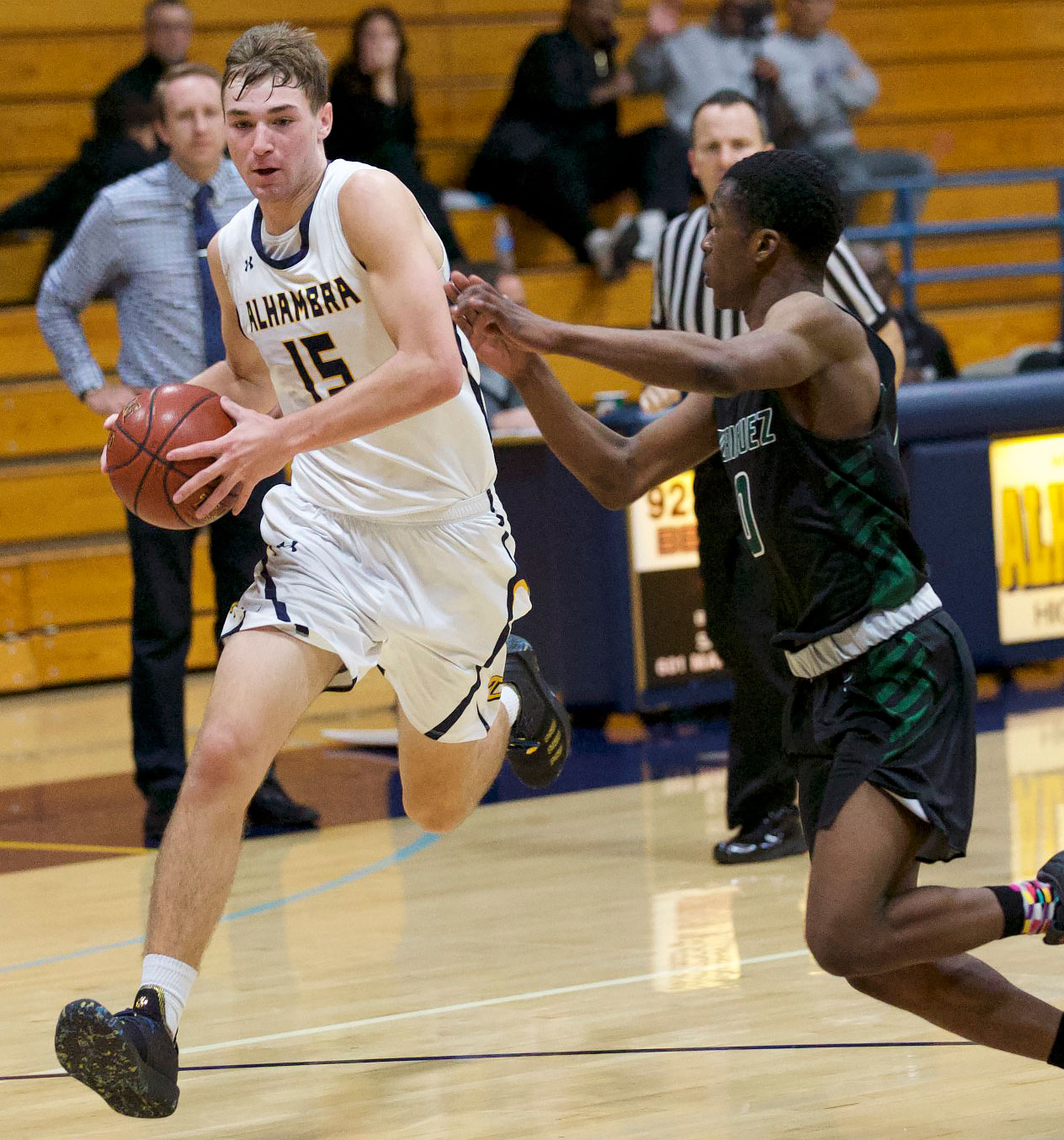 by Matt Sieger
It came down to this: Alhambra High senior Wyatt Hammer drove hard to the basket against Concord and was fouled while shooting with 2.7 seconds left and the score knotted at 59 apiece. He missed the first free throw. Concord coach Mike Jaime called a timeout.
In the huddle, Bulldog coach Chris Petiti told his players, "All right, after Wyatt makes it…" He also told them not to line up along the foul lane for a rebound, to show his confidence that Wyatt would nail the free throw.
And he did.
After a desperation Concord heave from three-quarter court that missed at the buzzer, the Bulldogs (11-8, 3-1 league) emerged with a 60-59 victory over the visiting Minutemen (6-11, 1-3 league.)
The game started – or didn't start – on a humorous note. Just as the referee was about to toss the ball up for the opening tipoff, he stopped. The ball was flat. Coach Petiti had to go pump it up.
But the opening quarter was anything but flat. Both teams played at a furious pace. Concord's Cole Arabian hit two 3-point shots. Hammer, who led all scorers with 21 points, collected 10 in the period, including a 3-pointer to open Alhambra's scoring and another with seven seconds left. Jacob Goodwin, who Concord with 13 points, nailed a corner 2-pointer at the buzzer, leaving the Minutemen one point down, 21-20.
The second period was a defensive battle. But keyed by Lorenzo Fonseca, the Bulldogs pulled away before the half. With 2:24 remaining, he drained a jumper from the left corner. Then he made a great steal, taking it all the way downcourt for a layup with just over a minute remaining. Twenty seconds later he cashed in on another layup. Hammer ended the half with an exclamation point, soaring in for a fastbreak dunk off a nice feed from Brody Eglite with seven seconds left. The Dogs led at the midway point, 37-30.
But the Minutemen rallied in the third quarter. Mark Gonzalez hit two quick layups, and another by Jordan Cuenco forced an Alhambra timeout with 4:49 left and Concord back within one, 37-36. The Minutemen, aggressive on the boards and chasing down loose balls, took the lead, 40-38, on two free throws by Arabian at the 3:35 mark. Alhambra's Joshua Palmer hit a trey to put the Dogs back ahead, 41-40, with 2:53 to go. The Minutemen fought right back with a 3-ball by Goodwin, another by Jordan Cuenco, and a bucket by Brian Johnson. Palmer kept the Bulldogs within striking distance, drilling another 3-pointer with 26 seconds left. Concord led 48-44 after three.
The final period was a nail-biter. Arabian, who did an excellent job all night quarterbacking the Minutemen, got things going with a nice pass to R.J. Serna for a layup. Two free throws by Eglite, a corner three by Thomas Major, and a hard driving layup by Eglite with 4:20 left kept the Dogs in the fight. A 3-pointer by Anthony Wong with 2:52 remaining was also key, setting the stage for the heart-pounding finish.
With the teams deadlocked at 57, Concord's Caden Doll snuck down low for an easy layup with 1:25 left. Hammer countered with a strong drive for a layup, tying the score at 59-59 with 30 seconds left. The Dogs then made a defensive stop, leading to Hammer's final drive and winning free throw.
Petiti, who has coached Hammer and fellow senior Eglite for three seasons, said, "I love coaching because you get to see them grow. Brody had the big game last week. Being able to share that moment with them, and then seeing Wyatt tonight, it's fulfilling to me."
He added, "Everybody contributed. You've got Ekbir Purewal coming in, playing great defense, Lorenzo Fonseca coming off the bench. Jackson (Hilton) had great minutes. Josh (Palmer) hitting a couple of huge threes. Thomas Major played some great minutes."
Petiti praised the team's resilience.
"Last year," he noted, "we had so many games where we struggled a bit offensively, got down and made a bit of a run at the end but fell short, right about this time [of the season]."
After the game, he told his team, "This shows your character, the fact that you dealt with all of that last year. Now you have the heart to not let it happen again."
He also reminded them that they are still in range of their target—a league championship. "You still have your goal right in front of you," he told them. "Let's go get it."