The Martinez Historical Society is embarking on a delicious and fun project! Kathy O'Connell and Mary Goodman are compiling a Martinez family cookbook. One of the elements that will make this cookbook special is that they are requesting that a short anecdote accompany each recipe. The instructions can either be specific and measured or they can be general. The cookbook will contain multipole categories – everything from soup to nuts!
Here again, is the story of my own Grandmother's Peach Pudding, first submitted in 2011. I'm looking forward to reading recipes from you too!
Grandma's Peach Pudding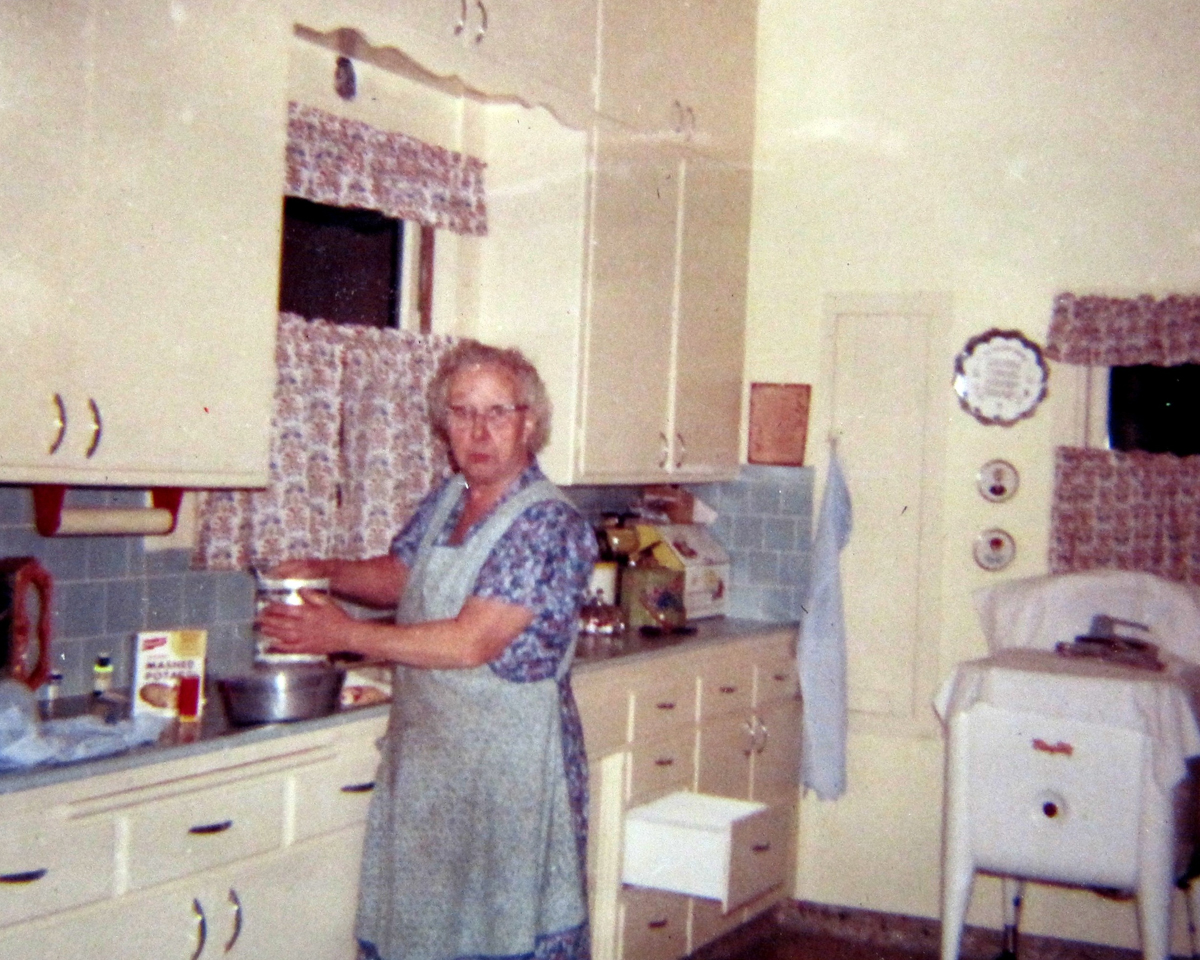 "Where is it?" my sister Brenda demanded before she was fully through the front door of my house here in Martinez last month. "I know you made it for me!" She said with a twinkle in her eye.
And she was right. I had Grandma's peach pudding sitting on a cooling rack on the washing machine in the laundry room. Of course she was right. I always make a peach pudding when my sisters come to visit.
It wasn't always me that made the peach pudding. My oldest sister Karen was the one that was famous for making the pudding. And it had to be just right. She had a way of making it that no one could duplicate. But she passed away in 2006, and the gauntlet was passed to me as the only remaining sister in California. I make a good peach pudding, but it just doesn't crisp and brown around the edges like Karen's did. She had a flare!
Grandma Dalton's Peach Pudding is one of those recipes whose lineage goes back so far no one knows when it began. My great grandparents came from Sweden and brought the dessert with them to Kansas first and then into California at the turn of the century.
In the '50's, my sisters Karen and Brenda were teenagers and Karen had cultivated an interest in cooking. One day when grandma was visiting our home in West Pittsburg, Karen asked her for the recipe for Peach Pudding. Well, Grandma just threw her white haired head back and laughed and tittered! "I don't have a recipe", she said. "I just put it together!" Well, not to be undone with this revelation, my sister Karen asked Grandma to teach her how to make it
Mom dropped Karen and Brenda off at Grandma's house in Port Chicago one summer morning. The girls came armed with measuring cups, spoons and a pad of paper and a pen. Grandma, clad in her one piece calico apron covering her house dress, let the girls in through the screen door. Grandma with her pin curls and glasses slipping down her nose lined up the ingredients on the tile counter. Flour, sugar, eggs, – the usual dessert ingredients. At the end of the counter was the monarch of the dish, the secret ingredient, a can of Grandma's home canned peaches. A quart Mason jar, golden and glistening in the sunlight with sumptuous peach slices. What I wouldn't give for a taste of Grandma's peaches right now!
Grandma got out her biggest yellow Fiesta ware bowl and a big wooden spoon. Thirteen year old Brenda sat at the table with pen and paper. Sixteen year old Karen stood enthusiastically at Grandma's shoulder. Grandma scooped up a handful of flour, ready to throw it into the bowl. "Wait Grandma!" and Karen had her put the flour into a small bowl. Karen measured it with a standard measuring cup set, while Brenda wrote it down. Step by step, the secret to Peach Pudding was translated from Grandma's memory to the written word.
The first peach pudding that day was as delicious as ever, as it should have been because Grandma made it! The second peach pudding made from the recipe was okay, but not great. That summer, Grandma, Karen and Brenda spent time together tweaking, fine tuning and trying the recipe a few more times until they got it just right. That summer was one that my sisters never forgot. They thought they were just getting Grandma's recipe, but they got so much more. They spent time with their grandmother and got to know her as a person. They laughed and learned and loved. Thanks to them the whole family (and now you!) has the famous Peach Pudding recipe!
Peach season is upon us, so have fun with this recipe.
Grandma Dalton's Peach Pudding

1 quart drained sliced peaches, cooked and sweetened (also can be home or commercially canned)

2 cups whole milk

4 beaten eggs

1 cup flour mixed with:

– 1 teaspoon baking powder

– 1 cup sugar

– 1 teaspoon melted butter

– pinch of salt

Using wooden spoon beat hard four minutes everything except peaches. (If using electric mixer, two minutes on high) Pour over peaches in casserole dish and bake to a rich brown. Bakes about one hour. Start at 400 degrees. Reduce to 375 degrees after 10 minutes. Then to 350 degrees after 10 minutes more. Pudding is done when toothpick comes out clean.
My son-in-law was raised in up in Gridley and his parents still have a working farm there. My daughter Jessica told me they would bring back some peaches from the orchard for me. I am excited. The peaches last year were amazing.
"Aunt Johnette is coming soon." Jessica, who never met my grandmother, mused. Lip licking in her tone of voice. "Are you going to make Aunt Karen's Peach Pudding?" I smiled. What do you think?
As the submissions start coming in, Mary and Kathy will need volunteer cooks, bakers and testers. Not a bad job to have, so please keep that in mind as well.
Please submit your recipes and/or questions to Kathy O'Connell at kocn51@hotmail.com or call Mary Goodman at 916-893-8648. They will need submissions no later than March of 2019. The proceeds of this endeavor will go to the Martinez Historical Society.