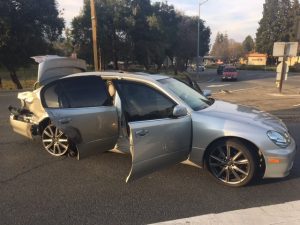 A car containing four people suspected of burglary crashed Thursday afternoon on California Highway 4 and Alhambra Avenue Thursday afternoon, authorities said.
Three of the four in the vehicle have been apprehended, but police are still seeking the fourth person, they said.
On Thursday, January 3, at 1:58 p.m., an alert citizen contacted the Pinole Police after seeing two subjects enter the backyard of a house in the 3600 block of Ponderosa Trail.
As officers were setting up a perimeter, the homeowner arrived home and the suspects fled from the house and entered a silver Lexus waiting nearby. The suspect vehicle was last seen getting onto eastbound Highway 4 from I-80. An attempt to locate was broadcasted for the suspect vehicle, and a Hercules Police Officer, who happened to be in Martinez, located the suspect vehicle traveling eastbound on Highway 4 approaching Alhambra Avenue. The suspect vehicle exited on Alhambra Avenue and was involved in a single vehicle collision.
Four suspects fled from the vehicle on foot. A perimeter was set up with the assistance of the Hercules Police Department, the Martinez Police Department, and the CHP – Contra Costa.
Three of the suspects were located and taken into custody. The three suspects were positively identified by Pinole Officers as being involved in the burglary. Stolen property from the burglary was identified and located inside the suspect vehicle.
The suspects were identified as John Woods, 24 years old, out of Redwood City; Jhacorieo Rooney, 25 years old, out of Oakland; and Justin Dorsey, 30 years old, out of San Francisco.
All three were booked at the Martinez Detention Facility and charged with residential burglary. John Woods and Jhacorieo Rooney were also charged with violation of probation. The fourth suspect was described as a black male in his 20's and has not been located or identified.
Anyone with information regarding this crime or similar incidents is encouraged to call the Pinole Police Department at (510) 724-8950.