By BILL SHARKEY III
Martinez News-Gazette Columnist
SO, IT'S 2019! Yippeeee! Now, what's going to happen next? We've hooted and hollered, blown horns, fired off some fireworks, tilted the champagne glasses, toasted each other, grabbed someone nearby for a kiss, and sang the song associated with New Year's Eve. Auld Lang Syne, I think, although different ears may have thought it was something else.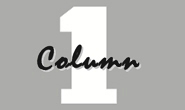 For some, depending upon the age of the revelers, the new year came at midnight (EST) with the lowering of the giant ball in New York City, even here on the west coast for TV watchers. Then, many of the same revelers began to wind down and think about heading for home. Home sounded good for us more senior revelers; not because we lacked the enthusiasm exhibited by heartier souls who had plans to do some more hooting and hollering, but because the bubbly stuff was gone, or began to take its toll and bed sounded pretty darn good. With age, comes a certain amount of practicality gained from experience.
For those who hit the hay sometime not too long after midnight (EST), and to those who have had less experience with New Year's Eve events, thus lingered on to enjoy the evening, or early morning, we extend our best wishes for a healthy and successful 2019. It may not be easy!
JFK IN MARTINEZ was mentioned recently in Vivian Roubal's fun column in a Wednesday edition. His presence as a candidate for President in 1960 was a special day for many of us. I was there, too, and it is fun recalling the excitement it caused for just a few minutes down at the old Southern Pacific Depot.
I was Editor of the former Contra Costa Gazette (now this newspaper) during the 1960 campaigning. As has been mentioned earlier, in those day the old 'whistle stop' was the way to cover a lot of territory for a candidate. It was touring that wore out the candidates and staff members with long days, many speeches, a wide variety of audiences along the line, some friendly, some not. There were bands from the local town or high schools. The local 'dignitaries' all had to be seen, no matter how, to get in a photo with the candidate. (You elders may remember the character 'Senator Claghorn' of early TV or movie days?) The day that the young and dashing young U.S. Senator came to town our Society Editor/City Hall reporter (an ardent Democrat) asked me (pleaded?) if she could go down to the station and cover the arrival of the glamorous candidate. "Gee, Doris, I don't know. Shouldn't the Editor be the one to go?" (Said he with tongue in cheek). Doris and I both went to the station to be part of the crowd and excitement. It was a great experience; one of those memories which is so vivid more than 50 years ago. Just a few moments living real Americana, of which this nation has so much. Are we not so lucky?
VIVIAN'S story, which led to the JFK blurb above, reminded me of when Richard M. Nixon came to town for a rally which was held at the Martinez Junior High School. He was a candidate for Congress, his first foray into the pollical arena. His opponent in the race was Helen Gahaghan Douglas, a Democrat member of Congress, who had been disparaged during the post-WW2 era as being far-left politically. Some, as I recall, called her a 'pinko', a term used those days for some folks on the left in the terrible Senator Joseph McCarthy days of making accusations and ruining lives of so many, particularly in Hollywood and at educational institutions, particularly universities, like UC Berkeley. The rally drew a good crowd at the MJHS auditorium. My father was on the committee arranging the event, and I was right next to him when I was able to shake Nixon's hand. Another memorable experience, and a little history of things which have happened in 'our town'.
NOW FOR THE WHAT'S NEXT in 2019?? Today is the sixth day of the change of the House of Representatives from GOP control to the leadership of the Democrats headed, probably, by Nancy Pelosi, unless we had some sort of successful 'revolt' by any anti-Pelosi members still not convinced of her ability to lead. Apparently highly unlikely. However, as this column is written, the government is still in a partial shutdown with little indication the new Democrat-controlled House will convince the irrational Oval Office Occupant that leaving several hundred thousand faithful government employees, and many more contract personnel, hanging out to dry with terrible concerns for paying rent, eating, etc., is not the way to run a government. Of course, we've learned that he does not have a clue as to how to run a government, or even to be part of the solution. His years of experience running his private organization by dictating how things will be done (no contrarians allowed!) has made it impossible for his narcissistic personality to be part of the sensible solution to anything. It's his way, or "I'll take my bat and ball and go home". Or, "I'll take my beautiful Air Force One and go to one of my resorts to play while all blazes take place in Washington D. C.".
By the way, did you see the TV clips of mister "I could probably be a great general", or a paraphrased quote, as he demeaned his former Secretary of Defense James Mattis, a retired four-star Marine Corps General of some 40 years of service to his nation, and who could not take it any longer and resigned to the great distress of the thinking people of our nation and leaders the world over? Then, with his usual gracious personality and sterling leadership qualities, Our Leader did not like the media attention given to Secretary Mattis' departure on February 1, as planned, and fired him as of December 31. With this kind of so-called leadership, no wonder we've had so many slime balls passing through the White House administration in the past two years. Are they selected because they appear to be someone their soon-to-be 'boss' will feel comfortable with? Seems so!! Fortunately for our nation, many have shot themselves in the foot and have departed. But, in the meantime, some highly qualified individuals have departed on their own, while others ticked off 'The Boss' and were forced out with terrible denigration to follow.
The greatest TV clip was Our Leader telling someone with the media listening how many candidates are lined up for every job in the White House. "This is a hot White House. Everyone wants to work here." (pause: 'Who was that who just walked out the door?")
By the way (again), a recent poll this past week indicates that 88% of Republicans think the current resident of the White House is doing a good job. As you might expect, only 7% of Demos think so. The 88% number is absolutely weird considering what has been happening the past two years. (Editor's note: I was not included in the polling!!) And, I am terribly disappointed in the results. Obviously, it's all fake news, right? Maybe there is some basis to his continued whining about the news. Do you suppose?
THEN, there was the time…knock it off, Bill III!! Enough!!
BOWL GAMES came and went, 42 of them as I mentioned in a column back. However, despite the obnoxious number, there were several worth the watching; I hope the expense was worth it for the many sponsors. Some or the stadiums looked a bit lacking on spectators.
THE ROSE BOWL, the granddaddy of them all, was a good event with another parade which is always worth watching. This was Game # 105, but parade # 130. Wow! Which reminds me.
On New Year's weekend of 1949-50, I took part in the grand weekend in the South with many college friends. You know, one of those non-stop marathons of partying (what?!?), parade and game. Several of us stayed in Sherman Oaks at my girl friend's home. No cost!!
Game time: Stanford vs Illinois. Great game the whole first half. Score at the end of the first half, 7 -7. End of the game: Illinois 49, Stanford 7.
It was a long ride home from Sherman Oaks to Palo Alto! Skipped classes on Monday, which was understood by most professors.
The ride home for winners and losers of this year's Rose Bowl was also a long trip – Ohio State and Washington. But, youngsters can handle it!
CHEERS for the Martinez Recreation Department's series of 'winter camps' for the benefit of our kids in Martinez. A wonderful array of fun activities to make it a wonderful experience for 'tikes' of all ages. Thanks to the staff and others who put this experience together. A happy way to start a new year.