Joseph T. Bruno aka 'Joe the Butcher'
Feb. 14, 1930 – Feb. 9, 2018
Resident of Martinez, Calif.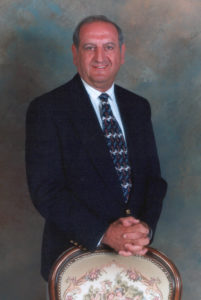 Joseph Bruno, a life long Martinez resident, passed away on February 9, 2018, just shy of his 88th birthday. He was the sixth and youngest child born to Italian immigrant parents. His father, Gaetano (Thomas) Bruno was born in 1889 and immigrated from Palermo, Italy in 1900; and his mother, Vincenza Lucido (Virginia) Bruno was born in 1896 in Traverna, Italy. They were married in Martinez on February 1, 1914, at St. Catherine of Siena Parish.
Following the birth of their children Gaetano was naturalized as a U.S. citizen on November 18th 1932; and Vincenza on April 18th 1940.
Besides Joseph, their other children were Anthony (Jan 15, 1916), Vincent (August 25, 1918), Phylis (July 30, 1921), Frank (Feb 10, 1923), and Barney (September 9, 1926).
Joe was a graduate of Alhambra High School, Class of 1947. He married Joyce Catherine Markle on August 30, 1952, in the same Parish as his parents, St. Catherine's of Siena in Martinez.
Joe worked as a butcher for 46 years. He was extremely proud of his craft and enjoyed the many years he spent as a butcher in various meat markets he worked at. A meat market or butcher shop, in his day, was the hub and anchor of a grocery store or a store unto itself. People knew their butcher by name, as did he, theirs. Joe had many stories he loved to share and knew many people over his lifetime as a direct result of his time as "Joe the Butcher". He retired in 1992 in order to spend more time with and care for his wife, Joyce, who passed away in 1995.
Joe's career and love of food carried into his personal life, where he and Joyce were avid cooks and bakers, who graced their family, relatives and friends over many years with wonderful meals and delicious baked goods. The holiday season was a time when they painstakingly prepared traditional Italian meals as well as cookies including; Biscotti of many varieties, Cucidatis, Ossi di Morto (Bones) and many other cookies, cakes and sweets to the delight of all the recipients. After Joyce's passing, Joe continued their tradition for a number of years, baking and sharing his wonderful tins of cookies and treats with many.
Joe's passing joins him with his parents; his beloved wife, Joyce; and all his siblings and their spouses- Anthony "Butch" (Betty), Vince (Lois), Frank (Verna), Barney (Fern), Phylis (Lou).
He is survived by his four children: Mark Bruno, Richard (Susan) Bruno, Gina (Bill) Carithers and John (Sonja) Bruno). He leaves behind five grandchildren, one great-grandson, and many nieces and nephews and their families.
Family and friends are invited to attend a Memorial Service, which will be held on March 8th at 10:30 a.m. in the St. Cecilia Chapel at Queen of Heaven Cemetery located at 1965 Reliez Valley Road, Lafayette, CA. There will be a brief internment where he will once again be joined with his dearly loved wife, Joyce; immediately followed by a Reception celebrating Joe's life in the reception room next to the Chapel.
In lieu of flowers, donations may be made to a charity of your choice.