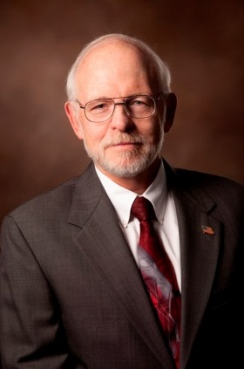 Taking another step in closing his career of more than 40 years in municipal government, Brad Kilger has attended his last City Council meeting as a working professional.
The Martinez city manager is retiring from public service at the end of the month, and Police Chief Manjit Sappal will be the interim city manager until a permanent replacement is hired.
In his parting remarks to the Council Wednesday night, Kilger said his two and a half years in Martinez "has been challenging at times, but it has also been very rewarding. It reminds me why I enjoy this profession so much.
"After 40 years in the public sector, I still get to learn new things," he said, then adding with a smile, "whether I want to or not." That drew chuckles from the Council.
He praised the city staff with whom he worked. "I helped set the direction, but they all made it happen," he said. He enjoyed collaborating with them to solve difficult issues the city has been facing.
Kilger has seen that staff change, "as the 'Boomer generation' – including myself – retires and the Gen-Xers and Millennials take our spots." The younger employees are "smart, energetic and will find new ways to do the city's business in more cost effective and efficient ways."
During Kilger's years as city manager, the city has created an economic development program and built up a staff to encourage the revitalization of the downtown business district, attract new businesses and keep and grow those already here. "I expect a lot of big things from Christina and Zach," he said, referring to the department's director, Christina Ratcliffe, and the economic development coordinator, Zach Seal.
Even though Kilger himself worried the first half-cent sales tax for local road repair was rushed to the ballot and might not pass, he praised the Council for proceeding boldly and local voters who approved the measure in 2016. He gave similar praise for the passage of another half-sent sales tax that is expected to boost the revenues needed for police and water services.
The city already is seeing the results of the roadway sales tax, with the first year of projects under completion and project prospects for the next round of repairs to be considered soon.
Kilger singled out Anne Cardwell, whom he hired as assistant city manager and who now has that position in Vallejo, and her staff for the final resolution of a longstanding problem, the Pleasant Hill-Martinez Joint Facilities Agency. She was able to negotiate a better than expected settlement on behalf of the city.
Under his tenure, the city bought a commercial building in Parking Lot 4, which he said will contribute to the downtown revitalization.
And after working extensively with a citizens group, Martinez has a dog park, which he called one of the toughest challenges. The grass-roots group, often accompanied by their pets, filled the Council chamber during meetings, then met with city staff time after time, seeking a site that was available and not impacted by other agencies' requirements, but also met the needs of dog owners. In addition, the dog park advocates wanted a downtown location so they could shop or pick up beverages and food on their way to the park. It needed shade, restrooms, water and other amenities.
Finally a three-year temporary solution was chosen, the amphitheater in Waterfront Park. The dog park closes for maintenance before and after events at the amphitheater.
Martinez underwent a full organizational analysis and has started its improvement program, focusing on providing services and expanding its use of technology.
"And we survived the misfortune of the Districting challenge," Kilger said. "While no one disagrees with the intent of the California Voting Rights Acto to increase minority representation in local government, its application in Martinez was not warranted, given that demographic analysis has shows that the city's minority populace is evenly distributed throughout the community. But through hard work, we got through it."
He listed 11 capital improvement projects built under the direction of Assistant Public Works Director Don Salts, City Engineer Tim Tucker and Public Works Superintendent Bob Cellini. Those ranged from dredging the marina, erecting the Alhambra Creek vehicle bridge, seismic and electrical upgrades at the water treatment plant and a $4 million water main replacement and repair project and an extensive storm drainage mitigation project that allowed the city to qualify for $1.5 million in federal and state emergency funds.
Among others he listed were the start of the Intermodal Project Phase 3 Pedestrian Bridge and Ferry Street Railroad Pedestrian Crossing Project and renovations at Golden Hills and Highland parks and upgrades to John Muir and Alhambra parks.
"And of course the Waterfront Park Renovation Project that included pathway, safety lighting, parking improvements, a new group picnic area, play area and restroom and ballfield improvements, including a championship baseball field that can be used both professionally and by the Martinez community," he said.
On a personal note, Kilger said he was pleased to participate in the TLC for Kids Hidden Lakes Park ballfield project, organized by Cellini to rehabilitate two youth baseball fields.
"Bob did this by contacting TLC for Kids Sports, a community outreach effort aimed at improving kids' sports fields throughout the Bay Area," Kilger said. He joined than 100 volunteers, from city staff and officials, residents, sponsors and even some of the children who play on those fields to lay turf and make those fields right for youthful athletes.
"To me, this is what public service is all about, citizens and City Hall coming together to help improve the quality of life in their community," Kilger said.
Martinez will continue to face challenges after Kilger retires, he said. One is the long-term financial sustainability of the city, especially threatened by rising pension costs and increasing expenses related to federal and state regulations.
"But I believe the steps we have taken to begin restructuring the organization and modernize the city programs and methods of operation will help in that effort," Kilger said.
He thanked his family for their love and support. He cited author Peter F. Drucker, who said management is doing things right and leadership is doing the right things. Kilger said that quote has provided him a "professional, ethical and moral compass that has led me through my career.
"While there have been bumps along the road and I have had to make course corrections, as we all do, this goal has always ensured that my objectives were sound and my mission an honorable and truthful one."